FROM THE UK WITH LOVE! – Jay Du Toit Interviewed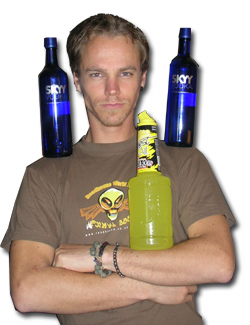 From starting out watching a local TGI Fridays Flair bartending competition to learning Flair to now running one of the biggest Flair competitions in the world…
Mr. Jay Du Toit
. He has a passion to grow the sport in the right direction and now in the pages of
Flairbar.com
, we get to know a little more about
Jay
and
"From the UK with Love!"
and how he shares with us how he expands Flair bartending in the UK… So sit back, relax and indulge in a
Skyy
Vodka
or
Finest Call
cocktail and enjoy…
Age? I'm 26 years old.
Where are you from? I was born in Pretoria, South Africa but been living in London for over 6 years now.
How long have you've been Bartending? I have been bartending for 5 years.
And Flair Bartending? Been Flair bartending for 4 years and competing for just over 3 years.
Where do you work? I'm currently working at Roadhouse, London, Covent Garden and have been for 3 years.  
What got you into Flair Bartending? The classic: walked into a TGI Friday's and saw a bartender going off- just had to do it myself! Went home, got a job in a local bar and eventually got the opportunity to work in a Friday's store. The rest is history…
How did you start out learning to Flair? I started working on the outskirts of London, so didn't get to see that much of the other Flair guys in London. So my first year or so I practiced on my own in my back garden (as much as you can with the bad weather in the UK…). Then went to see a Roadhouse competition and that's when the passion got hold of me.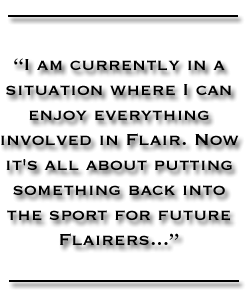 Tell us about the Flair Bartending scene in the UK? The Flair scene in the UK is great. There are loads of little comps jumping up out of nowhere in random places. It is a pretty big community and with bartending being so popular in London it is great to be a Flair bartender in the capital. Most of the bartenders know each other and really get along.   Also with Europe so easily accessible it's easy to jump over to Europe for comps.
Describe to us your style of Flair? My style of Flair? Always a difficult one to talk about one self. When ever I come up with a move I will always spend ages making it look nice. I want my Flair to be smooth and eye appealing.
What makes you stand out from other Flair Bartenders? My dodgy accent… No guess if anything it would be my energy on stage- tend do get a bit over excited. Have done a stage dive before…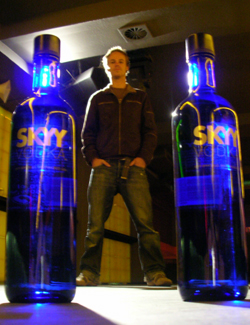 What do you hope to get out of Flair? Flair has all ready given me more than I would ever have imagined. I was traveling before I started Flairing and it gave me the means to do something I love. I am currently in a situation where I can enjoy everything involved in Flair. Now it's all about putting something back into the sport for future Flairers…
What is your favorite Flair Bartending competition and why? Don't want to be biased but it has to be Roadhouse. Raw, bone crunching Flair! And it is one of the original Flair comps and is still pushing the boundaries. Close second has to be either Romania or Norway.
Who do you look up to in this Sport?  I look up to a few people for different reasons. Christian Delpech for his skill and dedication. Nic St Jean for his creativeness and ideas. Tug for his efforts to make the sport bigger and better and the list goes on.
What are your thoughts on the FBA Pro Tour? Awesome idea in having a competition like that. We don't unfortunately have much involvement with it in the UK.
If you could help influence Flair to change our sport somehow, what would it be and why? I would want to help create a better image for the public. To have it more in the public eye. You know, really get it out there so everyone would know and talk about it. Get it to the level of skateboarding!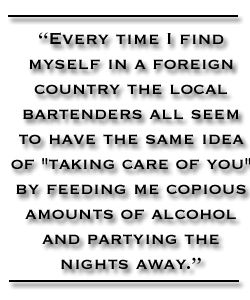 Where do you see the future of our sport? The way things have been moving in Europe with young guys coming out of nowhere, things are looking very positive indeed and I'm sure soon it will be a sport that will be covered by sports channels and have a big fan base.
What are some common myths about the profession of Flair bartending? A Flair bartender can be a great mixologist at the same time.
How often do you practice? At the moment I've got a lot on my plate but will get back into hardcore practicing soon enough! So not very much at the moment unfortunately.
What is your advice to some of the new people wanting to start competing, any helpful hints? Find your own style. In both competing and Flairing in general. If you try and copy someone it will be no fun at all. It's all about having fun and being your self on stage. Everything else you can practice your nuts off for. Practice makes perfect.
Tell us about your first Flair Competition and your experiences there, What were you feeling, Did everything go as planned? First comp: Local TGI's comp. Had no routine, thought I could wing it. Not so – crashed and burned in great style – doing the same move over and over and the music being a distant rumble. Lesson learned – Have a routine ready!
Tell us about your experiences competing internationally? Experiences international? Too many to even remember. Every time I find myself in a foreign country the local bartenders all seem to have the same idea of "taking care of you" by feeding me copious amounts of alcohol and partying the nights away. Few random experiences: body guards in Ukraine, sitting on top of a tractor whilst it was driving into the ocean in Poland. Jumping on the back of a random Scooter in Korea and begging the driver to take me to my hotel because I was tipsy and lost and getting into yet another random car for a lift in the mountains in Italy and it turns out the driver is a rally driver!
Tell us your thoughts on competing at Roadhouse and why other Flair Bartenders should compete there as well? Roadhouse has been going for 8 years now and it is one of the best comps in the world in my eyes. Always attracting the biggest names and a great crowd it is fast becoming a dream of many bartenders to throw a bottle whilst in the spot light at Roadhouse. The thrill is immense! It is a great experience that all Flair bartenders should try.
What was it like now running Roadhouse opposed to competing in it? Running the comp has been very challenging. I am trying to use my experience from every comp around globe. I want to keep the spirit alive and build on what has been set in stone by those before me. I now have to think about things in another light. I am trying to make the Roadhouse comp a massive experience for each and every competitor – both local and international.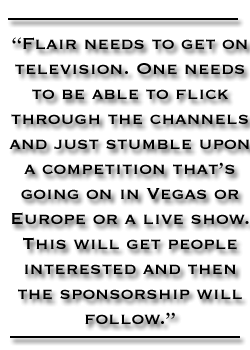 What are your plans to take UK Flair to the next level? I would like to help more UK boys compete international and get their names out there…
Tell us about the Mixology bars and the overall thought on Mixology in the UK? Mixology bars in London are great. You can find any and every sort of bar in London. If you are a cocktail fanatic it's hard to stay at home even for one night!
Why do you think Mixology and crafting a good cocktail has so much emphasis in the world of Flair bartending? Flair bartending is still bartending so making a good drink is very important.
What are your plans now? I'm going to go drink a Margarita in central London… No, got loads of comps coming up in the next 2 months.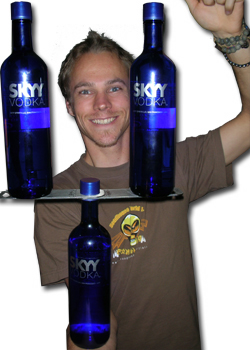 What obstacles do you see our sport of Flair Bartending encountering in the near future and in your opinion, how can we overcome them? Sponsorship and live coverage. Get the right people interested and things will happen. Flair needs to get on television. One needs to be able to flick through the channels and just stumble upon a competition that's going on in Vegas or Europe or a live show. This will get people interested and then the sponsorship will follow. I think a big competition should be aired live.
If you had the opportunity to convince a skeptical Bar manager to hire a Flair Bartender, How would you go about it? Fact – Flair creates atmosphere, draws more guests and gets the other staff members pumped up. A bartender has got the gift and power to lift the mood in a bar, when a song comes on and the bartender starts Flairing and performing then other staff members will get involved and it will be a snow ball effect for everyone watching! Simple as that.
What are some common obstacles you face as a Flair bartender opposed to a regular bartender? Cheeky remarks from other guys, sore fingers and lots of partying!
Do you think corporations and sponsors investing in Flair bartenders is an effective way to promote and educate and why? If a bartender has the final say in how the sponsorship would work then it's a great thing as he/she will have the best interests of the sport in mind. Sponsors now have the opportunity to invest in a new sport that will without a doubt become bigger and better. It is definitely a golden opportunity.
What is your favorite drink? Margarita for starters, vodka cranberry, Red Bull and lime for mains and Jagermeister for desert!