FLAIR WITH THE HANDS OF JAPAN! – Tomohiro Maeda Interviewed
Updated: December 1, 2006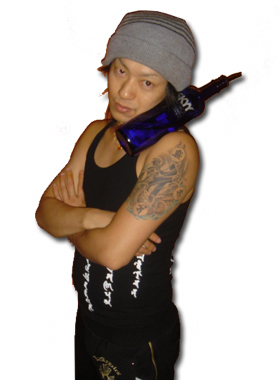 From starting out losing terribly at his first Flair bartending competition to placing third at the Legends of Bartending… Mr. Tomohiro Maeda. He uses music as much as a tool to express his artistic form of Flair in his Flair routines as any bottle or tin. The way he manipulates music and sound effects to entertain and add more showmanship to his already incredible show is fantastic! This coupled with his unique style and presence make him a true legend in the making. So grab a samurai sword as we prepare to cut into this month's interview from overseas…
Age? 27 years old.
Where are you from? Tottori, Japan.
How long have you've been Bartending? 7 years and 10 months.
And Flair Bartending? 3 1/2 years.
Where do you work? MAEDA BROTHERS.COM.
What got you into Flair Bartending? When I was on vacation in Guam, I went to Planet Hollywood and saw Flair bartending for the first time. That was what got me into Flair bartending.
How did you start out learning to Flair? I taped an empty bottle with gummed tape and started practicing with one bottle.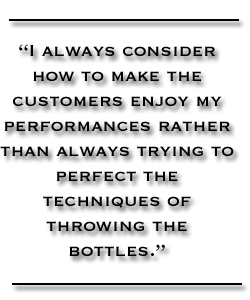 Tell us about the Flair Bartending scene in Japan? Flair bartending is not well known in Japan and the customers' reactions are not as exciting as the customers in the US. Although, I do believe that the techniques as a showman is well developing.
How does Flair bartending differ in Japan then elsewhere? I believe that Japan has successfully incorporated several styles from all over the world and created a mixed-style.
Describe to us your style of Flair? The theme of my Flair style is "Japan". I incorporate the images of Japan (ninjas, samurais, etc) when I throw the bottles, but having the customers enjoy my performances is what I cherish the most.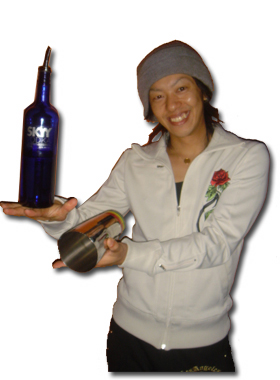 What makes you stand out from other Flair Bartenders? I always consider how to make the customers enjoy my performances rather than always trying to perfect the techniques of throwing the bottles (difficulty, originality, etc).
What do you hope to get out of Flair?  Challenging my own abilities… there is a lot you can learn from Flair.
What is your favorite Flair Bartending competition and why?  Legends of Bartending.
1. It is the world's biggest bartending competition.
2. As a Flair bartender, you have to have high skills in every aspect of
Flair bartending in order to achieve good results.
3. The first Flair video I saw was "Legends of Bartending 4″.
Who do you look up to in this Sport? Christian Delpech.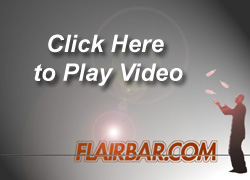 What are your thoughts on the FBA Pro Tour, (likes and dislikes)? I am extremely interested in the FBA Pro Tour, but if we (Japanese competitors) participate in all of the competitions, we will be in debt for the rest of our lives. It would be nice if the top class competitors could receive a little support…
What are your plans now? I would like to put in the same amount of effort as a showman as a I do when I compete in order to be able to perform better shows.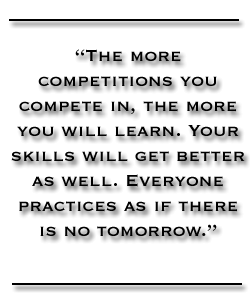 How often do you practice? 24 hours.
What is your advice to some of the new people wanting to start competing, any helpful hints? The more competitions you compete in, the more you will learn. Your skills will get better as well. Everyone practices as if there is no tomorrow. If you want to win, face the competitions as if _____ ?????
Tell us about your first Flair Competition and your experiences there, What were you feeling, Did everything go as planned? I competed in the FBA All Japan Flair Bartender Championships which was held in Japan. I lost terribly, but I was determined to be able to compete in the Legends of Bartending competition the following year. My wishes came true, but was ranked 15th in that competition. My next goal was to be able to remain in the finals the following year. I was ranked third, but lost to Rodrigo. I love Rodrigo though!!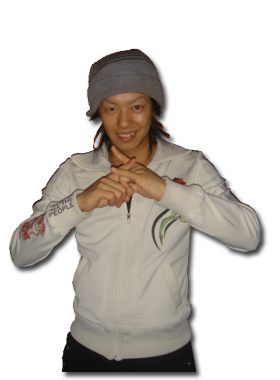 Describe to us what your ultimate Flair competition would consist of? The ideal competition is by far, Legends of Bartending.
Tell us your thoughts on Quest 2006? It was really fun, but I was extremely upset when I lost in the speed round because I was determined to get first place in that round. I thought I practiced harder than anyone, but I guess it was not enough because I lost.
Tell us about your younger brother Takeyori and how did he begin Flair Bartending? My brother watched me compete at the first competition I have competed in. My brother watched me lose and said that he would participate in Flair bartending in order to revenge what I went through. He ranked 6th place after only one and a half years! He is someone Japan is very proud of!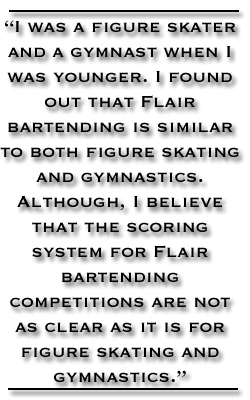 Tell us how it is competing with your younger brother… why is it good and bad? It is extremely difficult when we have to compete together. That is the bad part of being part of this with my younger brother. BUT we always encourage and motivate each other so that we could both achieve our goals. We both think of new tricks together, practice together, search for new music together, etc. 1 plus 1 is not 2…it is 4, 5, 6… That is who we are.
Where do you see the future of Flair Bartending? It would be nice to have cocktail shows be part of Las Vegas entertainment shows.
What obstacles do you see our sport of Flair Bartending encountering in
the near future and in your opinion, how can we overcome them? I was a figure skater and a gymnast when I was younger. I found out that Flair bartending is similar to both figure skating and gymnastics. Although, I believe that the scoring system for Flair bartending competitions are not as clear as it is for figure skating and gymnastics.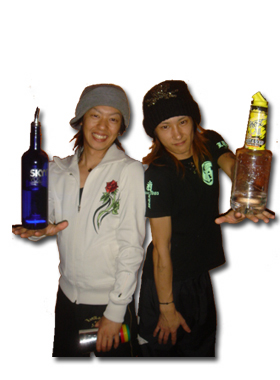 For example, if the level of difficulty for each trick is ______, it will be easier for the competitors and the customers to be able to understand. (If someone does the same trick as you, the person who had better showmanship skill should be scored differently…etc..)
If you had the opportunity to convince a skeptical Bar manager to hire a Flair Bartender, How would you go about it? Flair bartending involves a lot of risks, but if you are able to _______, I believe that more customers would come to your bar. BUT it is important to remember that "service" comes first.
What are some common obstacles you face as a Flair bartender opposed to a regular bartender? Flair bartending involves risks such as spilling and breaking the bottles. In Japan, especially, throwing equipments at your workplace is generally unrecognized and takes a while for the customers to understand the concept. Although, I believe that Flair bartenders are able to impress the customers and also give them something to feel within their hearts after performing.
What is your favorite drink? Water.