"Female Flair Today" – Naty Peralta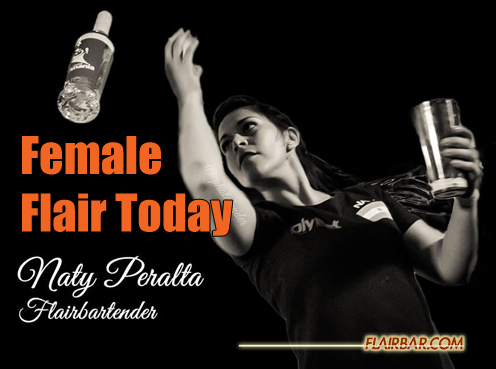 In my opinion, Flair changed a lot in a really short time; in fact, it is easy to see how much style, smoothness, AND difficulty has evolved in the last 10 years. Ten years ago, there were few ladies in the Flair world; and even if the current the amount of female Flair bartenders has increased a bit, that [particular aspect of the] situation didn't change that much. The Flair world is ultimately dominated by men.
Although I started with [learning] Flair 2 years ago, I can say that in the past, Female Flair was basically focused on performing "a show." I think that nowadays, we have lost this essence in order to achieve the "big moves" to surprise the audience; and that [is] the main difference between male and female Flair bartenders.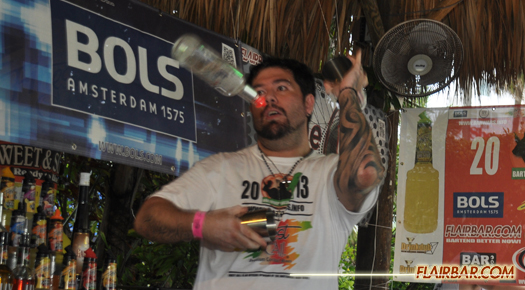 Being a female bartender, this is always a challenge in both competitions and working life. In some working fields ruled by men (like the Flair world is,)  there are still some prejudices concerning women's skillfulness and professionalism. Fortunately, female bartenders' conditions changed lately. [There is no longer] the idea has ended of "just a pretty face." The effort, perseverance, and discipline [put forth by female Flair bartenders] has given us the force to fight for a place in this area, and to achieve surprising results.
Now, I can consider being a "Woman of Flair" more of an advantage than a drawback. It is an advantage because we're very few, and us women [have our own] style – and to demonstrate this type of skill is impressive. In fact, it [is so unique to women, that I've] happened to have people who have wanted me to perform my show in big events in all different parts of the word; and let me say it – that's amazing!
Unfortunately, the situation is quite different when concerning competitions.
[Honestly,] for a woman, competing with men is not easy at all. We always have to demonstrate our worth and that we really deserve to participate in those kinds of competitions. I personally believe that we need a little more promotion; to show the world what women CAN do, and obtain more recognition [in the process], to create more PROMINENCE within the competitions, [which will] motivate more females to compete.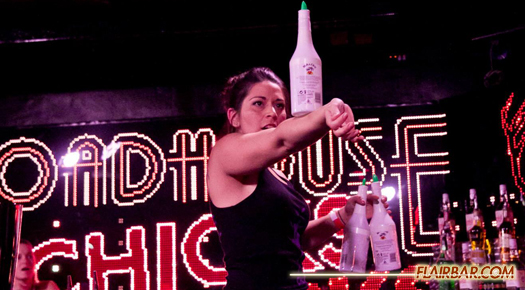 I strongly appreciate everyone who has supported Female Flair bartenders by giving us due credit, such as Mr. Oliver Pluck. One year ago, he created a new contest concept only for ladies: "Chicks and Flicks," that takes place in one of the most important venues in London, The Roadhouse. This competition is a great motivation for me personally, and it is a huge incentive to keep training and improving myself. I love this competition not just because it was my first competition, but also because I can spent the whole day with the best of the best of my Flair colleagues… And that was a lot of fun!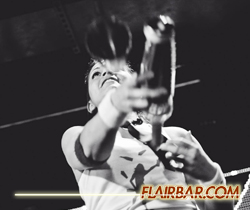 There are a lot of Flair ladies who have inspired me; every one of them with their own particular style. In particular, I love Las Vegas Flair Women such as the fantastic Robyn Closson, Erin Ferreira and Terri Buryanova.
I really get on very well with my colleagues; we are very united, and always help and support each other – especially two [women in particular,] Mirka Gregova and Agnieszka Bochniak. These two amazing ladies are not just the best company to train with, but they both have become an important part of my private life.
There is a natural physiological difference between men and women, and women are always considered to be the weaker sex. In my personal point of view [concerning Flair,] this means that men have more strength and are a little more bold (aka reckless,) while many women (at least in part) tend to be more careful (we don't want to cut open our heads! Haha!) Trust me; this is changing. The time is now – look out boys… We are coming for you!

Agnieszka Bochniak – flair bartender

Milana Kurs Flair Bartender Girl From Belarus Promo Video

Miyuki Kamimura Exhibition Flair Round RoadHouse 2013 Grand Finals

Naty Peralta, Argentina – Independent 10-13-2013 – Chicks with Flicks – Finalist