DOING A 360 IN FLAIR! – Graham Kimura Interviewed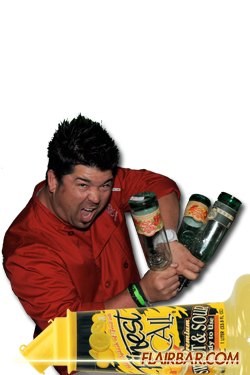 From starting out learning Flair from VHS video tapes to being a Brand Ambassador and sponsoring Flair bartending competitions…
Mr. Graham Kimura
. He is a unique driven individual who looks great on reality shows and now in the pages of
Flairbar.com
, we get to know a little more about
Graham
with
"Doing a 360 in Flair!"
as he shares with us his insights on the world of Flair bartending… So sit back, relax and indulge in a
Absolut Vodka
,
Midori
,
Bud Light Lime
or
Finest Call
cocktail and enjoy…
Age? 40.
Where are you from? Born in San Francisco, currently living in Santa Clara, California.
How long have you've been Bartending? 14 yrs.
And Flair Bartending?12 yrs.
Where do you work? Not really bartending much because now I am on the other side of the bar as 360 Vodka's National Brand Ambassador.
What got you into Flair Bartending? Honestly…LOL…I hate to admit this but the movie "Cocktail" actually sparked my interest.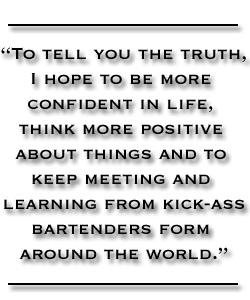 How did you start out learning to Flair? Well, since I'm old now and there were no Flair DVD's when I started, I went online and bought VHS tapes that were available. For example, Ken Hall's "Safety", "Safety", "Safety" Video,  Scott Young's Extreme Bartending Series and a couple from Korea.
Tell us about the Flair Bartending scene in San Francisco? There aren't that many Flair Bartenders in The Bay Area. Most of them are " Mixologists".
What makes you stand out from other Flair Bartenders? I guess I would have to say my style of craziness and "fuck-it" attitude.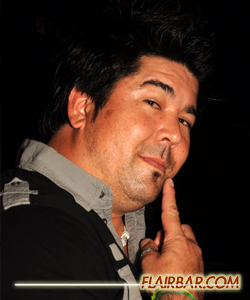 What do you hope to get out of Flair? To tell you the truth, I hope to be more confident in life, think more positive about things and to keep meeting and learning from kick-ass bartenders form around the world.
What is your favorite Flair Bartending competition and why? I'm going to have to say The Beefeater International Finals back in 1999 that was held in NY. This is where I saw what real Flair Bartending was. It was also when I met Toby (Tobin) Ellis and what the FBA was all about.
Who do you look up to in this Sport? I look up to many Flair Bartenders such as Ken Hall, Allan Mays, Ed Hibbert, Toby Ellis, Mig, Tim "Flippy" Morris, Justin Kean, Christian and Rodrigo Delpech and many others.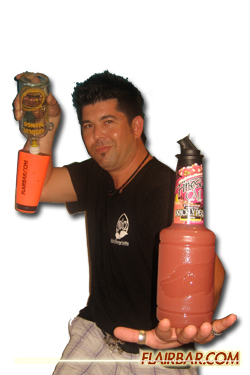 Tell us about your experience on "On the Rocks" Absolut's  Search for America's Top Bartender? It definitely was a career changing experience. This competition wasn't just about Flair but being an overall well rounded BARTENDER!! From blind taste tests (Which I sucked at) to Flair to pairing drinks with food and Mixology, it was pretty intense. After all, we WERE competing for $100,000.00. I ended up taking second place losing to a dear friend of mine and a well respected bartender Amanda Gager. Overall, it did make me a stronger and more confident BARTENDER.
How did you think the show was portrayed once it aired live? I think it was awesome. It obviously got a lot of attention since two more seasons were made. I just wished they aired Season 1 on TV too. We all had a lot of fun.
Has being on "On the Rocks" Absolut's  Search for America's Top Bartender changed your life in any way? It definitely has changed my life. Because of the show, 360 Vodka found me and brought me on as their National Brand Ambassador.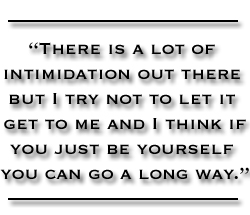 Tell us about your job with 360 Vodka? This job is Awesome yet very tedious. From bartending all those years to Ambassadorship was a big step. I feel so lucky to be aboard this wonderful brand cuz I get to see the world and meet other Brand Ambassadors and go to these great events like Tales of The Cocktail and The Manhattan Cocktail Classic just to name a few. I'm learning so much from others and there is still so much to learn. I mean it's quite different when you're on the other side of the bar for a change. I get to create all the cocktails for 360 and get to do Seminars and train other bartenders on some unique ways of making drinks. It's so much fun.  There is a lot of intimidation out there but I try not to let it get to me and I think if you just be yourself you can go a long way.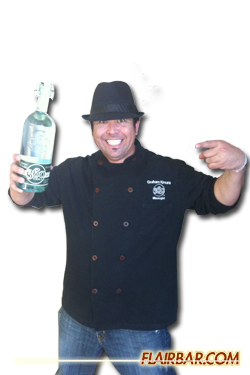 What does your average work week with 360 Vodka entail? I'm always working when I think about it. Instead of your 8-10 hour shifts, I'm more of a 12-15 hour a day. It's crazy but fun and well worth it.
What makes you the right person for the job? I guess my personality. I have the word "HAM" in my name and I just like to be around people and make them laugh and have a good time.
In your opinion, what makes a good bartender? I think a good BARTENDER has to be well rounded and know their environment.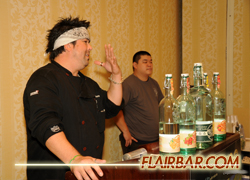 Do you think our sport of Flair bartending is on the rise or decline and why? I think its still on the rise. Flair bartending is such an underground sport many people still don't know what it is and it's up to us to get the word out.
How often do you practice? I hardly practice anymore and I know I should but because of my new position, I'm focusing more on being more creative with making cocktails. I still LOVE Flair though.
What are the advantages and disadvantages of being a Flair bartender rather the a regular bartender? The advantage is you can entertain the guests more and you can definitely make more tips but the disadvantage is, if you're slow and are sloppy it will not only slow you down but you will have unhappy customers and they are the priority.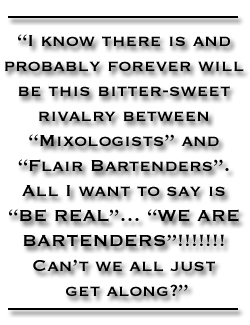 Do you think being a good Flair Bartender behind the bar has to slow down your service as well? No, not at all. That's why there is Working Flair. You can be just as fast as a non Flair bartender if you know what you're doing.
What is your advice to some of the new bartenders wanting to learn Flair Bartending? Definitely "PRACTICE", "PRACTICE", "PRACTICE" as my good friend Ken Hall once said. Don't go for big moves at your bar unless you can do them 110 times blindfolded. (Figure of speech there). And be aware of your surroundings.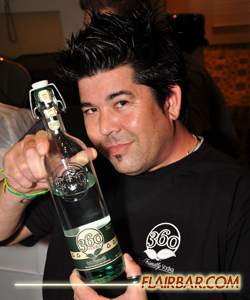 In your opinion, what is Mixology, Do you think Flair bartenders embrace Mixology and Do you think Mixologists embrace Flair bartending? These next three questions I'm going to sum up in one answer.  I know there is and probably forever will be this bitter-sweet rivalry between "Mixologists" and "Flair Bartenders". All I want to say is "BE REAL"… "WE ARE BARTENDERS"!!!!!!! Can't we all just get along?? Ha Ha. Seriously though, think about it, a DJ is a  mixologist, a Chemist is a mixologist, a BARTENDER IS A BARTENDER.  Flair bartending is just a different style of bartending yet when it comes down to it…YOU ARE A BARTENDER!!
If you could help influence Flair to change our sport somehow, what would it be and why? I am a big fan of the BLUE BLAZER style comps because if showcases some Flair, professionalism, cleanliness and above all a good quality drink.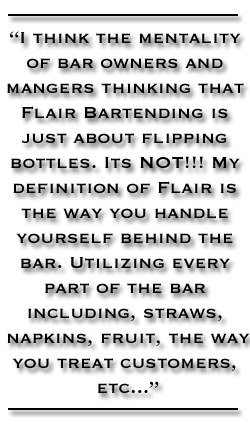 Tell us about your involvement with the recent Bartenders Bash Series @ Bahia Cabana? Well, 360 Vodka finally got to showcase why it is a great brand and we got to leave a message of ECO-AWARENESS which no other comp does. We wanted to show people how good this product is as well as how much 360 cares about the environment.
What were your overall thoughts on the event? I thought the event was a big hit and we need to do this twice a year.
Why should someone compete in this event in the future? Obviously to get your feet wet if you have never competed in an event and also get to meet other great bartenders.
What is the secret to getting a great job like yours and how would someone interested go about doing this? I guess ask around and see if anyone is looking for an AMBASSADORSHIP position. If so, show them what you're capable of and how you can help push there brand to another level.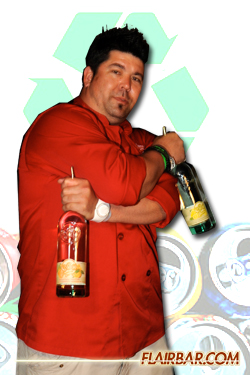 In your opinion, what are the deciding factors that make  a "World Champion" Flair Bartender?  DEDICATION,  PRACTICE, KNOWLEDGE, PROFESSIONALISM, SHOWMANSHIP, and PERSONALITY.
What obstacles do you see our sport of Flair Bartending encountering in the near future and in your opinion, how can we overcome them? I think the mentality of bar owners and mangers thinking that Flair Bartending is just about flipping bottles. Its NOT!!! My definition of Flair is the way you handle yourself behind the bar. Utilizing every part of the bar including, straws, napkins, fruit, the way you treat customers, etc. We need to show them that Flair is here to stay and to just give it a chance. There is a time and place for everything and if you, as a bartender, have any common sense, then you know what "I'm talking about".
Are there different avenues for sponsorship that we should pursue? Think charities. Sponsors love when there are charities involved because it shows that they care about others in need and want to help.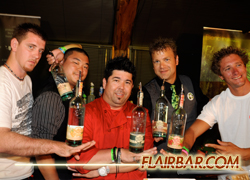 Do you think corporations and sponsors investing in Flair bartenders is an effective way to promote and educate their products and why? Of course it is! Perfect example would be the Nightclub & Bar show in Vegas every year. You walk by all the boring booths except for the ones that have Bartenders that Flair and make good drinks.  Personally I like the ones with all the Hot Taster Girls. Lol.
What are your thoughts on Finest Call products and Why? Love Finest Call Products. I basically started bartending using their products. They are big supporters of Flair too!! Not only do all the Finest Call products taste good but the bottles look good too.
What is your favorite Absolut Vodka flavor? Gonna have to say Absolut Peppar just because I used that on the very first challenge of "ON THE ROCKS" and won.
What is your favorite drink? WATER!!!!!!