Crafting Service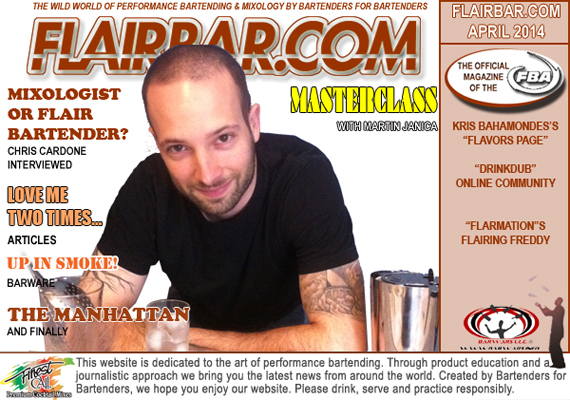 Crafting service… I think we all agree whether you are entertaining your guests with Flair or crafting an amazing cocktail with love, everything still comes down to service. You could do the most amazing 8 object Working Flair move behind the bar or infuse an ancient hard to find Hungarian blue moss with your favorite whiskey to make the perfect Manhattan… but it will all lose its luster if the service is lacking and the cocktail takes too long.
So focus on service. Serve your guests in a timely manner and help make them feel welcome at your bar. Make eye contact, give them a nod, let them know you know they exist. As soon as you do, you will see their shoulder's relax and they can start to enjoy themselves knowing you are in control of your skills and in control of your bar. When you greet them, be genuine, smile… after you serve them , shake their hand, exchange names, make them feel welcome… when they pay, say THANK YOU and mean it… do it so much where it only feels natural after awhile.
So I ask you, our loyal Flairbar.com readers… in 2014, Craft your service. Be good at what you do and try to take it to the next level with service.
Just think of the possibilities.
If your looking for inspiration to get you started… Check out "Love me two times" all on our 'Articles' page. Chris Cardone shares with us how he fell in love with bartending twice. What are your thoughts on the subject? Do you have an article you would like to share…? Message us on our  Flairbar.com Facebook page and lets discuss.
If you liked Chris's article and want to know more about him or if you just want to learn more about a bad ass bartender who can Flair and create spectacular craft cocktails... Chris Cardone shares with us his past, present and future behind the wood from competing in a Flair competition in the Cayman Islands to being a bar trainer on Jon Taffer's  hit show "Bar Rescue". Get to know all of that and more all on our 'Interviews' page entitled "Mixologist or Flair Bartender?".
Speaking of learning, head on over to our 'Masterclass' page where Martin Janica teaches us a 2 bottle, tin and Finest Call exhibition Flair sequence that that you can use in your next routine. All on our 'Masterclass' page.
After reading about being a bartending and creating cocktails you might be craving a cocktail… Check out "Spring Spectaculars" from Kris Bahamondes to help you satisfy your creative delights, all on our 'Flavors' page. This guy is a talented mofo. Yum!
Next check up on one of our most animated characters here at Flairbar.com "Flairing Freddy" on our 'Flairmation' page. In this issue Freddy is dealing with the lime shortage here in the United States and is just trying to enjoy a classic hand shaken Daquiri. How relevant?
All of that plus our regular features, more 'Barware', more pages, and more Flair than you can shake your competitor submission to the WCC USA qualifier at. 
So take some time out and enjoy a Finest Call cocktail as you flip a Flairco bottle into a BarProducts tin and enjoy this months issue of Flairbar.com and say "Thank You" to the sponsors who keep our sport alive.
To Flair & Friends.

Rob Husted