BATTLE OF THE FLAIR GODS 3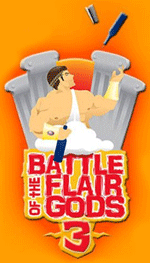 BATTLE OF THE FLAIR GODS 3
April 14th – 15th 2004
Las Vegas, Nevada USA
By Rick Barcode
Brought to you by Las Vegas based Flair House, A.K.A. seasoned Flair pro's: Christian Olden, Juan Llorente and Francesco Leoni. This competition was their third outing as promoters/organizers. Previous venues were the Las Vegas Convention Center and the Shadow Bar at Caesars Palace. This time the stage was set at the Las Vegas International Hotel and Restaurant Show at Mandalay Bay's convention center.
Although this shaped up to be a great demonstration of local Flair skills, this competition did start off with some controversy.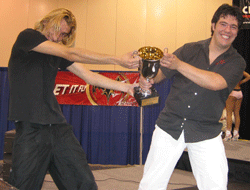 Initially there was some confusion over when this competition was due to take place on account of there being two separate competitions, Battle of the Flair Gods and Battle of the Flair Gods 3. Both with the same logo, but different sponsors, dates and venues. This unfortunately contributed to a poor turn out of pre-registered competitors. However, once word spread, 19 local Flair Bartenders stepped up to the plate and showed up last minute to compete in day one of the qualifiers.
Pictured Left are Adriano Marcellino and Rodrigo Delpech, the two favorites having a friendly fight over the first place trophy.
In recognition of the community pulling together to help this event the organizers made the controversial decision to take all 19 competitors through to the finals on day two. The following video clips are some of the highlights from day one–we have to save something for the upcoming DVD review when it comes out in a couple month's time!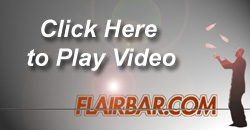 1st Place Adriano Marcellino
Winning by only one point, Adriano was on fire as usual. His bottle and tin routines constantly changed from one trick to another, never repeating a sequence while his two-tin-one-bottle and two-bottle–one-tin were highly original. Throughout his routine he managed to break down that imaginary barrier with the audience allowing his personality to shine through. This was Adriano's third consecutive Battle of the Flair Gods 1st place victory. Wow.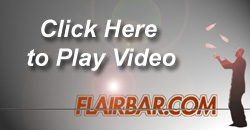 2nd Place Rodrigo Delpech
Rodrigo recently set the world record for bumps at King of the Ring, and in this video clip you can see just how skilled he is at doing this and timing it with music to perfection. There were undertones of the Nicolas St. Jean style apparent in Rodrigo's qualifying routine whether he meant it as flattery or mockery is for the audience and judges to decide.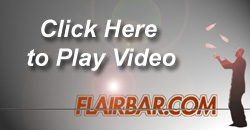 3rd Place Behnam Gerami
Influenced by people like old school bottle and tin Guru, Leigh Miller, Behnam is a benchmark for originality and smoothness. People used to say that the day Behnam puts it all together he will start winning the competition recognition that he deserves. That day seemed to be the start of this year because ever since Best in the West last January, Behnam has been kicking ass.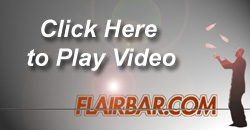 4th Place Tim "Flippy" Morris
No one can work a crowd like Tim. His energy and showmanship combined with his originality make his every performance an infectious must-see experience. You can catch him live daily at Carnaval Court inside Harrah's, Las Vegas where you will witness exactly what we mean.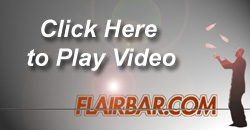 5th Place Oscar Perez
The creator and founder of Latinbar.Net and fellow Kahuna-villain, Oscar has come a long way in a short space of time, fleshing out his entire repertoire of skills. It is still his ability, however, to balance objects on his chin that is his show stopping coup de grace. The clip here is from finals, and shows Oz balancing a long pole on his chin with a full glass on top. Watch to see what he does next.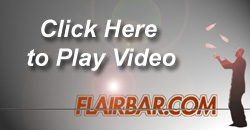 Honorable mention Terri Leeseburg
This Kentucky native recently moved to Las Vegas where she competed in her first competition less than a month ago at King of the Ring. While it is always exciting to see more women get involved in Flair, it is even more encouraging when someone as young as Terri (20 years old) tears it up as if she has been doing this for years. Definitely one to watch.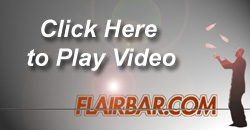 With a new approach to entertaining the spectators during down time between competitors, Flair House enlisted the help of four sassy and sexy dancers collectively known as the Sin City Urban Dance Group. In an attempt to bring you the flavor of this event we felt it only right to let you see these birds in action. Check out the video to check out the chicks.
Overall it was an event that started off shaky but ended strong. The results seemed fair and the audience left with its jaws on the ground. We at Flairbar.com are looking forward to the DVD. As with all events it could not have happened with out the collective effort and help of many people. The sponsors, Bacardi, Red Bull and Coke got behind Battle of the Flair Gods 3 while the master of ceremonies (and true voice of Flair) Chico Garcia of Chicosun provided commentary and banter that kept the event moving nicely. DJ Serg, also of Chicosun, rocked the room from behind the Red Bull decks and hooked me up particularly with a sweet mix for my performance. A huge special thanks go out to Flair Monkey Media who provided Flairbar.com with all of the video clips you see on this page. Congratulations to all that competed and look out for the Flairbar.com Team at Bartenders Bash in Islamorada, Florida, and the Roadhouse qualifier, London, England. Cheers!