BARWARS V THE SPONSORS STRIKE BACK

BARWARS V THE SPONSORS STRIKE BACK
September 20th – 22nd 2004
Club Safari, Palm Beach Gardens, Florida USA
By Rob Husted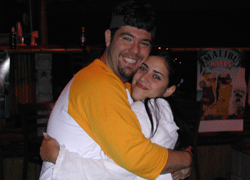 With over $8,000 dollars in prize money, strippers, extreme cab rides, lots of body shots and a newly renovated state of the art nightclub, how could you not enjoy yourself?
BarWars is a long time passion of mine. With the help of numerous people helping along the way, we get to watch it grow every year to something bigger and better and every year It's something I'm proud of.
This year John Buckley was my right hand man. He helped me piece together different tasks into one beautiful masterpiece. This time our goal was to up the anti and bring more sponsors to the table to increase the prize money and budget to try new things. That's how we got the tag line "The Sponsors Strike Back!'.
Another goal was to bring in experienced judges that could rightfully judge these bartender Jedis. The panel included Mike McLean from Flairco, Rick Barcode from Flairbar.com, Rodrigo Delpech from the Hard Rock Hotel and Casino in Tampa, Luis Herrera from the FBA, Brian Loukmas from Allied Domecq, Travis Tober BarWars I Grand Champion, Daniel Joseph from Flairmoves.com, Jordan Mednick from Coconut Willies, Chris O'Connor from the BET Sound stage, Aj Gruening from the Hard Rock Hotel and Casino in Hollywood Florida, Deshon Allen from Flow Nightclub, John Buckley from www.BarWars.info, Gary O'Donnell from TGI Fridays and Larry Marble from Skyy Vodka. A Special Thank You to Jenn Durant and Bob Husted.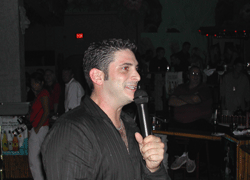 MC Ben Rose did a great job keeping the show moving, the competitors comfortable and the crowd on their feet!
Something else I was proud of was the amount of new blood this competition brought out. There were a lot of new faces to the Flair scene in this competition and those faces will not soon be forgotten.
Pictured left is MC Ben Rose moments before starting the competition.
This was also the first year we had a Pro and a separate Semi-Pro division. The Semi-Pro division was a good way to get the sport growing by encouraging new competitors to get there feet wet.
This win meant a lot to Adriano. This competition was his Unicorn. It just kept slipping through his fingers. The first time to Levi Donaldson and the second to Danny Rossi. This time would be different, this time Adriano came to win and become a bartender Jedi.
Click on the picture to the right to see Adriano's first drink using working Flair.
Adriano started off right with the second fastest Speed round time, only one second behind Danny Rossi. This was one of Adriano's most difficult and cleanest rounds I have ever seen from him. Not to mention zero drops and some creative three bottle working Flair!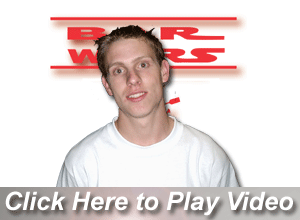 Taking second place honors in the Pro Division was Paul 'The Mad Russian' Trzcianko, pictured left.
I first saw Paul at BarWars IV, it was one of his first Flair bartending competitions ever. Paul impressed a lot of people then with his unique and original style.
People made sure they remembered his name. It was his spring board into our Flair community.
This time Paul came back to impress the judges again. It's amazing only after one year, with practice and determination how much better someone can become.
Keep an eye on this young Bartender Jedi in the making. Click on the picture above and enjoy!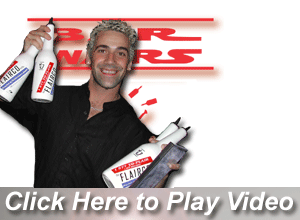 BarWars V Pro-Division third place winner is Mauro Garrido, pictured right.
Mauro won an invite straight into the finals because of his second place win behind Rodrigo Delpech at the BarWars V qualifier at Blue Martini three weeks before.
Mauro had a difficult routine which earned him Flairco's BAM (Big Ass Move) award. Great job Mauro and we will see you at Quest!
Click on the picture above to see this bad ass Argentinean in action!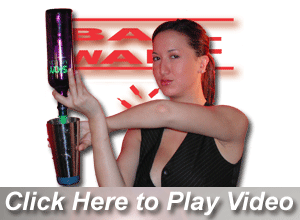 BarWars V grand champion for the Semi-Pro Division was Tia Rodriguez, pictured left.
This femme fatale has only been Flairing for three months. With the guidance of her boyfriend Daniel Joseph, She turns heads while behind the bar.
She had some smooth routines coupled with a sassy confidence which earned her a big win.
The Final Results are: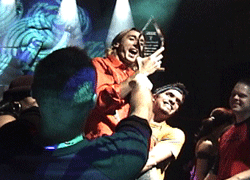 Pro Division
1st Place Adriano Marcellino
2nd Place Paul 'The Mad Russian' Trzcianko
3rd Place Mauro Garrido
4th Place Danny Rossi
5th Place Teddie 'Bear' Buckley
6th Place Mike Tallman
7th Place James Burke
8th Place Levi 'The Great White Hope' Donaldson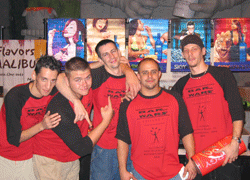 Semi-Pro Division
1st Place Tia Rodriguez
2nd Place Zack Hart
3rd Place Chad 'Taco' Tocco
4th Place Rob Hardy
5th Place Joey Lenz
6th Place Ceasar 'Gypsy Tin' Romero
What a great time this event was. This was one of my favorite BarWars to date. Special Thanks again to the Barbacks Gabriel Garcia, Josh Antonelli, Wayne Ball, Anthony Gutilla, Mike and Slim. The Lovely door girl Christina and Cristina Shoemaker our Barwars Babe. Jenn Durant, Capt Ron, Ben Rose, The Marroitt, Thomas Perugini, Club Safari, John Buckley, David Hardy, Skyy vodka, Diageo, Finest Call, Allied Domecq, Energy 69, Jagermeister, The Palm Beach Post, Flairco, The FBA and Flairbar.com. You guys helped the competition in so many ways. For those of you who missed it… You will have to wait for the DVD.