BALANCING FLAIR WITH MIXOLOGY! – Danny Seigel Interviewed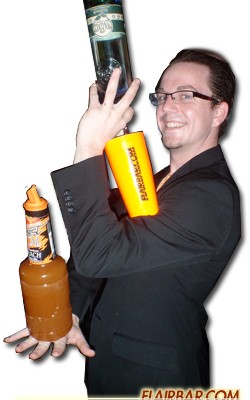 From starting out watching Flair as a spectator to learning the craft behind the bar to competing on stage and continuing the cycle…
Mr. Danny Seigel
. He is a talented bartender that can hold his own in the Flair ring as well as Mixology competitions and now in the pages of
Flairbar.com
, we get to know a little more about
Danny
with
"Balancing Flair with Mixology!"
as he shares with us his insights on the world of Flair bartending & Mixology… So sit back, relax and indulge in a
Finest Cal
l
&
360
Vodka
cocktail made in a
Flairbar.com
tin sold on
BarProducts
and enjoy…
Age? I'm 24 years old.
Where are you from? Born & raised in Miami, Florida. This has definitely played into my experience in the spirits industry. Miami is undoubtedly a global Bar & Club destination, being raised in a city so heavily influenced by the hospitality industry has certainly exposed me to a great deal of experience and education in the business.
How long have you've been Bartending? This year will be my sixth year bartending! I actually had the incredible opportunity to start bartending very shortly after I turned 18 because of an incredible manager named Santino who saw something in me before I ever set foot behind the bar.
And Flair Bartending? Flair bartending is actually one of the things that attracted me to bartending in general, I've been incorporating some degree of Flair into my bartending since day one, So this will also be my sixth year Flair Bartending.
Where do you work? Currently I'm working for an absolutely amazing local bar in Miami Beach called Sandbar Lounge. It is a great longstanding local bar where I work with an absolutely incredible team. It's a very casual (our floor is literally SAND) atmosphere where we strive to make every night feel like a party! Behind the bar you can expect to see high energy working Flair all night as well as exhibition Flair shows, and fire breathing. Moreover you can also expect a great drink!
What got you into Flair Bartending? My first actual exposure to Flair bartending was working for TGi Friday's. The company offers all of their bartenders worldwide the opportunity to compete in their annual World Bartender Championship and I jumped at it. Training for this competition really got me hooked on Flair bartending. However there was a definite moment when I took first place at the Regional Championship of the competition that was a turning point for me. I remember during the last 2 minutes of my exhibition Flair routine the crowd was cheering so loud that they were completely drowning out the music. There's few things in life as visceral as the roar of a crowd, and it was at that moment I knew Flair was going to be something much bigger to me than I'd ever known.
How did you start out learning to Flair? Youtube Videos! I spent (and still spend) what's best described as an obsessive amount of time watching videos of Flair bartending. Every video I could ever find I watch over and over thoroughly dissecting every detail I could!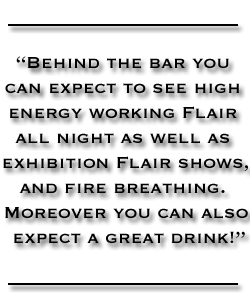 Tell us about the Flair Bartending scene in Miami? Miami's Flair scene is alive and rapidly growing! In the past year Miami has seen a definite influx of talent that, much like Miami itself is thoroughly diverse. We've seen the opening of Off The Hookah in the heart of Downtown Miami featuring a team of incredible Flair bartending champions performing a genuinely incredible Fire Flair Bartending Show. Elite Bartending School in South Beach has opened an incredible working Flair bartending training program. The Swedish Barskolan Academy has continued their iconic Flair bartending beach days on South Beach where it's not strange to see world renowned Flair bartenders teaching groups of students. It's been a very busy year for us!
What makes you stand out from other Flair Bartenders? Since I've started in the industry, I've had the opportunity to work (and to varying degrees) Flair bartend in a very diverse group of venues. Corporate Restaurants, Nightclubs, Hotel Bars, Stadiums, Concerts, Catering Events, Flair Bars, Sports Bars, Local Bars; In each of these settings I've been able to learn how Flair can be used to drive sales and improve guest rapoire in a wide variety of business models.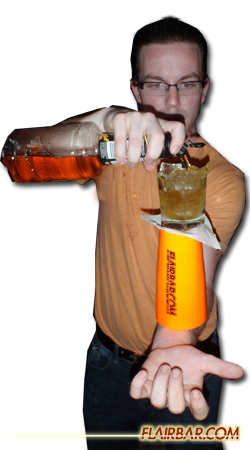 What is your favorite Flair Bartending competition and why? It's hard not to love the Bartender's Bash Series, the idea of a "blind" Flair competition (Time Limit, Drink List, & Sponsors being revealed the day of the competition) makes for a fun competition with incredible showmanship. I also think you'd be hard pressed to find a Flair bartending competition with a view as nice as the view from the stage in Islamorada this year. It was Flair bartending in paradise.
Tell us about your experience at this years Bartenders Bash Series? The Bartender's Bash Series 2012 was an incredible whirlwind of an experience! Bartender's Bash at the Postcard Inn (Formerly Holiday Isle) is an amazing event every year and this year was definitely another great one! In the second part of the series at the End of Season Party at Bahia Cabana we had a pro division that was full of award winning champion Flair bartenders and a rookie division with several very talented up and coming Flair bartenders. At Bahia Cabana, I was also competing in the Mixology competition where I qualified for the finals and got the chance to battle my Mixology mentor, Josh Gates in a one on one, mystery basket mixology competition working with some brand new products from 360 Vodka & Finest Call!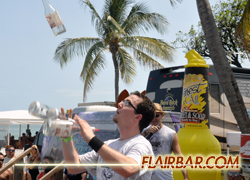 What were your overall thoughts on the event? What makes both parts of the Bartender's Bash Series truly amazing is that it is a great Flair competition, a mixology competition, the chance to taste new products and new cocktails from a variety of brands, and a LEGENDARY party all wrapped up into one awesome event.
Why should someone compete in this event in the future? The Bartender's Bash Series is a great event to participate in because in training/practicing for the Bartender's Bash Series, you inevitably become a much better bartender and hone your skills farther.
What were your strategies going into Bahia Cabana entering in both the Mixology & Flair competitions?Coming into Bahia Cabana I was in full bartending overdrive. I was spending hours each day prepping for both.
In Flair, because of the blind competition format, the only way to prepare was to practice everything: all of my bottle/tin Flair and juggling. Every day, I would sit down at least twice a day, pick two songs & queue them up, and create hypothetical routines, varying time limits, varying bottle selections, I was practicing both my Flair and the art of creating a routine every day.
In mixology, I spent a great deal of time studying and refining techniques and tools that I use behind the bar. I also made a concerted effort to practice tasting not only spirits but every ingredient I could get my hands on: herbs, spices, fruits, syrups, exotic ingredients, I tasted everything I could. By familiarizing myself with ingredients' flavors, it made me much more comfortable working with them.
What were your thoughts on the "86'd" Mixology Contest before stepping foot behind the bar? Having seen the final round at the 2011 Bahia Cabana competition, I knew that I was going to have to bring everything I knew about crafting cocktails to the bar. The mystery basket was daunting before I ever even opened it knowing that pretty much ANY product could be in there.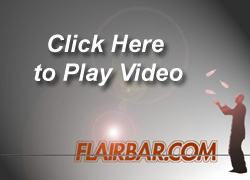 What were your thoughts on the "86'd" Mixology Contest during and after the competition? During the competition I was completely wrapped up in making sure that I presented a balanced, flavorful cocktail, making sure to incorporate all the ingredients in the basket as well as incorporating advanced techniques that you don't see in your average bar. I must say – the time flies by! Ten minutes has never flown by so quick as in that final round! In the end, though it was ultimately an excellent exercise in adapting my skills to particular situations, which has made me a better bartender overall.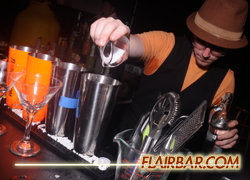 Who do you look up to in this Sport? There are many elements that must come together all at the same time in a competition Flair routine, and there are many bartender's who I look up to, Christian Delpech, Tim "Flippy" Morris, Dario Doimo, Danilo Oribe, Rodrigo Delpech, Tomek Malek, Marek Posluszny, Tom Dyer, and many more. These guys have all in one way or another influenced how I've grown as a Flair bartender.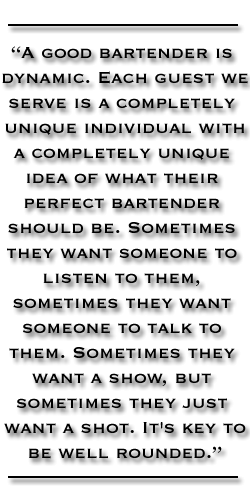 In your words, what is Flair? Flair is about creating a unique and extraordinary experience for the guest. The way we do this varies wildly though, sometimes it's juggling bottles and tins, sometimes it's wowing a crowd with fire breathing, but just as vital as those techniques are, it is equally as important to bringing energy and uncompromising service to the bar with it.
In your words, what is Mixology? Mixology is the art of making amazing drinks with all of the ingredients you have on hand. Sometimes it's exotic ingredients, premium spirits, and complicated techniques, but other times it's about using technique to elevate the experience of common cocktails with common ingredients to a new level.
In your opinion, what makes a good bartender? A good bartender is dynamic. Each guest we serve is a completely unique individual with a completely unique idea of what their perfect bartender should be. Sometimes they want someone to listen to them, sometimes they want someone to talk to them. Sometimes they want a show, but sometimes they just want a shot. It's key to be well rounded.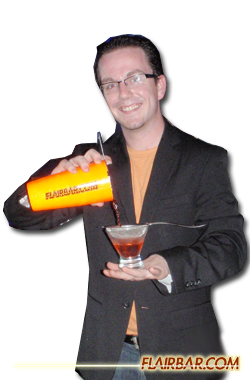 Do you think our sport of Flair bartending is on the rise or decline and why? Flair bartending is definitely on the rise. Several factors play into this, but I think none quite as significantly as social media. Social media (specifically Facebook and Youtube) has certainly done wonders for Flair bartending. Even a few years ago when I first started, the idea of recording an HD video of myself Flairing either at work or practicing, was not really practical-much less, sharing that video worldwide! Now, when I perform a fire show at work, I can have an entire bar recording me on their cell phones in full HD and uploading it to various networks of people with my name and very importantly the bar it's at. We live and do business in a society saturated with user generated media, and must appreciate the power it wields.
How often do you practice Flair? I practice anywhere from 2-4 hours a day, typically broken up into two or three separate sessions. I typically will practice until my muscles are sore enough to begin effecting my technique, rest for a while and then practice more.
How often and how do you become better at Mixology? I like to think that my mixology skills become better every day. I spend a great deal of time reading a wide variety of both cocktail recipes and culinary recipes, which often lead to a mental tangent of sorts resulting in a great cocktail. Typically I read recipe books more as a source of inspiration than looking for something specific to make. More important than reading recipes, I try to "actively taste" everything in my day to day life. Whether it be dissecting the flavors in a hamburger I get for lunch, an empanada I pick up before my shift, or a hand crafted cocktail made by a renowned mixologist – I try to dissect it and pick out the flavors and proportions of as many ingredients as I can. It's truly shocking the flavor/aroma combinations that can inspire a cocktail.
What are the advantages and disadvantages of being a Flair bartender rather then a regular bartender? The obvious advantages of being a Flair bartender are somewhat self-serving: increased tips, guests that become "fans" to some degree, and better shifts. There are however several advantages that can be used to a business' advantage. Working & Exhibition Flair can actually help retain the bar as a focal point in a venue and to some degree can even help manipulate the ebbs and flows of business to provide better service.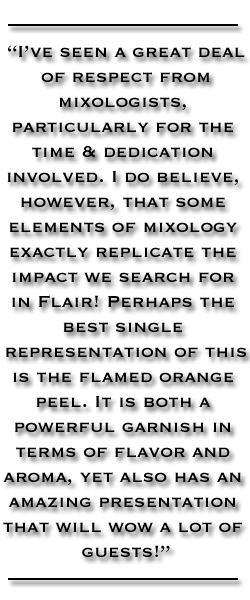 Do you think being a good Flair Bartender behind the bar has to slow down your service as well? Flair bartending does not inherently have to slow down your service, but it has the ability to. It's vital to understand the role that Flair plays in your overall pace and quality of service. It's important that as Flair bartenders we vigilantly use Flair to provide better service and to NEVER let our Flair compromise our service
What is your advice to some of the new bartenders wanting to learn Flair Bartending and Mixology?When learning Flair, there will be bumps, bruises, & cuts. I think one of the fundamental elements of Flair when we really distill it to its purest is the degree of risk. In practicing/mastering inherently difficult and risky moves there will be mistakes. Many of these mistakes will hurt! Don't let them dissuade you from Flair, just remember even every pro Flair bartender has a handful of times they, "got themselves good." But persisting past a hard knock in the funny bone, bruised knuckles/forearms, or a cut from broken glass is how we get better!
The single best piece of advice I can give anyone learning mixology was something I learned from my mentor: taste as you work, familiarize yourself with the ingredients you have on hand constantly! Also, if you make a drink that you don't think is good – don't just throw it away! Taste It! Figure out why it is doesn't taste good, is it the flavor combination or the ratio of ingredient? I like to think I've never had a recipe that was a failure, but I have had several recipes that succeeded thoroughly in teaching me what does not work.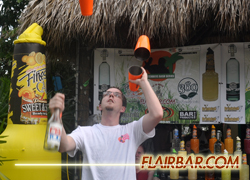 Do you think Flair bartenders embrace Mixology? I think in the next few years we're going to see a definite shift in this area. For years Flair bartending competitions have been about strictly Flair itself, with minimal focus on the actual cocktail presented. However the spirits industry has seen a definite resurgence in the art of the cocktail, and I think subsequently we're going to see more competitions that focus on both the Flair and the mixology, which transitively will expose more Flair bartenders to mixology.
Do you think Mixologists embrace Flair bartending? I can't really say definitivel whether or not mixologists embrace Flair bartending. In my experience I've seen a great deal of respect from mixologists, particularly for the time & dedication involved. I do believe, however, that some elements of mixology exactly replicate the impact we search for in Flair! Perhaps the best single representation of this is the flamed orange peel. It is both a powerful garnish in terms of flavor and aroma, yet also has an amazing presentation that will wow a lot of guests!
If you could help influence Flair to change our sport somehow, what would it be and why? The biggest thing that I hope to see in competitive Flair bartending is a more reactive competition format. Right now the competition format we're familiar with is focused on a single routine. I think a more reactive format (i.e. multiple shorter rounds) would make it more competitive and more entertaining for the crowd.
Tell us about some of the stuff you're working on implementing behind your bar? At Sandbar Lounge, along with Flair, I've been working on a collection of infusions that have the ability to be sold as both shots and cocktails in a high volume environment. Perhaps the best example of this is my Jalapeno infused tequila. Though simple to produce, it can add whole new degree of complexity to everything from a hand crafted cocktail to a simple ice cold tequila shot.
What is the secret making great tips behind the bar? There is no single secret, that is THE secret. There are endless little secrets, tips, and tricks that all make you a little bit better. When you strive to embody all of them, the odds of you doing something that your guest feels deserves a better tip are in your favor.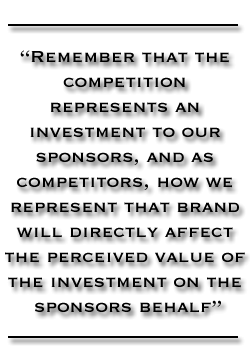 In your opinion, what are the deciding factors that make a "World Champion" Flair Bartender? Several factors make a world champion, but none more than persistence. There is no way to do moves that seem impossible without the willingness to try a move 100x, only land the move once, and still be driven because, "now I know it's possible, I just haven't practiced it enough."
What obstacles do you see our sport of Flair Bartending encountering in the near future and in your opinion, how can we overcome them? The most significant obstacle that we face in the sport of Flair bartending is the legal atmosphere that develops as soon as a brand, product, or company invests in a Flair competition or event because of the inherent promotion of alcoholic products. It will be quintessential for the success of Flair competitions to maintain a constant message of responsible drinking and also for competitors to remember when participating in a competition that they are, to some degree, representative of the brands sponsoring the competition.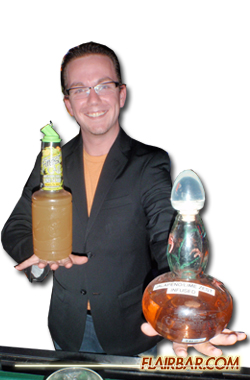 Are there different avenues for sponsorship that we should pursue? Do you think corporations and sponsors investing in Flair bartenders is an effective way to promote and educate their products and why? The deciding factor in the role that sponsors will play in Flair bartending will be the job we as Flair bartenders do representing their brand! It's important for us as Flair bartenders to remember that the competition represents an investment to our sponsors, and as competitors, how we represent that brand will directly affect the perceived value of the investment on the sponsors behalf. The next major step in the world of sponsorship will be non-competing brands that may exist both in and outside the spirits industry. It will be vital that as Flair bartenders we assume a responsible role as brand ambassadors for these sponsorships to prove their genuine value.
What are your thoughts on Finest Call products and Why? My experience with Finest Call products is that they serve a vital role in this industry. In addition to being the best option for bars that operate in a very high volume business, I've found that many of their syrups can be used as a sweetener in conjunction with fresh product to produce great cocktails.
What is your favorite spirit? Though I have very fond places in my heart for many spirits, I still love Jameson's Irish Whiskey, neat.
What is your favorite drink? If I had to pick just one, right now it would be my simple Irish Clover, simple to make, and delicious!
Irish Clover
-2 oz Jameson's Irish Whiskey
-1 oz Lemon Juice
-1 oz clover honey syrup (2:1 honey:water)
-1 egg white
PROCEDURE: Shake ingredients w/o ice, then add ice and shake vigorously. Double strain into a sour glass, and garnish w/ two drops of Peychaud's Aromatic Bitters.