ADRIANO MARCELLINO – Becoming A Legend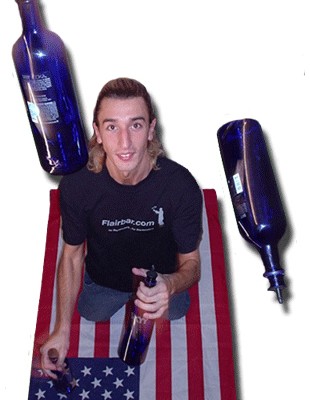 A young Legend in the making, Adriano Marcellino burst on the Flair scene a couple of years ago and blew everybody away with his insane three, four and five bottle combinations. Making it look easy when few were even attempting them. Now he is reaping the rewards. In almost every Flair competition he enters, he places very high. Adriano has proven he is a force to be reckoned with!
Age? I'm 22 years old.
Where are you from? I'm from Buenos Aires, Argentina.

How long have you've been bartending? I've been bartending for four and a half years.
And Flair Bartending? The same time, four and a half years.
Where do you Work? I work at the Seminole Hard Rock Hotel & Casino in Tampa, Florida.
What got you into Flair bartending? The Fun! and The  Quest for the Best Bartender in the World  videos. I remember the first time I saw one of those videos. I said to myself, I want to do that.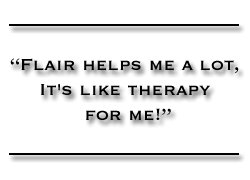 How did you start learning to Flair? Well I went to a lot of bartending schools in Argentina (six to be exact), but  I started to learn Flair in Universidad del Cocktail. That school opened the doors of Flair for me. After some time of going to there I saw my first Flair video, it was the FBA underground. After that, the rest was practicing at the park.

What makes you stand out from other Flair Bartenders? I don't know if I stand out from other bartenders, but if I have to say something, It will be practice.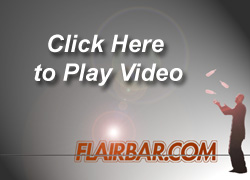 Why do you Flair now? Because I love it. I always loved it. Flair helps me a lot, It's like therapy for me.
What do you hope to get out of Flair ? I Think Flair already gave me everything. Flair gave me the chance to meet wonderful people, friends, travels, lots of good times and the chance to work here in U.S. So, now I feel I have to give everything from me  to Flair in return.
The video clip to the right is of Adriano at Battle of the Bartenders 5 two years ago.
What is your opinion on the Vegas Flair scene? The Vegas scene is HUGE! But like everything in the world it has two sides. I think it's great because it mixes people from all over the world and the Flair exchange is good for the sport. But it has another side that maybe is not that good. Because when you see too many people with a lot of different styles and even more different moves, it makes it a lot harder to come up with your own. But I love going to a town where everybody Flairs.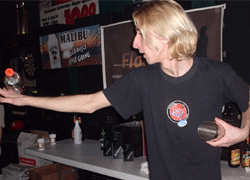 Pictured left is Adriano at the Battle of the Bartenders 9 in Orlando.
Who do you look up to in this Sport? My biggest idol of Flair bartending always was Alan Mays. Then people like Rodrigo Delpech he always showed me that anything is possible in Flair Bartending and my favorite style on the face of the earth is Ian Bartos and Fabio Milani. Just one word for them, smooth.
What is your favorite Flair bartending competition? It's really hard to pick just one. I can tell you my favorites. King of the Ring, Pinnacle of bartending, i loved Grand Masters 2 in Cayman islands! and Bar Wars, that one is my unicorn. It is not going to get away from me this time. And for last, every competition in Argentina.
What are the biggest differences working in an American Flair bar rather then a bar in Argentina? The first not big, huge difference is equipment, but that is a little bit shallow. I think the biggest difference is the crowd. Here in the U.S. the people love it and cheer for you. In Argentina I'm positive that the people like it, but everyone is waiting for you to drop!
Pictured right is Adriano showcasing his 1st place trophy at the Battle of the Bartenders 9.
How did you get the Job at the Seminole Hard Rock in Tampa? I got my job thanks to Martin Janica. He told  me about the opening of the Casino  and he put us in touch with Sujoy Brahma (the F&B director) and after that everything was paperwork.
You just won 1st place up in New York, Tell us about your experience up there? I loved the competition. It was a really friendly atmosphere. Lots of fun in one of the most beautiful cities in the world. Thank you Dean and Mike.
How often do you practice? Before I started to work five days a week I used to practice lots of hours everyday. Now, working everyday I try really hard to practice at least one hour a day.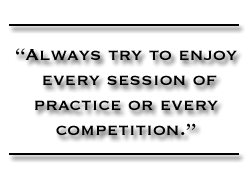 What do you like most about America? The bars!
You came on the Flair scene pretty young. If I remember right, I saw video clips of you on Latinbar.net doing some amazing three, four and five bottle moves before you were even 21. What advice would you give to some of the newer and younger Flair bartenders out there?
My advice to the young people who is just starting is practice hard and take it serious, but not too serious. Always try to enjoy every session of practice or every competition. This is an amazing sport and gives you the opportunity to meet people everyday. So don't waste the chance to do it. You are going to love it and make it part of your life.
What are your predictions for BarWars V? I Think it's going to be one of those competitions who makes history. All the new guys from Argentina, a lot of great Flair bartenders, and me. Everybody's wanting to win. It's going to be good.
What is your favorite drink? Golden Dream, Triple sec, Galliano, orange juice and half and half, but I'm more of a beer person I think.