A GREAT GUY FROM URUGUAY – Danilo Oribe
Updated: December 1, 2004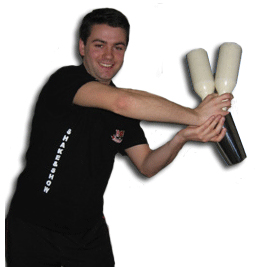 Fresh from his big win at the IBA (International Bartenders Association) World finals. Mr. Danilo Oribe sat down with us after a big day for Uruguay!
Age? I am 21 years old.
Where are you from? I am from Montevideo, Uruguay.
How long have you've been bartending? I have been bartending for about two years and six months.
And Flair bartending? Same as bartending.
Where do you Work? I work in Shake & Show bar catering, in Uruguay
What got you into Flair bartending? I started training because I got motivated watching performances from different bartenders that gave me the push to start practicing and get better little by little.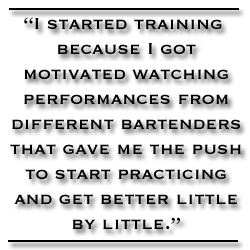 How did you start learning to Flair? Thanks to the support of my colleagues in Uruguay, they gave me a good idea about Flair and also thru Latinbar.net I got a lot of information.

Describe to us your style of Flair?  I believe my Flair point is to have a good overall performance, trying to get a good smoothness with a moderated difficulty. I always try to have a lot of contact with the public (crowd reaction). I would say that my Flair has a lot of influence from South America "FLAIR LATINO" that the style I like the most and admire as well.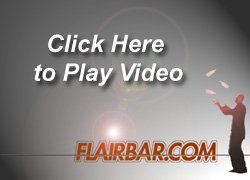 What makes you stand out from other Flair bartenders? The passion for this profession.
Why do you Flair now? I Flair now because I would like to learn much more and I have a big motivation.
What do you hope to get out of Flair ? I hope to keep learning from the best, meet a lot of people, try to get in other competitions of more level!
Who do you look up to in this Sport?  Christian and Rodrigo Delpech, Adriano Marcellino, Juan Llorente, all of them have incredible and particular things from their moves to their personality to their consistence.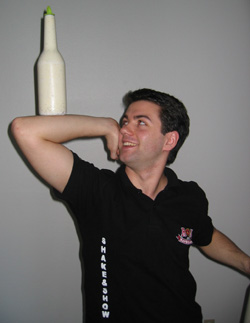 What is your favorite Flair bartending competition? There a lot of them but the one I'd love to compete in is The Legends of Bartending.
Tell us about the IBA and what they do?  The IBA (International Bartenders Association) is an Organization of many years in mixology but only a few years in Flair. I think they got a lot better since the first Flair competition. The best part of an IBA competition is the competitors from all over the world, 40 countries. 
You placed first at the IBA World finals this month, tell us about your experience there? It made me very happy to get the big goal for me, very emotive like a dream come true. I still can not believe it. I met a lot of people and I learned a lot, I hope all this helps me to keep growing.
How often do you practice? Not always because of my job I always practice when I'm getting ready for a competition, I practice about three hours every day.
What advice would you give to some of the new people out there who are thinking of competing? I am a new person in this profession. I don't have enough experience to advise anyone but I think you have to work hard in your training every day if you can.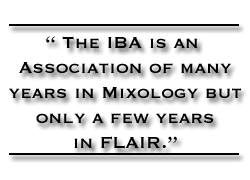 Tell us about your first Flair competition and your experiences there, what were you feeling? Did everything go as planned? My first comp was an a night club in Uruguay 2002 it was a memorable experience. I wasn't very nervous and everything went the way it was planed.