TOBY ELLIS IS… Cut Off – "THE YEAR IN FLAIR"
Updated: December 1, 2005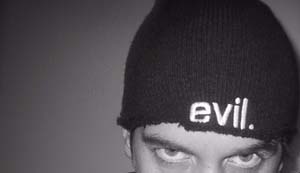 Another year of getting people blotto has whizzed by and I'm sitting here wondering what I've learned from it that you would find either amusing or useful. But the truth is that nothing really comes to mind. Sure if I spent hours picking through the dark recesses of my frightening mind, I could probably dig up something. But I don't have the time or patience for that and you might not have a strong enough stomach to see what lurks in the corners of El Gato's psyche.
In fact, the more I dwell on it, the more I have to admit, I've just become another year more hardened, more jaded, more bitter. Bartending will do that to you after a decade or so, lol. Yes, people are just as stupid…possibly more so, than I thought they were last year. And the Delpech's are still beating us all over the head with the simple truth that they were born to flip bottles whereas the rest of us have simply picked up the habit along the way. That's how it feels anyway.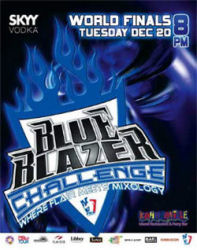 It's Christmas in America and other than turning my kitchen into my own little version of Milk & Honey in preparation for Blue Blazer in a week or so, this month is all about family. I still kid them all that I'm adopted, but as I get older I think my family is finding that more amusing (and comforting) than I used to. Go figure.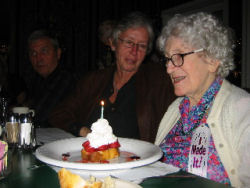 It was a big year for the Ellis family, particularly my Great Aunt Lillian who celebrated her 100th birthday a couple of weeks ago. Wow. I can barely wrap my head around that. She was three years old when the Henry Ford rolled the first Model-T off the world's first automobile assembly line. So when the waitress comes around the table to ask her what she wants to drink, what does she say? Manhattan, honey. Her glass was dry before the waitress unloaded her tray. God bless her 100-year-old heart.
And speaking of family, I thought this would be the perfect time and place, to throw out some THUMBS UP….and Down, to my other family (that's you guys) and the industry at large. Santa's got his list and so does Toby. Here goes…
THUMBS UP to Levi Donaldson for turning rain into sunshine after he and the whole Tampa-based Hard Rock crew lost their brand new jobs at the Biloxi Hard Rock to Hurricane Katrina. Not only did Levi keep his and many other bartenders spirits up, he used the tragedy to his advantage and put on what more than a few have called "the round of his life" at Quest, poking fun at the misfortunes the hurricane caused him.
THUMBS DOWN to the Hard Rock Seminole for deciding to replace one of the top two Flair crews in the world with boobtenders. As if the world doesn't already have enough trophy bartenders preventing hard-working, talented people (who haven't been augmented with plastic and silicone) out of work. Shame on you.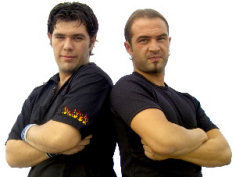 THUMBS UP to Rodrigo Delpech for running away with the top spot on the FBA Pro Tour this year. Even before the final event, the Argentinean wonder-kid who has spent much of his career in the shadow of his older brother, Christian, locked up the #1 spot in a points race for winning the most FBA-endorsed competitions this year.
THUMBS DOWN to the FBA for not starting the FBA Pro Tour years ago, when I was actually in the finals of most events. The Pro Tour currently includes Legends, The Best in the West, The Big Apple Showdown, Nations, Quest, and Blue Blazer. Next year more events are being added and rumor has it Mr. Dynasty himself, Christian Delpech, has his eye on the #1 slot on the leader board in 2006.
THUMBS UP to Tug Van den Bergh for holding down the helm at Roadhouse Flair, one of the biggest Flair competitions in the world and considered by most to be the most prestigious "Pure Flair" contest. Past champions include Steve "Nitro" Smith, Christian Delpech, Nicholas St. Jean, and Diego Dillon. The monthly contest culminates in a World Finals in November of each year with a winner-takes-all first place prize purse of 10,000 British Pounds. Tug is also the UK Representative for the FBA and an important part of making Roadhouse a part of the 2006 FBA Pro Tour. For more information on Roadhouse, visit their site at www.roadhouse.co.uk/flair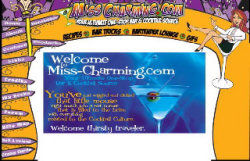 THUMBS UP to Miss Cheryl Charming for having her 5th book published this year. The Everything Cocktail Parties & Drinks Book is for sale at amazon.com. Cheryl has been a longtime supporter of Flair bartending and hosts her own website that is packed with bartending-related information, links, recipes, ideas, and more. Check her out at www.miss-charming.com.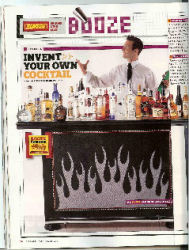 THUMBS UP to FBA Representative and owner of New York Bartending Academy Chris Cardone for landing a two-page spread in FHM Magazine that showcases Flair bartending and for landing a "body double" role in the daytime soap opera Guiding Light, flipping bottles. Not bad for the guy we like to call "Rookie."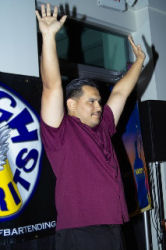 THUMBS UP to FBA Representative Eric Lopez of www.martinisforhire.com for stepping up the plate and running flair competitions, yard-days, and in general… for building the scene in California.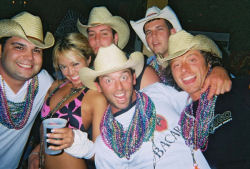 THUMBS DOWN to England and The United States for banning Chuck McIntosh from entering the country. That makes at least two countries Chuck has been banned from, all surrounding his now infamous BottleSlinger videos. Free Chuck Mac!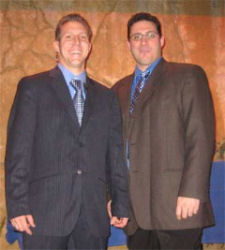 THUMBS UP to Ken Hall and Jim Allison for quietly holding the entire sport together, for yet another year. If not for these two around-the-clock working maniacs, we would have no Legends, no Quest, no FBA, no Pro Tour, no Nations, no Blue Blazer, no Best in the West, and nobody to bitch and moan to about the silliest, most trivial things in the world. Like why they won't sell FBA Pro Tour Bags at a loss for $50.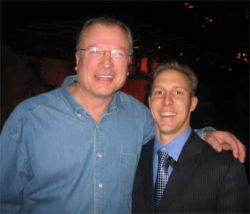 THUMBS UP to John Neikrash of Skyy Vodka and Bill Hinkebein of Finest Call Mixes for their continued support of Flair bartending. Both companies came on board for the idea of he FBA Pro Tour which guaranteed the continued growth of the sport of competitive Flair bartending in 2006.
THUMBS DOWN to Grey Goose Vodka for more reasons than I care to name. But here's most of them: First, for making the world's most bartender-unfriendly bottle. It's ridiculously heavy, slippery, too tall, poorly balanced, and short of topping it with barbed-wire, it has to be the most annoying, dangerous bottle to open. Second, for fooling the general public into believing it is the the world's "best tasting vodka." Anybody who knows anything about Vodka knows that a) the better a vodka, the closer it is supposed to taste to water, and therefore have no taste and b) once mixed with cranberry juice, tonic water, or RedBull… who can tell the difference? And third, we cannot ignore the obnoxious, pretentious, and unrealistic TV commercials where a pompous actor pretending to be a bartender makes snide remarks about not flipping a Grey Goose bottle. Well "no duh." Who would want to?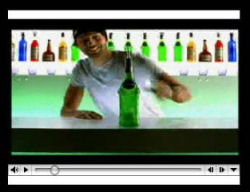 THUMBS UP to Midori for featuring European sensation Nicholas St. Jean in TV Commercials for their unmistakable Melon Liqueur performing Working Flair. Nicholas is one of thousands of examples of what real bartenders can do behind a bar while making quality cocktails: entertain. Here is a link to the website that contains the ad: www.fiorbrands.co.uk Look for the green thumbnail that reads "View our new TV Campaign."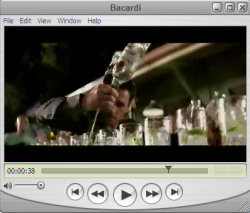 THUMBS UP to Bacardi for featuring some very cool Flair in one of their South American TV advertisements where a bartender prepares a drink with some very unique Working Flair.
THUMBS DOWN to Bacardi, Captain Morgan, Smirnoff and Southern Comfort for ruining three of the best designed bottles for flipping. As long as brand managers and other drinks execs. by into the false idea that prettier packaging will change the image of their brand, we will continue to lose great bottles for Flair and without knowing it, they will lose thousands of front-line brand ambassadors that could (and did) otherwise pour thousands of cases of their product each week, around the world.
THUMBS UP to Flairco for their never-ending ingenuity. From the Skyy Flair Bottle to the Vortex Flair Bar and everything in between… Dean, Mike and Matt never stop bringing us the toys and tools we have been screaming for.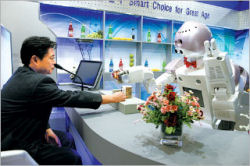 THUMBS DOWN to Kim Mun-sang, Director of Ministry of Science and Technology's Intelligent Robot taskforce in Busan, who actually designed and built a robot bartender. We joked about it, this clown built it. What would George Orwell say?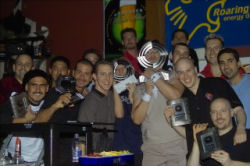 THUMBS UP to Dario Doimo, Tim "Flippy" Morris, Diego Dillon, James Hadhazy, Nicholas Antivero, Behnam Gerami, Toshifumi Moro, Oscar Perez, Tom Dyer, Adrianno Marcellino, Neil Lowrey, Jay du Toit and Tom Alley for giving the Delpech brothers a reason to sweat. These are the flair bartenders who filled up the finals rosters (and won a few major championships) of most of the big events in 2005.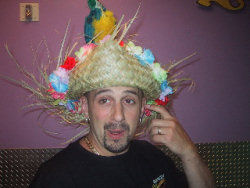 THUMBS UP to Chris "Chico" Garcia of www.chicosun.com for yet another year of running his one-man flair machine that produces flair showcases all over the country as well as his very own annual competition, Flip$ for Tip$. Chico also MC's some of the major FBA events including Best in the West and Blue Blazer. Chico was featured on the August 2004 Cover of Flairbar.com for his outstanding contributions to the Wild World of Flair Bartending.
THUMBS UP to Tony Cogburn of Flair Monkey Media for filming and producing many of the 2005′s Flair Competition DVDs. From Legends to BarTrix Winter Games to Best in the West… right down to the Flip$ for Tip$… Tony has been there to make sure you and I don't miss a minute of the action.
THUMBS DOWN to the people who pressed the DVDs the 2004 Quest DVD for which yours truly did the video post-production and artwork. For the last time: it's not my fault or Tony Cogburn's you can't skip the extended introduction!

THUMBS UP to Mark Hastings and the gang at www.barproducts.com for doing so much business that UPS had to create a new shipping classification just for them! Yes, it's true. Flair is alive and well and spreading like wildfire, in part thanks to the good people at barproducts.com who supply us with all our toys and tools.
THUMBS DOWN to Craig Lombardo and his flailing knock-off bar supply website for all the negativity and hatred he spread via e-mail and message boards this year. Craig showed his true colors to the bartenders of the world launching poorly-written attacks and half-witted insults at almost every well-respected Flair bartender on the planet, including yours truly. Craig has in one year, been banned by the FBA and boycotted by thousands of bartenders around the world, some of whom have had t-shirts made to spread the word about their disgust with his behavior. Maybe Santa will bring Craig Hooked on Phonics this year.
THUMBS UP to the cute birds who come out to support all the flair comps around the world. Because who doesn't like to be cheered on by a room full of nice eye candy while they swing their 17 inches of danger around on stage?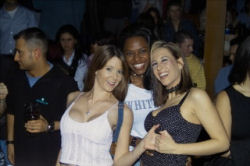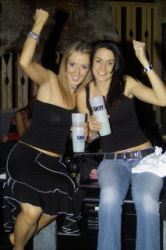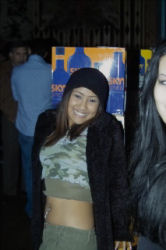 THUMBS DOWN to all the old and new spirits on the market that obviously didn't spend 10 seconds thinking about the end-user. From bottles that are too fat to fit into a speed-rail to bottles that won't hold a pour spout without wrapping a bevnap around it to bottles that are shaped like bricks that are a pain in the ass to pick up and pour…the list is long and makes my wrist hurt.
THUMBS UP to Daniel Joseph and the rest of the crew at www.flairmoves.com. Probably the coolest thing to come along since the Flair Bottle, this is a website that you can teach yourself hundreds of Flair moves of all ability levels. The site is searchable, savable, quick-loading, and best of all, some of the hottest bottle-flippers in the world are your teachers.
THUMBS UP to Josh Nemerow of Carnaval Court and Justin Keane of Rio's i-bar who I hired to work one the biggest industry events of the year in Vegas, the DA/V Holiday Party. Josh, Justin Keane, and Carolina Delpech lent their talents to the 50′ long 4-well Flair bar we setup and ran for for 600 thirsty Las Vegas Movers and Shakers this month. The two relative newcomers to the Flair scene amazed and inspired me with just how incredibly good they have become in such a short period of time. Seeing these two "sophomores of Flair" dance circles around me at my own event lit a great big fire under my ass. Thanks guys.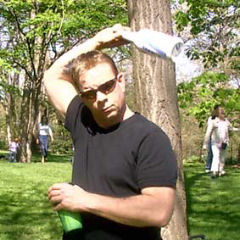 THUMBS UP to Dennis Ryan, the FBA's version of Jackie the Jokeman Martlin who supplied bartenders around the world with hundreds and hundreds of jokes this year, ready to bring to the bar.
THUMBS UP to FBA Representative Tomoyuki Hojo aka "Hojo" of Japan for authoring his very own series of highly-detailed cocktail recipe books entitled Catman: Cocktail Master.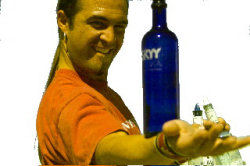 THUMBS UP to Christian Delpech for reminding all those on his heels that he's still number one and has no plans of slowing down. Better still, THUMBS UP to Christian for year after year setting an example of what a truly great Flair bartender is: someone who lets their bottles, not their mouths or they keyboards, do the talking. Christian walks the walk while many of us talk the talk.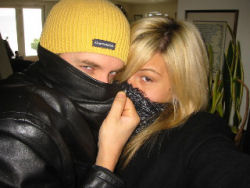 THUMBS DOWN to yours truly for being the guiltiest of the guilty of talking rather than walking. Hopefully, I'll put my money where my big mouth is at Blue Blazer, and back up all the chatter about how to Flair while making truly great cocktails behind the bar.
And finally, THUMBS DOWN and THUMBS UP to old guy at my bar two nights ago who first stiffed me after buying a bottle of beer and then just minutes later, shook my hand and slipped me a $100 because he said he liked it when I flipped the bottles around. You crazy bastard!
I hope you've had a year filled with joy, or love, or peace, or hookers… or whatever makes you happy in life. I know I have… the joy, peace and love, not the hookers. So from our hideout in the middle of the desert and the Flair Capital of the World, my girlfriend Jackie and I wish you and yours a Happy Holidays! See you again next year, when we'll do this all over again. Until then, what could I leave you with that would be more appropriate at this time of year, than the catch phrase I was once one of the only Americans using (and rarely do anymore, as it is sickeningly overdone by everybody else now)….
Cheers.
Toby "El Gato" Ellis
p.s. Keep the faith