THE QUEST FOR THE BEST PARTY! – The fun of Quest throughout the years
Updated: December 1, 2005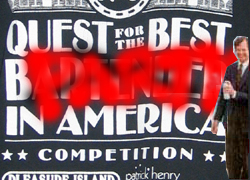 Aloha to all my favorite bartenders out there… this month Rob Husted tapped me to give all of you who were there, and those who missed it, the play by play on the infamous night at Alehouse, where another one of a kind memory was added to the archives of good times had in Orlando, Florida, before, during, and after Quest. Yes, there was some arm wrestling… yes; Chris "Condiment" Cardone went to battle, with the hopes and dreams of every Flair bartender in the room on his narrow, bony shoulders. As for the outcome… well, we'll get to that shortly.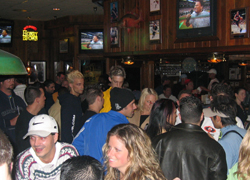 When I started out on this assignment, I planned to detail just that night at Alehouse, but the more I thought about it, the more it dawned on me… this is the kind of stuff that Quest is all about, at least for us mortals.
That is, the majority of competitors at Quest will not be up there on the finals stage, and once your round is over, the fun begins. The drinking, picture taking, noise making, cigarette smoking… and whatever else that bartenders do when someone else is doing the blending, shaking, flirting and pouring. The mixture of Flair, international and domestic competitors, hotel rooms in close proximity, friends not seen for a year, new friends made, the love for Flair and friendly competition… submerge that in all types of shooters, beer, booze and shots, and top with 4 days off in a row… all these things make for some serious mischief and mayhem.
A huge part of Quest is the fun to be had when you're not trying to remember the recipes, with the FBA making it more likely you would have a drinking buddy already there. Ten years ago, most guys didn't know each other well, and friendships were harder to make and maintain, when you only saw each other once a year. Today, we talk smack to each other daily, via the FBA Members Forums, so we are totally primed to get wild once the comp is on, which guarantees a new bit of drunken legend every year.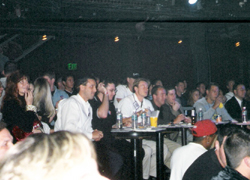 But before we talk about this year's new stumble-rific happenings, let's go back, to the days when Toby Ellis was the Big Bad Wolf, Rob Corujo/Austin Powers proposed, and Stormin Norman's drunken midget ruled the day.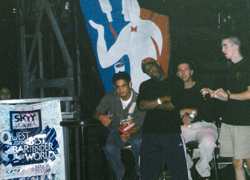 The Quest of old, known then as The Quest for the Best Bartender in the World, was sponsored by Disney and held at Mannequins every year, on Pleasure Island. Mannequins was a great venue, with a circular, revolving dance floor, three levels, and five bars, if I remember correctly. That place brought us all together, and from that, came the Flair Bottle (thanks Dean), the FBA, and the beginning of the world of Flair as we know it. Oh yeah, and we got drunk there… ALOT.
My first year was 1999, and I witnessed, and participated in some funny stuff. There was a guy who was working for Major Peters, who got hammered enough to fall into a display of empty Skyy boxes, right next to the competition bar, while trying to dance. It was in the middle of the break, so everyone in the club (packed house) watched this guy shake it, do the hokie-pokie, and fall on his ass. Unfortunately, so did his boss. Didn't see him the next year… heh.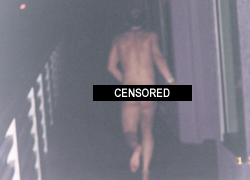 Usually when the competition was over at the end of the night, the only ones left standing were the judges and barbacks. After one year's finals, Rob Turek stumbled in, as Big Mike Graves described it "Druuuuuuuuuuuuuuuunk!!" Now this was about 3 am or so, and everyone had already gone back to the hotel, but Rob was on a mission to find the party. He started on the top floor of Mannequins, navigated the complex catwalk like stairs down to the second floor, then finally made it, in one piece, to the bottom floor. He slurred to Big Mike, "Where the hell is everybody? ". "They're gone!" said Big Mike. and Rob walked (more like staggered) out without another word. Another year, in true, post preliminary round fashion. One of our FBA reps (whose name I probably shouldn't reveal here) made a drunken stagger through Mannequins, right through the middle of the finalists meeting. What made it funny was that it was about 2 or 3 in the morning, and everyone but the finalists were gone… and they were being briefed about the finals, and he had his pants around his ankles. Sporting tighty whiteys, an FBA shirt and so knackered he was blind to everything but what was about two feet in front of him. He interrupted the flow of the meeting, but just for a minute. Like Rob, he made his way out… on his own, pants still tangled around his feet.
It was from drunken antics at Quest that the infamous FBA award, the "Naked Schultz" was born…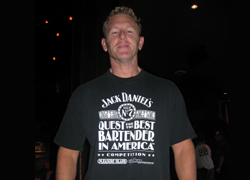 The "Schultz" comes from our friend Mark Schultz, who had the honor of making finals one year. Above the dance floor, was a stage where Mannequins dancers did their thing… and where the trophy presentation was held. Only thing… the stage was over fifteen feet above the dance floor. And yeah, you guessed it… Ol' Schultzie was "celebrating" after his round and got nice and toasty, and nearly fell from that stage!
The "Naked" part belongs to Steve Hurst, who gained his celebrity by running through the All Star Hotel we were all staying at, for no less than a half an hour, completely naked, except for a Skyy bottle covering his family jewels. The highlight being the security guard who Steve high-fived as he ran by. Obviously, Steve had done his part to empty that Skyy bottle that night, forever making the Naked Schultz the award given to the bartender who drinks too much and does something ridiculously memorable.
Back at the hotel, the drinking would continue… we did the rounds at different All Star Hotels, raising hell every place we went. Quest '99 saw the birth of the Fully Clothed Pool Relays. Toby and I competed in this one… I won my heat, and Toby displayed excellent presence of mind, when pushed into the pool, by handing his wallet off to Mark Schultz in mid-fall, before getting it wet in the pool. I think we closed that out by throwing every piece of pool furniture into the pool.
Finals night Quest '99 , the partying competitors made so much of a ruckus that they had to pitch in to pay for other guest's rooms, and hotel management opened the cafeteria, just so the bartenders could really cut loose and have fun. Imagine 30 or more bartenders, with all their beer and booze with them, getting their drink on in an empty Disney cafeteria.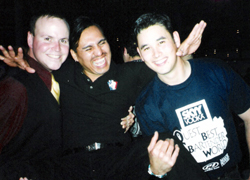 Quest has always brought out the party animal in all of us, since the beginning. Of course, this year was no exception. The venue as you know, is at Universal Studios Citywalk, in The Groove, our new home base. The characters are a little different, with new faces every year. Many of the old dogs have moved on to organizing, judging, and otherwise just making the event happen, me included. But now that it's all over, there are still a few stories to tell.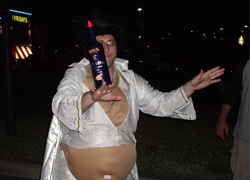 Quest 2004 had a couple of crazy nights, peaking on Finals night. As usual, with random drunken shavings, videotaped fellas on pillas with pellets, Elvis in the parking lot, a tree climbing competition between Luis "Iceman" Herrera and Toby Ellis (Winner: Toby), a night at Denny's and the first ever party held entirely in an elevator.
This year, just like Quest 2004, we stayed at the Holiday Inn, right across from Citywalk, making the closest bar the TGIF attached to the hotel. Which left the The Alehouse one block away and Denny's one block in the other direction, but that's another story.
Everyone had been gathering all night at Alehouse, and by the time I walked in, the smell of Zingers and Jager were greeting me, most folks were well on their way to a great buzz! I joined in, snapping pictures here and there, until I met Jaime Dean.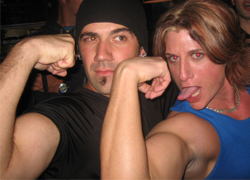 Jaime Dean is a female professional wrestler, with arms that have seen a barbell or two. As you can see, Mauro and Jaime were flashing the guns for my camera when Chris Cardone whipped out his arm, and there began the Alehouse Arm Wrestling fiasco, with Chris ending up in the loser's camp.
Never before have I seen 30-40 Flair bartenders screaming their heads off, drinks and cameras in hand, for a woman to arm wrestle one of our boys. At first, Jaime was being a little shy, not wanting to hurt Chris' "cute" little arm, as she put it. But once Chris stripped off his shirt, borrowed my hat, and did his best Over The Top impression (Quote:"When I turn my hat around, I'm like a machine…"), it was on!!!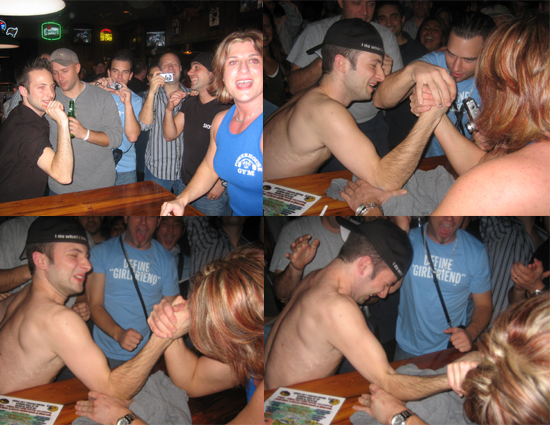 Have no doubt, we screamed, we cheered, we called Chris a p**sy, but when it was all over, Jaime Dean, a Canadian girl, with 21 inch pythons, showed us a whole new way to emasculate our favorite New Yorker… heh. Good times.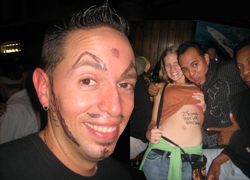 That night at Alehouse the Sharpie came out as well. Say hello to two victims of the Sharpie (Thanks Mclean), Pedro Morales, and Terri Leeseburg. By the time everyone took a turn, Terri was covered everywhere.
The other moment of glory that we all took part in was at Denny's the night after the finals. When you go drinking, inevitably, you gotta eat, right? Well, that's how we felt!
Imagine it's Wednesday night, you're at work at Denny's. Working your server shift at 3 am… and through the front door comes 70 Flair bartenders, some drunk, some not, ranging from first year guys, to the Brothers Polo, Jim and Ken in their matching Quest polo shirts (awwwww), to World Champion brothers, Rodrigo and Christian Delpech, all just wanting some scrambled eggs, and maybe a Moons Over My Hammy or two… ok, more like 45!!!
On shift that night was one manager, (somewhere in the back until the second wave of our guys), three servers, one server, and a cook. The look on those poor people's faces… a mix of terror, fatigue, and resignation. Two of the servers took their aprons off and walked out of a side door, preferring to quit their jobs rather than deal with our group of drunken, fun loving bartenders. That left us with only one poor server! (They had an ad for "servers wanted" in the paper two days later.) Now, at Quest 2004, the first Denny's night gave us Captain Condiment, where Chris Cardone knocked back multiple shots of barbeque sauce, ketchup, maple syrup, ranch, and any other condiments he could get his hands on. That was when the boys first pitched in, bussing tables and helping refill drinks, so we could get served.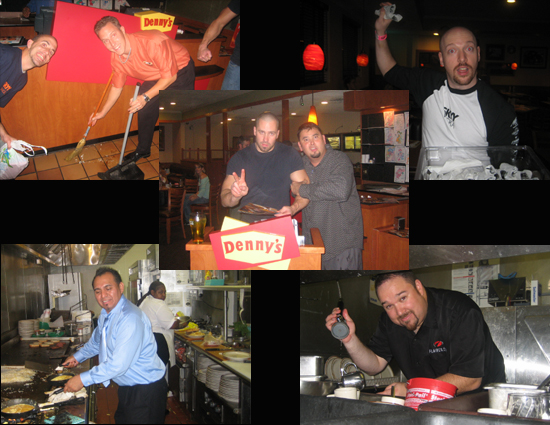 This year, heh… we took that whole damn place over. When you walked in the door, you were greeted by the host, Casey Sch(Schwarzenegger)lothauer. Hopefully, the bussers, Tony Cogburn and Mark Schultz, didn't run you over on his way to get a table cleared and reset, and neither of our servers, Chris Cardone, or T. Corbin Owens forgot to take your order.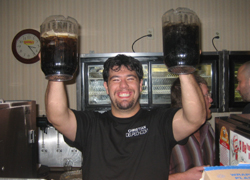 Rodrigo, after a trip to the hotel room to stow his Quest Pro Division Champion trophy, helped by refilling drinks, then he found himself more useful on the expo line, putting orders together that Luis "Iceman" Herrera had just finished cooking. I personally had a Moons Over My Hammy, prepared by Ice, and it was deeeeeelicious… well done, Iceman! With all of us chowing down, the plates started to pile up, so Mike Mclean, our friend from Flairco, jumped in, and got to work.
All was well, until the manager decided I couldn't be in the kitchen anymore, although I had already been in there for about a half an hour, snapping pictures. I left the kitchen, in time to see Christian Delpech going in, camera in hand to capture Iceman on the grill, with the manager right on his heels. He grabbed Christian's arm, again insisting we get out of the kitchen. He pulled on Christian's arm pretty hard, and then I pulled him off of Christian. He then whipped out the cell to call the police. I think Christian was going to give that manager a Flairdevil ass-whupping! Soooooo, back to the hotel we went…
We finished up in the Holiday Inn, where Casey fed everyone Skyy Melon Soup, Johnny got drunk, and Big Mike and I got into a pizza fight. Too much damn pizza, Dean! No one went to jail, we all had a great time, and left the next day looking forward to next year!
Quest will always be near and dear to our hearts, because of the history of this great event, our memories of previous years, and these stories we will tell and re-tell, having a laugh over a beer.
Most of the guys who inspired us to keep picking up those bottles stepped up to the world level of competition at the Quest… Ken Hall, Alan Mayes, Eric "Captain Boogie" Holbert, the original crew from the Voodoo Lounge, Vegas' first Flair bar, Christian Delpech, who at the time was a part of the first wave of Argentineans, endlessly chanting "ar-gen-TINA", until the whole room was chanting along, Chuck Macintosh, of Bottleslinger infamy, and Dean Serneels, CEO of Flairco, to name a few.
Times have changed since then, and today there are more young up and comers than ever, who are following in the footsteps of these guys, stepping on the Quest stage to feel just how hot those lights are. Learning the definition of adrenalin pumping, eye widening, knee loosening stage fright. If you ask me, it's a rite of passage, without which, you haven't experienced what Flair bartending is all about.
Save your pennies, get your plane ticket, pack your spouts and bottles (spoots and bootles for our friends from Canada, eh?), and charge that stage, with JD's booming voice mispronouncing your name, your new found friends cheering you on, and the tables of judges seeing all, pens and clickers at the ready. There will be shots waiting for you at the bar…