THE FEMME FATALES OF FLAIR!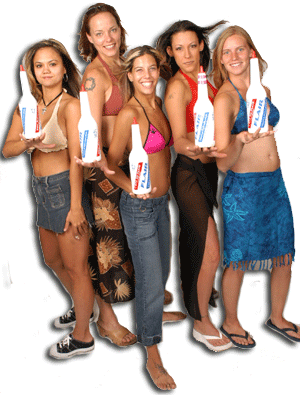 THE FEMME FATALES OF FLAIR!
By Rick Barcode
Summer is here and the heat just keeps on getting hotter! From veterans to rookies these five beautiful women all share a common passion and it's not just shoes.
From Left to right these babes with bottles are: Jennifer Meyers, 'Flairin' Erin Connelly, Ati Tedesco, Robyn Closson and Terri Lesseberg.
We caught up with these Flair bartenders to get there spin on a sport overcrowded with guys.
WHY DO YOU THINK THERE AREN'T MORE GIRLS IN THE SPORT?
ATI: I think girls in general have different priorities, they worry about other things and don't put that much time into it.
TERRI: Many girls aren't into it as much as guys because it's very hard. Pain is a constant thing you have to deal with, as well as the cuts and bruises that constantly occupy your body. It is also very competitive and the most amazing Flair bartenders are guys and it's discouraging to some people to know if they want to be the best it is going to be years of practice and to know that there are so few girls at that level just doesn't seem to be motivation enough for other girls, but it sure is for me.
JENNIFER: I think a lot of girls aren't into this sport for the simple fact that it looks too hard and they don't really want to take the time to actually try to Flair.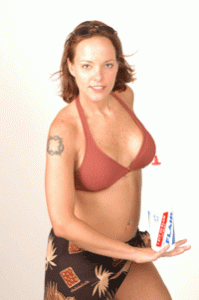 ---
'FLAIRIN' ERIN CONNELLY (pictured left)
Age: 27
Been flipping bottles: Five years
Where do you work?: Kahunaville, TI, Las Vegas
Competition Highlights: 4th Place Legends 6, 1st Place Islamorada, 1st place Bungalow Billards
How much do you practice: It varies.
---
HOW DID YOU GET INTO IT?
ERIN: Friday's was the first place I ever saw Flair. As a spectator, it always captivated me. When I was promoted to the bar I was very eager to start learning, but my trainer wouldn't allow me to Flair until I knew how to bartend. Makes sense, right. I started learning from my fellow bartenders at TGI Friday's in England. To this day I am still learning new moves and perfecting old ones.
ROBYN: Kahunaville started me then a couple good friends got me into competitions, you know who you are!
TERRI: I used to work at a retail place called Hippychick in the Rio Hotel and Casino. Tony Cordova bartended there at the time and he taught me how to juggle hacky sacs. The store was right next to the Flair practice room at the time so I used to bug all the bartenders who went by to teach me new tricks.
JENNIFER: Steven Pacheco pushed me into Flairing. He's helped me a lot.
ATI: My first gig was a bartending job and my co workers Flaired, I'm hooked since then.
---
ATI TEDESCO (pictured left)
Age: 26
Been flipping bottles: Five years
Where do you work?: Carnaval Court, Harrah's, Las Vegas
Competition Highlights: 1st Place intermediateWBC
How much do you practice: Not as much as I would like to.
---
WHO ARE YOUR ROLE MODELS?
ATI: Mom and Dad.
JENNIFER: Steven Pacheco. He is an amazing Flair bartender and teacher.
ERIN: There are so many people that I admire and respect in the Flair world. The list would be too long to name all of them.

ROBYN: Christian Delpech for his grace in Flair and Erin Connelly for being the first female I ever saw flip a bottle.
TERRI: Tim 'Flippy' Morris. He hasn't been Flairing for as long as many of the best have and he is already competing with them and beating them too. It is very encouraging to know that all the hard work I am putting into Flair is going to eventually get me where I want to be.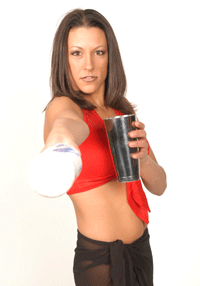 ---
ROBYN CLOSSON (pictured left)
Age: 24
Been flipping bottles: Two and a half years
Where do you work?: Carnaval Court, Harrah's, Las Vegas
Competition Highlights: Nations, Bar Wars and WFBC finalist.
How much do you practice: Eight hours a day at work and everyday when there's a competition.
---
DO YOU GIRLS FEEL OUTNUMBERED AT COMPETITIONS?ROBYN: I feel outnumbered but not outranked. I love going against all the guys.ATI: No, even if there is a lot of guys and few girls it's still fun.
ERIN: The Flair community has become a second family for me. Although we compete against each other, we all have a common goal. I hope we keep that family mentality.
ARE THE GUYS SUPPORTIVE IN GENERAL?
JENNIFER: Yes, all the guys actually helped me conquer some of my moves I have been practicing.
ATI: In general yes.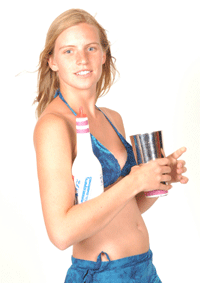 ---
TERRI LEESEBERG (pictured left)
Age: 20
Been flipping bottles: six months
Where do you work?: Rio pool, Las Vegas
Competition Highlights: 7th place King of the Ring (Semi-pro) and 11th place Battle of the Flair Gods 3.
How much do you practice: Two to Three hours daily, often more.
---
DO YOU THINK THERE SHOULD BE INDIVIDUAL CATERGORIES FOR MEN AND WOMEN OR SHOULD THEY COMPETE TOGETHER?
TERRI: I think they should compete together. If anyone wants to be the best they have to compete against the best.
ROBYN: We should be treated equal so we should compete together. It would be fun every once in a while to see just the girls though.
ERIN: I agree with Robyn we should compete together otherwise the camaraderie would be jeopardized.
JENNIFER: I think they should compete together. It would push girls to be better.
ATI: Personally I like competing with guys but I think that a women category might encourage new girls to get into the sport.
WHAT ADVICE WOULD YOU GIVE TO OTHER WOMEN WANTING TO GET INTO FLAIR?

TERRI: It is a lot of work and pain is involved but the feeling that comes after a competition makes it all worth it.
JENNIFER: Practice, practice, practice!
ERIN: Just do it.
ROBYN: Don't think that you can't do something just because you are a girl.
ATI: Have fun, don't get too serious and practice.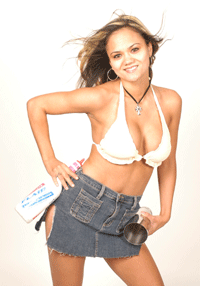 ---
JENNIFER MEYERS (pictured left)
Age: 25
Been flipping bottles: Four months
Where do you work?: Rio pool, Las Vegas
How much do you practice: Every night.
---
WHAT IS THE WORST PICK UP LINE YOU'VE HEARD?

JENNIFER: "I haven't drank in five years but you make me want to start again."ERIN: "Do you come here often?" I don't think you can get any cheesier than that, except for maybe, "What's your sign?"

ROBYN: "So, I see you're really good with your hands, what else can you do with them?"
ATI: "If I take you home are you going to open the beers like that?"

TERRI: "I was watching you Flair and you gave me some ideas. If you give me your number I can call you and tell them." He didn't get my number.
DO YOU THINK YOU MAKE MORE TIPS THAN THE GUYS?

ATI: I think it's equal.

ROBYN: It's pretty equal. It's about personality as well as Flair.
WHAT ARE YOUR FAVORITE COMPETITIONS?

ATI: The old Quest for the Best.
ROBYN: King of the Ring, Tommy Rockers, Legends.
ERIN: I like them all. I've traveled to Panama City, Florida. Orlando, Florida. Isla Morada, Florida. Sterling, Virginia. The Grand Cayman Islands. Cincinnati, Ohio. London, England and recently Vienna, Austria. They all rock.
JENNIFER: King of the Ring.
TERRI: King of the Ring.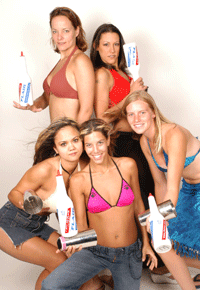 WHAT IS YOUR IDEAL BARTENDING JOB?
ATI: My job!! Carnaval Court is the best. I have so much fun I love it.
TERRI: Honestly, I just want to get behind a bar in which I can Flair.
ERIN: One with the least amount of work for the most amount of pay.
WHAT DO YOU THINK OF FLAIRBAR.COM?
ROBYN:If you ever want to know, see or find out about anything in Flair, look here.
JENNIFER: I think it's a very good way to get people more interested in Flair and keep the interest to those already in Flair.
TERRI: The best and most informative Flair site.
ATI: Awesome info and bartender friendly.
ERIN: Flairbar.com will always have a special place in my heart because I helped launch it many years ago from my spare bedroom and it's kick ass!
WHAT COULD THE FBA (FLAIR BARTENDERS ASSOCIATION) DO TO ENCOURAGE MORE WOMEN INTO THE SPORT?
ROBYN: Show case more women. We are out there and kicking ass.
ERIN: Continue to raise awareness and possibly offer training.

WHAT COULD FLAIRBAR.COM DO TO ENCOURAGE MORE WOMEN INTO THE SPORT?
ROBYN: Do exactly what it is doing right now, this.
JENNIFER: Maybe advertise more with women involved.
ERIN: By continuing to keep an equal mix of boys and girls within it's pages.
ANY LAST WORDS?
JENNIFER:Being a Flair bartender now, I would have to say this is the funnest job I ever had.
TERRI: I love Flairing with Skyy and can't wait for the Flairco Skyy plastic practice bottle to out so I can quit breaking the glass ones.
ATI: In my opinion Flair Bartending is becoming to serious. People are becoming more and more too competitive and it's loosing that fun side. I think everybody should chill and be more friendly, like it used to be.
ROBYN: I would like to send love to all the Bartenders in the world. Never think you can't get better.
Always have fun doing it and when you stop having fun you should stop what you are doing.