THE BLUE BLAZER
Updated: December 1, 2004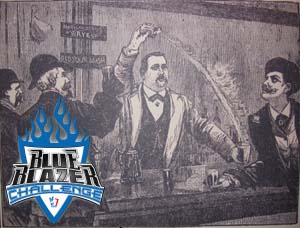 THE BLUE BLAZER
November 21st – 22nd 2004
Kahunaville, Las Vegas, USA
By Jim Allison
The Blue Blazer Challenge 2004 had the most significant impact on the Flair industry since Quest 1997. Wait a minute Jim; don't you think that is a bit bold of a statement? And what happened that made Quest 1997 so special?
Now that I have captured your full attention, I will explain my boastful comments. As many of you know, 1997 was the year that a handful of bartenders got together and made the
FBA
(The Flair Bartenders Association) a reality. The creation of the
FBA
was a major turning point, or maybe I should say an incredible step forward for all of Flair bartending. A few other notable events in Flair history would be the growth of Flair in Las Vegas as
Ken Hall
,
Alan Mays
,
Steve Bushur
, and
Todd Connell
made the leap to hyper space and opened the
VooDoo Lounge
atop the
Rio Hotel Casino
over looking the bright lights of the Las Vegas strip.
Legends
in 1999 was a progression toward proving Flair bartenders are more than just jugglers, but also world class bartenders with speed, Flair, and accuracy.
Roadhouse
has taken Flair to a new level and is on the opposite side of the spectrum from
Legends
, proving that pure Flair is very powerful.
Quest
being taken over by the
FBA
in 2004 was sweet justice in that the bartenders are now in control of the event that started it all. So why does the
Blue Blazer
deserve to be in that mighty list of Flair accomplishments?
The Blue Blazer built a bridge… excuse me, laid a rock solid foundation between classic mixology and freestyle Flair bartending. Quest is all about the party. Legends is all about the bartenders total skills package. Roadhouse is all about pure Flair. The Blue Blazer was all about the drink. Sound familiar? It should, that was the title of the previous FBA Video.
The Blue Blazer proved to the entire world, or it will when the DVD comes out, that Flair bartenders are simply the best and most passionate bartenders on the planet. An interesting cycle has been created. Years ago world class bartenders wanted to take their skills to the next level, so they spiced up their service with some sort of Flair. In the past few years, many younger Flair bartenders have mastered the art of Flair bartending and were looking for other ways to enhance their skills… hmmmm maybe learning to create world class cocktails is the ticket. Now Flair bartenders all over are focusing more and more energy on the drink… and the Blue Blazer is documented proof of that.
So what happened at the Blue Blazer?
Finals had eight bartenders who were originally from all over the world, many of which now work in Las Vegas. The Flair was tame in comparison to what we saw at the FBA Triple Challenge, Quest, or Roadhouse, but was right in tune with what the Blue Blazer was looking for. As the bartenders worked their magic on their lemon presses, cheese cloth, muddlers, and garnishes… they also put on some of the most entertaining pure bartending shows ever seen. What was so unique and refreshing about the Blue Blazer is the fact that these bartenders were actually bartending while they competed. There was no… rush rush make my drink… now flair flair flair… The drink, the show, the flair, and the presentation all flowed together like NEVER before.
As one of the mixology judges, I was extremely impressed with all the final competitors. Some shined more than others in different areas, but all deserved to be up on stage that evening. Both Essie Numminen and Oscar Perez scored 100% on their drinks "Taste & Name" category where we looked at the aroma, taste, balance, and finish of the drink. Essie produced a Tuaca Lemon Drop (Featured on this month's Flavors page) to die for, in fact I would not allow the drink to leave the table and proceeded to consume the tasty libation for myself. Her second drink, Bols-N-Berries, was also a work of art, and I believe it was also claimed by another judge. Oscar's Tuaca Lemon Drop was also beautiful, but his Banana Vanilla Cream Pie was simply the best drink of the competition. The only deduction I wanted to give Oscar on the drink was for only making one of them!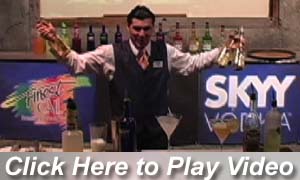 Oscar Perez from I-BAR of the RIO in Las Vegas took top honors in both mixology and Flair.
From his exceptionally creative drink presentation and pre-chilled glassware in a cooler of dry ice, to his clean clean clean and difficult flair, Oscar simply ran away with this competition.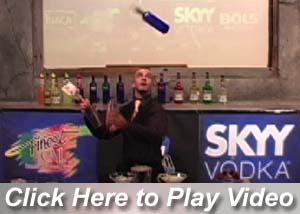 Juan Llorente from Shadow Bar of Caesars Palace in Las Vegas came in second over all.
Juan had his signature smile and unique Flair to wow the crowd, but also showed us some technical mixology and passion for the drink not seen in other contests.
In typical Juan style, he only prepared for this event for a few days, and competed in the IBA Flair finals the next morning just after 9:00am… What a trooper!!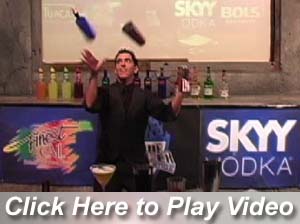 Toby Ellis from Tangerine of TI on the Vegas Strip finished 3rd overall but second in mixology.
He earned the highest marks on creative mixology with his fruit Flair and vast repertoire of bar tool maneuvers.
While his technical Flair was beat by Juan and Oscar, his blending of mixology and unique Flair was top of the heap.
Toby's drinks were also notably some of the best of the competition.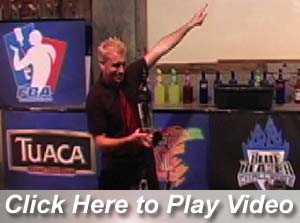 Rick Barcode also from Shadow Bar of Caesars Palace came in 4th overall.
After watching Rick in the Blue Blazer, it was interesting to note that his Flair really was not that much different than when he competes in other events, meaning his flair is genuinely working flair.
Rick did not out shine the other competitors, but his consistency and flow was very refreshing.
He appeared as if he had been doing this his whole life… and I think he has.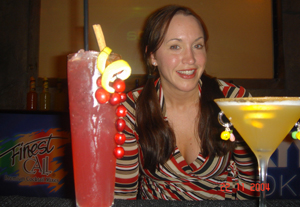 Essie Numminen from Kahunaville of TI in Las Vegas ended up in 5th place after a few typical competition bloopers.
As mentioned before her mixology was world class and her drinks were heaven sent. Everyone LOVED her Tuaca Lemon Drop and her Bols-N-Berries was also a major hit with arguably the best garnish and presentation of the event.
Unfortunately the bottle flipping gods did not praise her on finals like they did during qualifiers where she came in second. A few mistakes in the Blue Blazer will spell disaster!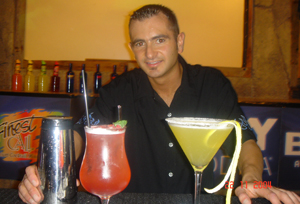 Vache Manoukian from Village Bar of the Rio in Las Vegas took 6th place honors.
Vache came to the Blue Blazer in the last minute and still made the finals due to his raw ability and bartending knowledge.
Vache is known for pulling off extremely difficult moves in other events, and he did not fail to put on a great show for the packed room in the Blue Blazer.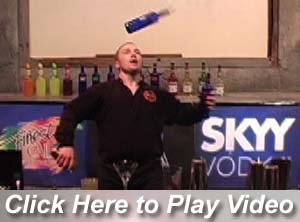 Neil Lowery came all the way from the UK for the IBA events and jumped into the Blue Blazer while he was at it. Neil showed his advanced knowledge of Mixology and presented us with a daring cocktail that was very unique.
Unfortunately for Neil, deductions in the Blue Blazer will take you right out of the game. With just a few drop and technical miscalculations, Neil was bumped down to 7th place almost as fast as he flips. Neil showed us that the UK boys know their way around a cocktail.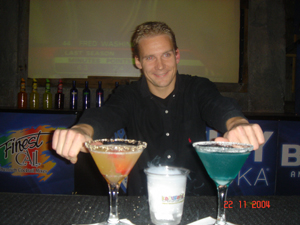 Kim Hass from Denmark rounded up the finals securing 8th place. Kim had some nice unique moves and solid knowledge of the cocktail. Look for Kim in the future as he improves his Flair skills.
For those of you that missed it, don't worry we will do it again in 2005 and it will be twice as nice.
Congratulations go out to all the Blue Blazer 2004 competitors and to all of you Flairbar.com readers for making it through the longest competition review in history.