SKYY FLAIR GLOBAL CHALLENGE

Set the stage:
Monte Carlo, Monaco… you may have heard of it? Think James Bond, Lifestyles of the Rich and Famous, Grand Prix racing, topless beaches, $100,000,000 yachts, more Ferraris than you can shake a bottle at… Get the picture?
Some of the top flair bartenders in the world were flown over to Monte Carlo to compete in the SKYY Flair Global Challenge finals. Campari International with the assistance of our very own Tug van den Bergh put together local competitions all over the world. Those in the USA may not have heard of any qualifiers… because there weren't any. Without getting into the politics of it, CI does not distribute SKYY Vodka in the USA, thus they did not have any qualifiers. No worries however because the FBA negotiated 5 wild card spaces to include some of the big boys from areas that did not have qualifiers.
Many of the competitors were given the royal treatment with breath taking views from their rooms and helicopter rides from the airport over to Monte Carlo. Not to shabby!! We all were treated to nice food, great scenery and a world class good time.
On to the show:
The results were as usual very close, however what was different was the judges actually did not agree on the winners. While we all had the top 3 in the top 3 spaces, the actual placements of those 3 guys were not consistent. We attempted to sort it all out in a post judges meeting, but due to time limitations, we never came to an agreement and the scores were turned in.
Coming in first overall was none other than Christian Delpech who put on a great show for the crowd. While Christian had moments of brilliance, he also had small areas where he struggled a bit. The final package was what you would expect from a world champion, crisp and clean (with no caffeine?) Congratulations on yet another championship.
In second place we have Tom Dyer who many felt won the competition. Tom actually was 1st in raw Flair by a slight margin, but after deductions slipped just behind Christian. Going clean pays! Tom showed typical sick ass Dyer Flair moves, but unlike the old Tom Dyer, he only dropped once! (Before I wrote this I have judged Tom 2 more times… apparently he has learned how to not only throw sick moves, but land them as well.. more to come) It was those pesky 5 spills that bit him in the bum. I would personally like to thank Tom for showing world class professionalism and genuine passion for our sport even in the face of close results like these. Can't wait to see his next show.
Danilo Oribe pull out third place with a classic Danilo round… sticking move after move after move. He came to Monte Carlo to play and showed everyone why he is one of the best in the world today. Super performance by Mr. Oribe.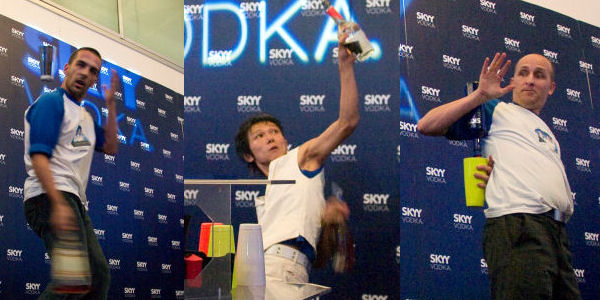 Fourth place was a last minute entry from France… Sebastian Oguic was literally called 3 days before the comp, but he hopped on a plane and came to the south of France (long flight huh) and pulled out one of the best routines I have ever seen from him. He said he was just up there having fun… and it showed! WELL DONE !!!
Mitsu Kaneshiro took home 5th place with a high energy yet sophisticated routine that we have come to love and expect from Mitsu. Like many of the Japanese competiors, Mitsu show cased solid clean Flair with an air of professionalism throughout. It was great to see him on the stage in good form!
Levi Donaldson came in 6th place with a classic Levi show. He banged out 6 minutes of flair in a 5 minute round and covered all his bases by flipping everything he touched and sticking the moves he need to stick. Levi demonstrates that he is one of the "smartest" competitors on the circuit by exploiting every point available to him. Well done Levi.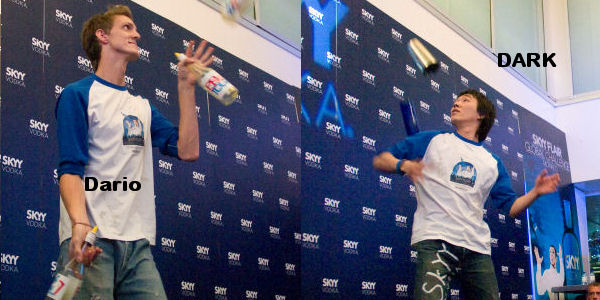 Dario Doimo finished in 7th place after qualifing in 2nd. As we all know when a "Doimo" is on and having a good round it is extremely hard to beat them. However, we also have all wittnessed the "Doimo Effect"… and once again, Dario pulled a Doimo in finals and the bottles were falling like rain. DAMN IT DARIO!!!
The next competitor went by one name. "DARK" from Korea was the unknown and came in 8th Place. He surprised everyone with some very technical Flair and some new moves to boot. I am sure we will see more of DARK in the future.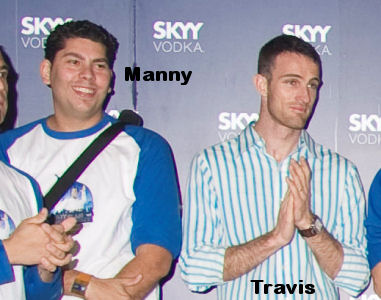 Travis Kuhn from South Africa pulled out 9th place… those in Vegas might remember Travis as the guy with the cowboy hat that hit Chico in the face with a drink swinging inside pool triangle… No flying drinks from Travisin Monte Carlo, but he did have his hat! Great job Travis.
I was personally happy to see Manny Picon from Puerto Rico make the finals. For those of you that have not meet him, he is part of the group of up and coming Flair Bartenders down in PR. "Flip-n-Flow" was in the finals and represented well. Looking forward to more PR guys coming out in 2008.
Before I finish up I would like to thank Steve "Stretch" Harmon for doing a phenominal job at entertaining the room as our MC. He showed a great level of professionalism with just the right amount of fun for a place like Monte Carlo…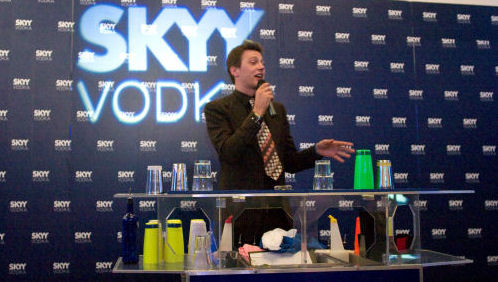 It was an awsome experience to hang out in this part of the world with a few good friends. Thank you SKYY VODKA and CAMPARI!!!