Old Dogs, New Tricks: Is There A Place For Flair In Style Bars?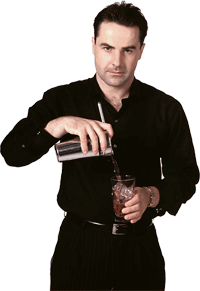 Old Dogs, New Tricks: Is There A Place For Flair In Style Bars?By Philip Duff, Netherlands via Ireland

Every generation of young men and women Bartenders automatically seeks out the best-paying jobs. One hundred years ago, these jobs were in hotels, especially hotels in "she-she" areas like Paris, Monaco, and St. Petersburg; or boom towns like San Francisco during the gold-rush. A lot of money was made by Bartenders daring enough to work in speakeasies during Prohibition in America. Post WWII and into the 1970′s and 1980′s big money came from Bartending on cruise ships and in foreign resorts. From the early 1980′s until about ten years ago, Flair Bartenders made the most money both in salary and tips, and increasingly more as trainers and consultants. For the last decade Mixologists have been coining it in style bars.

"Style bar" is a cute name for what a lot of other people refer to as "lounges," "modern cocktail bars," or "fern bars." These places are characterized by a laid-back, cool atmosphere, unintrusive chilled-out music, stylish design and surroundings, and great drinks. The Match bar chain and the Lab in London, Milk & Honey in NYC, Water bar in Sydney, Sling Inn in Helsinki are all, for the sake of argument, "style bars."  Famous style bar Bartenders include Dale de Groff and Tony Abou-Ganim (USA), Dick Bradsell, Tony Conigliaro, Ben Reed (UK), Marco Faraone (Australia), Charles Schumann (Germany), and so on. ("…and so on" means I can't be arsed to think of any more examples, by the way.)

Flair Bartenders are generally associated with loud, busy, packed party-bar type atmospheres with brash design, eardrum-shattering music and, by modern standards, quite basic drinks leaning heavily on premixes and hardly at all on fresh fruits, fresh juices and challenging, old-school classic cocktail recipes (these being the elements of cocktails that style bars concentrate on). Famous Flair Bartenders include, well, you know… (Now I really can't be arsed to think of any names!)

Flair is so widespread, so common, that the average Flair Bartender earns less now than he/she did 10 years ago, because 10 years ago there were far, far fewer Flair Bars. The very top end of the market, Carnival Court and Las Vegas in general, has gotten better, but the lower end is getting worse. Style bars and their Mixologists, because they are still relatively scarce, command a higher price. More and more, Mixologists are being hired by liquor brands to help create cocktail and training programs, including myself. Flair Bartenders, by comparison, are usually hired in to execute training programs, or to give a show. The crucial difference is, Mixologists are now being hired by marketing departments, which have a far higher budget than sales departments. Can you join up all the dots here?
London, current center of all things cocktail, provides many good examples. Many of the respected owners, managers and trainers are, in fact, old-school Flair Bartenders who made the jump. Wayne Collins (former Bacardi-Martini World Flair Champion, now brand mixologist for Maxxium UK), Douglas Ankrah (former Hard Rock-er who now owns the Lab and Townhouse cocktail bars in London), Tug van den Bergh (former Lab Bartender who now runs the Roadhouse contest), Danny Fox and Tim Bacon (former Flair Bartenders, now directors of a company that owns 11 style bars across the UK), are all great examples. I haven't even mentioned Angelo Vieira, Roadhouse regular, occasional winner, and head Bartender at the ultracool Light Bar in the Ian Schrager St. Martin's Lane Hotel, or Jamie Terrell, ex-Harley's (Tenerife) Flair Barkeep, then Lab bar mainstay, Atlantic Bar & Grill consultant, and now cocktail ambassador for Plymouth Gin.

Hey, we've all got to eat. Can a Flair Bartender make the hop to the style bar? I hope the answer is yes, and so far, things are looking good.

FAQ's: How do I break in to style bars?
Easy. Learn your drinks and tone down your Flair. That's it. Learn your classic cocktails (any of the sources listed below will help), use freshly squeezed juices and fruits, and master the subtleties of flavor. This is very, very easy. You can learn all you need to know about cocktails in less than a day. It is no more difficult than learning a shadow pass. After that, it's all down to experimentation, and getting to know each brand you work with.

Adapt your Flair into the stylish, less obvious moves that have been called subtle Working Flair, of which Francesco Leoni is a master. Lower the risk even further-–zero drops is the maximum standard for style bars.

What do I bring to the table?
For whatever reason, the modern breed of Mixologists seem to lack decent freepouring accuracy, speed, efficiency, and in many cases, simple guest service: being aware of, and working the dynamics of a room. Being able to pull off great drinks with accurate pours, speed, and efficiency, with some cool Working Flair on top, makes you unmissable in a modern style bar.

What's it like?
Different. Not as busy-–most style bars sell a smaller number of better-quality drinks, perhaps not what you're used to if you've worked in a 200-drinks an hour madhouse. The crowd is a little older. The emphasis on quality, freshness and innovation can drive you insane. Expect to be making your own vodka infusions, your own fresh juices, and your own unique garnishes and whatnots (such as cinnamon-flavored roasted dried apple slices). Tips are better (because these are the currently stylish bars), especially tips per drink. Subtle Working Flair is a challenge in itself. And there is something satisfying about making better drinks. I myself made thousands upon thousands of crap drinks, and eventually it gets to you; which isn't to say that lounge-lizard arseholes asking for pisco punches with fresh egg-white don't also get right up your nose.

Recommended Reading…