Mixology Mash Up – Summer Flair 2 Cocktails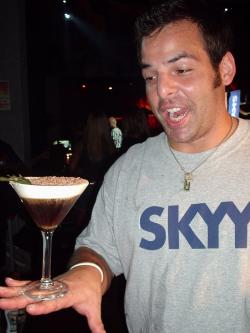 FRENCH ALPS

-1 1/4oz Navan
-3/4oz Grand Marnier
-Heavy Cream
-Coffee
-Sugar
Method: Mix coffee with Grand Marnier and then chill.  Pour into glass. Mix heavy cream with sugar and Navan.  Shake to froth and layer over coffee.
Garnish: Shaved Dark chocolate and a mint sprig.
1st place From: Dave Monterde.
-1 1/2oz Navan
-1/2oz Hennessy
-Splash of vanilla puree
-2 tbsp of Brown sugar
-Condensed Milk
-Costa rican Coffee Beans
Method: Combine and muddle coffee beans,  brown sugar and vanilla puree in a tin. Add Navan,  Hennessy and condensed milk. Shake and strain into a tall flute.
Garnish: Coffee beans.
2nd place From: Ati Grinspun.
-1/2oz Malibu Passion
-1/4oz Finestcall Mojito Mix
-Splash of Navan
-2 strawberries
-3 pineapple chunks
-3 Mint leaves
-1/4oz passion juice
- Top with Sprite
Method: Muddle strawberries, Pineapple, Mint  and Finestcall Mojito mix in a tin. Add ice, Malibu Passion, Navan, Passion juice. Shake and pour into glass. top with Sprite.
Garnish: Edible flower and an orange slice.
3rd place From: John Buckley.