m
Updated: January 21, 2014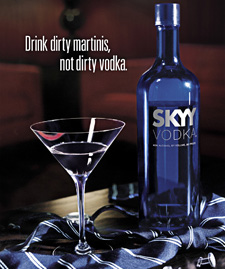 MARTINI
Whether you prefer it dirty, shaken, stirred or with a twist, the martini has become an icon of cocktail culture and is considered one of the great American inventions.
To ensure a vodka martini of exceptional purity, SKYY Vodka pioneered the multiple distillation and filtration process in 1992 and independent tests prove SKYY's exceptional quality.
SKYY has the fewest impurities among leading vodkas so that you can drink dirty martinis, not dirty vodka.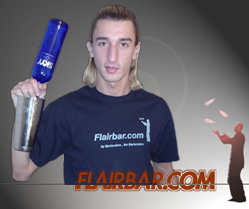 MASTERCLASS
A regular page on Flairbar.com.
Each month a different celebrity bartender teaches a Flair sequence or an individual move through video clips.
Past Masterclass instructors include Adriano Marcellino from Argentina (Pictured above), Erin Connelly from the USA, Mindaugas Gradeckas from Lithuania and Francesco Leoni from Italy.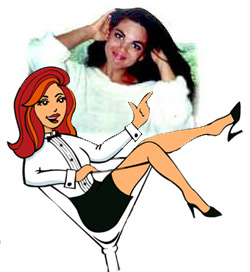 MISS CHARMING.COM
A general interest bartending E-zine.
Brought to you by Floridian based veteran bartender and author Cheryl Charming.
With clever graphics, slick animation and a hefty dose of content covering all areas of bartending. A monthly newsletter keeps you updated of Cheryl's latest internet findings while the links provide an endless source of bartender surfing. This web site has three different speeds accommodating all internet connections.
Flairbar.com gives it a four bottles up rating!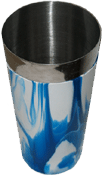 A mixing tin or shaker is used to mix ingredients by shaking them rigorously. There are many different styles from three piece shakers to crystal shakers. It is the most simplistic of designs that has become the industry standard for Flair, the stainless steel tin with a weighted bottom.
The tin pictured here is a stainless steel tin with weighted bottom but it has been dipped in Vinyl for grip and finish.
It is common to see colored tape on the bottom of the tin covering the join between the weight and the tin. There are two reasons for this. After dropping the tin a few times the weight usually separates so the tape holds it in place and secondly different colored tape allows people to tell who's tins are who's. Stainless steel tins can be purchased with or without weights and it just boils down to a personal preference.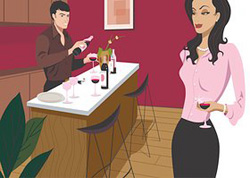 MIXOLOGY
The science, art and craft of drink making.
The word is a modern term that has been coined in recent years due to the popularity and growth of cocktail culture, both commercial and domestic.
This word is still not listed in the Oxford dictionary.
MUDDLER
A Muddler is a bar tool that allows you to crush (or Muddle) Fresh produce ingredients like mint or orange.
Muddlers vary drastically in shape, material, (Hard rubber and wood are the most common), size and design but are always essentially a stick that you hold at one and you use to muddle at the other end.
In the video clip above you can watch Joey Lenz performing some muddler Flair using a traditional wooden Muddler.