Hot News – July 2013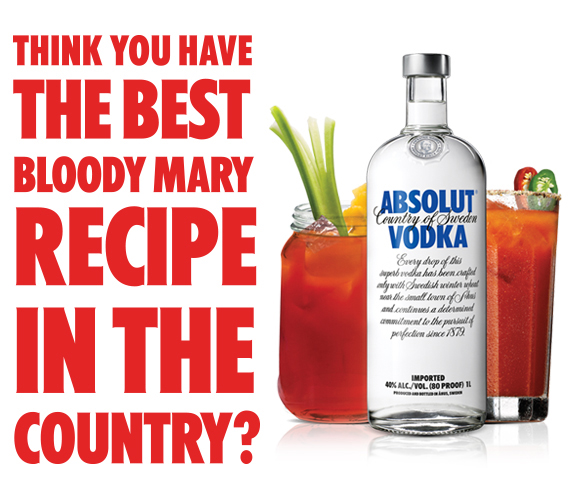 Here's your opportunity to prove it. Enter your recipe in THRILLIST's 2013
Search for the Best Bloody in America, sponsored by ABSOLUT Vodka,
for a chance to compete in the finals at the New York City Wine & Food
Festival on 10.20.13, hosted by Chopped.
The GRAND PRIZE winner will receive a VIP trip for 2 to Miami to
be featured in the South Beach Wine & Food Festival.
Enter to win at:
WWW.BESTBLOODY.THRILLIST.COM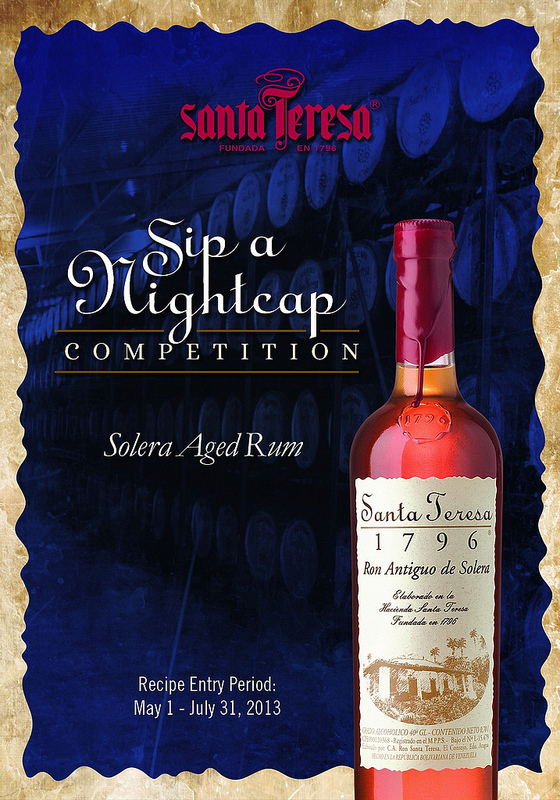 Our agency is excited to announce the "Sip a Nightcap" bartender cocktail competition on behalf of our client, Santa Teresa Rum from Venezuela.  It will highlight our "1796″ Solera-Aged Rum as both a sipping spirit and the base for cocktails to wind down an evening's revelry.
The following is a link to the cocktail recipe guidelines and further details: www.ShakeStir.com/SantaTeresaSippingRum.  The competition's recipe entry period ends on Wednesday, July 31, 2013.
The competition's winner will be flown to Santa Teresa Rum's hacienda in Venezuela, which has 200 years of rum production heritage, as well as to one of the country's unspoiled Caribbean islands.  Not to mention some cash prizes as well!  Six finalists will compete in New York City on Tuesday, August 27.
Please let me know if you have any additional questions.
Cheers,
Hanna Lee / 212-527-9969 (office) / 646-752-1526 (cell)  / Twitter: @hannaleenyc


Happy 4th of July from the Tales of the Cocktail® Team!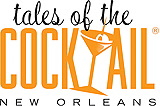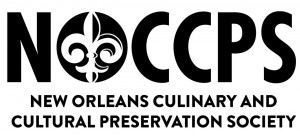 Most nights bartenders are recognized with generous tips. But one evening every year their talents are celebrated by the entire industry at Tales of the Cocktail's Spirited Awards®. This summer, the most prestigious cocktail awards ceremony returns for its 7th year to honor the world's cocktail stars in eighteen different categories. Sponsored by top spirits brands, the event will feature the perfect mix of cuisine and cocktails all set to a Great Gatsby theme. So put on your best Roaring 20s attire and join us as we honor the industry's best.
Saturday July 20th
7:00 PM to 11:30 PM
Hyatt Regency New Orleans
Join Tales of the Cocktail® For Toast To Tales Kick-Off Event
This complimentary event will kick off the festivities with our 2013 official cocktail, The Rickey
NEW ORLEANS—July 1, 2013—As we kick off our 11th Tales of the Cocktail®, we want to share a toast with everyone on Wednesday, July 17 at 2:00 PM. At this can't miss complimentary event, we'll share the ceremonial first toast and have the first taste of this year's official cocktail, The Rickey. Come have a drink with us and meet the stars of the week's festivities, including our 2013 Ambassador, Joe Gendusa. And, if you're looking to try a good Sazerac while you're in New Orleans, we will be announcing the latest bars to receive the Seal of the Sazerac and honor them for their prowess in making the city's most historical drink.
"It's hard to believe another year has passed and we find ourselves in the final stages of planning Tales of the Cocktail 2013.  The team has once again demonstrated why Tales of the Cocktail® is the global cocktail event of the year, with another exciting five days of networking, education and entertainment planned out," Paul G. Tuennerman, Co-Founder, Tales of the Cocktail®.
"Hotel Monteleone has played into the cocktail culture of New Orleans for generations and is always pleased to participate in Tales of the Cocktail®. As the home of the Vieux Carré cocktail and the beloved Carousel Bar, it's the perfect venue for this festive and fun event," said Kent Wasmuth, director of Sales and Marketing for Hotel Monteleone. "In addition, our staff has really made lasting relationships with the wonderful attendees that return year after year. We look forward to serving as their hosts for years to come."
Ann Tuennerman and the entire Tales of the Cocktail® team welcomes members of the media, bartending community and cocktail lovers to join us on the front steps of the Hotel Monteleone on the historic Royal Street for this complimentary event.
Tales of the Cocktail® Spirited Dinner® Series 2013
Reservations for Spirited Dinners® must be made directly through the restaurant.
Full menus and contact information can be found on the menu link.
Kingfish and Johnnie Walker Present:
Sitting in the Catbird Seat at Kingfish
Emeril's Delmonico and Purple Valley Imports Present:
Straight Up and Neat- The Flavor of World Single Malts
Arnaud's and Willett Bourbon Present:
Dinner with Willett Bourbon
New Orleans Creole Queen and Bacardi Present:
Ebony Behind the Mahogany: A Spirited Tribute to Douglas Ankrah
The Irish House and Bushmills Irish Whiskey Present:
The Irish in New Orleans
A Celtic Creole Courtship
The Pelican Club and Sandeman Port Present:
Dinner with the Don
Tivoli & Lee and Diageo Present:
Battle of the World Whisky Stars
One Eyed Jacks and Olmeca Altos Tequila Present:
Lucha Los Angeles
Hosted by the team from The Varnish and 213 Inc.
Sainte Marie and Hennessy Present:
Hennessy Paradis Imperial Dinner at Sainte Marie
The Little Gem Saloon and Montanya Rum Present:
Montanya Rum Goes Moulin Rouge
Rio Mar Seafood and Trinchero Family Estates Present:
Latin American Libations
Borgne and El Dorado Rum Present:
A True Taste of Demerara
12 Mile Limit and Phenix Brands Present:
Dive Bar "Russian Style
Grand Isle Restaurant and Bayou Rum Present:
A Night on the Bayou!
The Windsor Court and William Grant & Sons Presents:
Beauty vs. the Beast: Gin vs Whisky
Maurepas Foods and High West Distillery Present:
Blending Flavors and Blurring the Line
Boucherie and George Dickel Present:
Carbon filtering Whisky and Cocktails
SOLD OUT
Bourbon House and Jim Beam Present:
The Great Whisk(e)y Debate™ and Dinner
SOLD OUT
Cane & Table and Angostura Present:
RUM! Don't walk… To an epic night of Caribbean cocktails and cuisine with The House of Angostura
SOLD OUT
Criollo, Papa's Pilar Rum and Domaine de Canton French Ginger Liqueur Present:
Libations in the Stream – Hemingway's Conch, Cuban and Caribbean Cocktails and Cuisine
SOLD OUT
Dickie Brennan's Steakhouse and Treaty Oak Distillery Present:
Dining and Drinking at the Texas Governor's Mansion
SOLD OUT
Dominique's on Magazine and Pisco Porton Present:
From the Sea and the Mountain
SOLD OUT
Jägermeister Presents:
A Legendary Night with Jägermeister and Celebrity Chef Chris Santos
SOLD OUT
R'evolution and Zacapa Rum Present:
The Cajun Cuisine and Barrel-Aged Spirits R'evolution
SOLD OUT
ROOT, Bittermens and Vendetta Spirits Present:
This Bitter Earth
SOLD OUT
Ruth's Chris Steakhouse and Avion Tequila Present:
TEQUILA- AN ELEVATED ADVENTURE
SOLD OUT
Salú Southern European Bistro and Diplomatico Rum Present:
Dipomatico RUM SENSORY Dinner
SOLD OUT
SOBOU, Luxardo and Pink Pigeon Rum Present:
San Juan Nights – A journey from New Orleans to the Caribbean via Land, Sea, and Air
SOLD OUT
Sylvain and Olmeca Altos Tequila Present
Ritual Drinking
SOLD OUT
Toups Meatery and Maker's Mark Present:
Maker's Mark "Make Mine Meat" Whole Hog Dinner
SOLD OUT
Tales of the Cocktail® Partner Events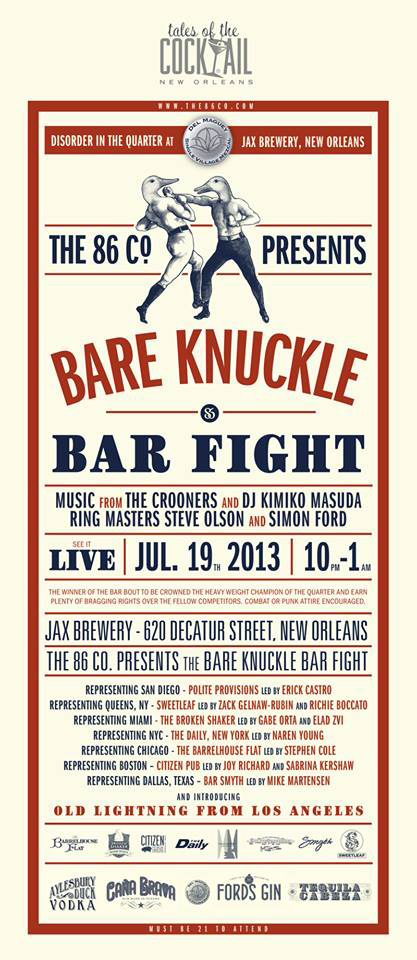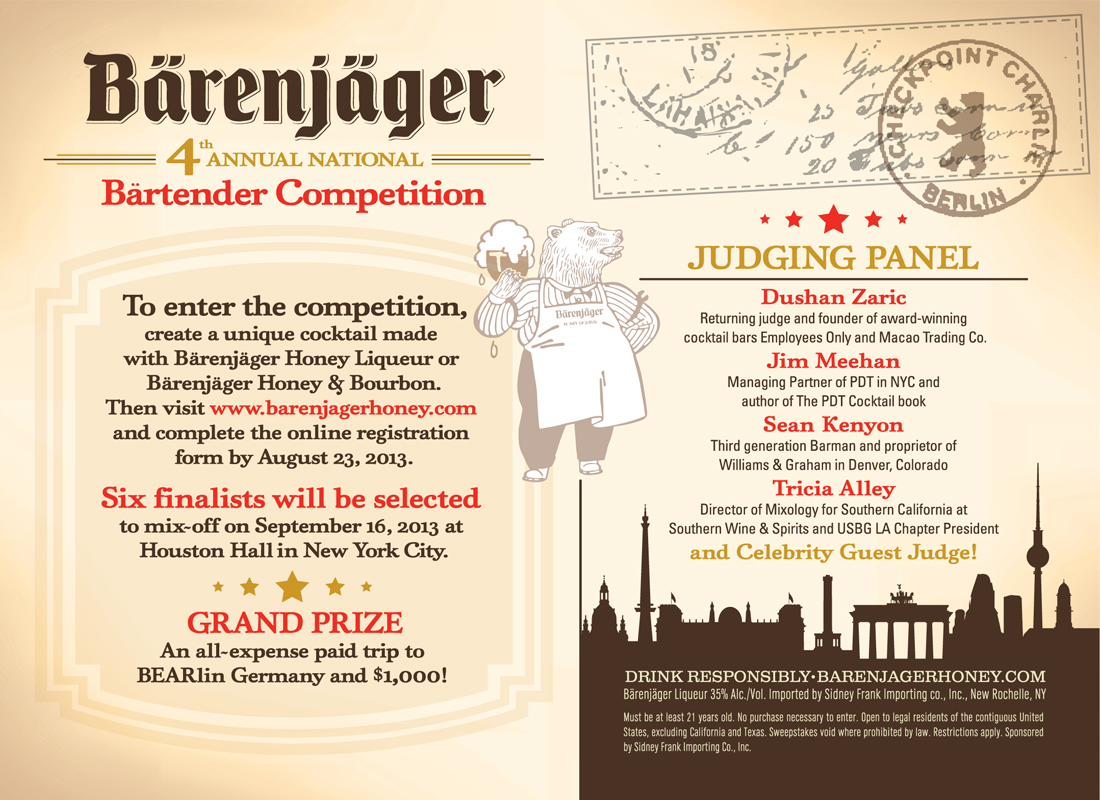 The 4th Annual NATIONAL BÄRENJÄGER BÄRTENDER COMPETITION begins TODAY.
To enter the competition, visit www.BarenjagerHoney.com and complete the online registration form by August 23, 2013. Must be at least 21 years of age to enter. No purchase necessary. The official rules and regulations can also be found on this site.
BÄRENJÄGER HONEY LIQUEUR ANNOUNCES FOURTH ANNUAL NATIONAL BÄRTENDER COMPETITION
With Top Industry Influencers and a Surprise Celebrity Judge, the Original Honey Liqueur Sets Out to Find the Best Bartender in the U.S.
July 23, 2013 – (New Rochelle, NY) – Are you a brilliant bartender? Bärenjäger Honey Liqueur, the original honey liqueur, announces its fourth annual national Bärenjäger Bärtender Competition to find America's best bartender.
This year's contest welcomes professional and amateur mixologists from across the country to submit their most innovative cocktail creations incorporating Bärenjäger Honey Liqueur or Bärenjäger Honey & Bourbon.
The judging panel, which includes esteemed industry tastemakers  and a surprise celebrity judge, will score all submissions prior to selecting the top six recipes to move on to the final round. Finalists will mix off at a private event at The Houston Hall for media and industry influencers on September 16th in New York City for a grand prize of all-expenses paid trip to "BEARlin", Germany and $1,000. Additionally, all guests will be asked to cast their vote for best cocktail, and the audience favorite will take home a check for $1,000 to sweeten the pot.
Joining the surprise celebrity judge is a distinguished judging panel which includes:
Dushan Zaric, Returning judge and founder of award-winning Employees Only and Macao Trading Co.
Jim Meehan, Managing Partner of PDT in NYC and author of The PDT Cocktail book
Sean Kenyon, Third generation barman and proprietor of Williams & Graham in Denver, CO
Tricia Alley, Director of Mixology for South California at Southern Wine & Spirits and USBG LA Chapter President
Todd Richman, corporate mixologist at Sidney Frank Importing Company, Inc., and winner of Best American Brand Ambassador at the 2013 Tales of the Cocktail Spirited Awards, will serve as the competition's emcee.
"Bärenjäger is perfect for a cocktail competition due to its inherent mixability and unique flavor profile, boasting generous amounts of all-natural honey" said Bill Henderson, Executive Vice President of Marketing at Sidney Frank Importing Company, Inc. "We are really looking forward to seeing the new recipes that come out of this contest and finding the best bartender in America!"
To enter the competition, visit www.BarenjagerHoney.com and complete the online registration form by August 23, 2013. Must be at least 21 years of age to enter. No purchase necessary. The official rules and regulations can also be found on this site.  *Contest is not open to residents of California, Texas, Hawaii and Alaska.
Made in Germany, Bärenjäger is a 70 proof honey liqueur made from neutral grain alcohol and pure premium natural honey from Mexico's Yucatan Peninsula. Each liter bottle contains 300 grams of pure honey and other natural ingredients resulting in a subtly sweet, spicy and herb edged taste profile. During the 15th century, the Eastern Prussian bear trap company, Teucke & König, first introduced Bärenjäger, which translates to "Bear Hunter." In an effort to end the struggle between man and bear, this sweet concoction was the first professionally produced Meschkinnes – mead-like moonshine made from honey by beekeepers and farmers – and was formulated to aid hunters attract bears and lure them from their dwellings. The alluring spirit's recipe was slightly altered in the 18th century and continues to serve as the original honey liqueur enjoyed around the world today. In 2012 the brand launched its first ever line extension, Bärenjäger Honey & Bourbon, a delicious blend of premium honey liqueur and Kentucky bourbon whiskey, made with pure honey and all natural ingredients. Bärenjäger Honey Liqueur 35% Alc. /Vol. Imported exclusively by Sidney Frank Importing Company, Inc., New Rochelle, NY.