FLAIRCO ON THE ROAD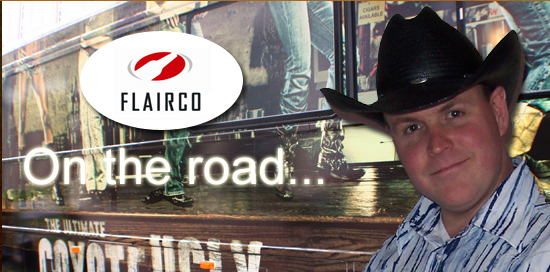 "You know I'm here for the party. I ain't leaving till I get my fill. I'm gonna have a little fun, gonna get me some you know I'm here…"
All I needed was my cowboy hat and a shot of Jack Daniels in a dirty glass.
Outside of the San Antonio bar The Ultimate Coyote Ugly tour bus was parked. I had met "Big Al" the bus driver and we shared a few laughs on the street before I went into the bar.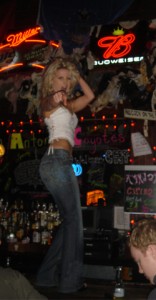 The above mentioned country music hit by Gretchen Wilson was blasting on the juke box as I entered the San Antonio Coyote Ugly on Sunday night. As always there was a crowd of guys at the bar pulling cash out of their pockets for the torn jean and bikini top clad ladies that are dancing on the bar.   The Coyote Ugly Bars are now a chain of 18 establishments across the US that is rapidly expanding throughout North America.
I had arrived to do some bartender training on the upcoming Country Music Television reality show "The Ultimate Coyote". The eight episodes are scheduled to begin airing on CMT April 10th. Today we were shooting episode number four.
I was at the end of the bar with a cold $2.00 beer in hand. It was then, as if in slow motion. Cyndi began her approach to the end of the bar. The soles of her boots ricochet off of the floor pounding a beat into my head that some how drowned out the Kid Rock song that everyone else was listening to.
For me (and most others) Cyndi is already the Ultimate Coyote. Originally a staple at the Original New York bar Cyndi carries all of the attitude you could imagine a Coyote Ugly bartender having and accents it with choreographed dancing and singing and neatly packs it all that into a petite frame decorated with tight low cut jeans and long blond flowing hair. With all of that going for her she is still very down to earth and sees her job as making sure everyone is enjoying the party.
A couple of beers led to Martini's and dinner with the CMT TV crew and before we could play Metallica's "Whisky in Jar" on the Juke box everyone was heading back to our rooms for a long day ahead. However, a last minute decision in the elevator had my night take a surprising and unsuspecting turn. Yup you guessed it. Someone special invited me out for one last drink. You know how I can not pass up Last Call, especially with Big Al the bus driver.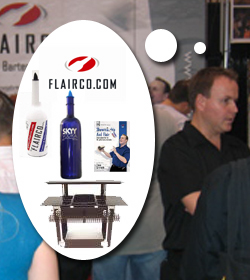 Monday morning came early. I went inside the bar armed with some Flairco Flair bottles, my cowboy hat and absolutely no script. There was not even a clear idea of what the day had to offer. I was about to find out just how Reality TV works.
When preparing to come down to the training I was specifically told that I would actually get no direct promotion from the spot. No logos of any kind. The Flairco bottles had to be blank. With this I made a poor assumption that I could not mention my companies or any other brand name. I mentally erased my selling points so that they would not accidentally slip out. My camera spiel was only a rough outline and then 2 minutes to shooting time the producer tells me she needs me to say who I am, where I am from, who I work for, any accomplishments, Flairco, the Flair bottle, Flair trainings. Flairco.com "Whooo Hoo" I thought. And then I forgot.
Perhaps it is the onset of age, or too much drinking, those close to me would agree that for me to forget something is an everyday occurrence. But for me to forget all of my professional tag lines in the crucial time of need those same people would tell you it could not happen. I might forget my own birthday but come on.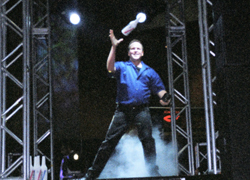 Director – "Cameras rolling… Cue Dean".
Dean – "Hi girls thanks for having me in San Antonio. I'm Dean. I make bottles. Let me show you what we are doing today" I went Blank.
To be honest it was not that bad but it sure felt like that. Unfortunately there is no going back. I think I also referred to some types of Flair as "Circus" like. This I am sure will get me beat up in a parking lot… or two.
I had prepared to train seven girls and I set up the bar with seven stations. I built my training program with this in mind. We were perfectly spaced out on the bar.
After we started shooting the director decided it would be better if we did the training in small groups and then taught each group different moves.   All of the moves have to look flashy but be easy I was told. 3,2,1,Go!  At this point the rest of the training became 100% Improv.
On camera I taught three groups of girls and we were all crouched into one space of the bar.   They seemed a little scared when I started tossing bottles and they were all standing right beside me.
The first group I taught a little sequence that had them stretch up one arm. I know how these girls like to show themselves off so this seemed to help. When my second set came up I decided to teach them a different move, the famous Sex Pour. This left me with a challenge. What is another sexy move for me to teach? Keep in mind that simply inhaling is a sexy move for these girls. I thought for a second, and then it hit me. I know how dead sexy I look when I show off my Molson midriff. A behind the back pour would be perfect.
Then we played a game of Chicken Little with the winner receiving a Flairco bottle opener and a magnetic clip. Chicken Little is an elimination game with a Skyy bottle. You have to keep the Skyy from falling or you get cut out of the game. This was of course a sneaky product placement for Mr. Niekrash. However, we ended up using Flairco bottles.
All in all I am fairly impressed with the amount these girls picked up. They had no warnings that I was coming. They did not know what I was there for until that same morning. These girls knew so little about the show that one of them told me she thought they would get eliminated from the show entirely for being the first to drop during our game of Chicken Little. It will be interesting to see how they turn out by the end of the series.
When we were finished the on camera training we had a little extra time so the Camera guy Wayne asked me to juggle bottles while standing on the Bar. There are many signs in the bar that clearly state; and I quote from these signs "NO C*CK ON THE BAR". I was about to be the first. What an honor. Wayne asked me to juggle three Flairco bottles while standing at the edge of the bar. No problem I thought. Then he moved up to the bar directly under me with a $60,000 broadcast TV camera. So there are no Roosters allowed on the bar unless they have brass bowling balls on either side of them. He said the shot was great with the angle and my hat and the sun beaming through a window above that made the smoke yellow bras hanging on the wall behind me look very nice.
I spent the rest of the morning with the veteran bartenders Cyndi, who I described earlier and the equally beautiful Chantal who is from the New Orleans Coyote Ugly. We worked on some sequences for a short routine so you may expect to see a little classic Dean Serneels magic on the final show. You will know it when you see it, if it makes the final edit of course. I then did some magic for the crew. Stealing cameraman Wayne's watch was almost the highlight until one of the producers Tiff, who was laughing hysterically at Wayne, noticed that I had stolen her watch as well.
Now when it comes to additional training, I could not ask any of the girls if they wanted to learn more Flair. I could only teach more if the girls specifically ask for more. Lucky for me they did.
I searched everywhere for a suitable place to practice when the new Coyotes themselves decided that where they were, was a good enough place. Where were they you ask? On the roof top pool deck that was covered with ceramic tiles and they were three feet away from a fence. The other side of this fence was a five story drop to the sidewalk where unsuspecting pedestrians could have had an unwelcome introduction to the Flairco Flair bottles. It was also getting dark and visibility was decreasing. Imagine my utter fear when bottles were bouncing all around and in the pool.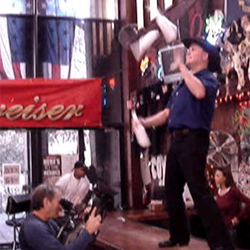 Then it was out for dinner with Cyndi, Chantal and the CMT crew again. This night ended with drinks at Coyote Ugly. Cyndi entertained us singing and dancing on the bar and of course my last call was again spent with Big Al the bus driver and a mutual friend named Jack. I am sure most of you have met Jack. The next morning would put me on a flight home.
This new Reality show is destined to be a big hit on CMT. I look forward to watching it and seeing what kind of magic the producers have done with me and the girls. You never know what they are going to do with your words to make the show more dramatic. At least I could finally wear my cowboy hat and not stand out like a clown at the rodeo.
The new Coyote Ugly girls sure do have their work cut out for them. There is a ton of work to be done before the winner gets her $25,000 bounty. As for Cyndi? I believe this just might be the big break she deserves. She is ultra talented, beautiful and even on cloudy days the spotlight is always shining on her. I want the first Maxxim magazine with Cyndi and the Ultimate Coyotes in it.   I hope I can get the staple out of her belly button.
Cheers
Dean Serneels.