FLAIR VEGAS! – The Red Rock Room Interviewed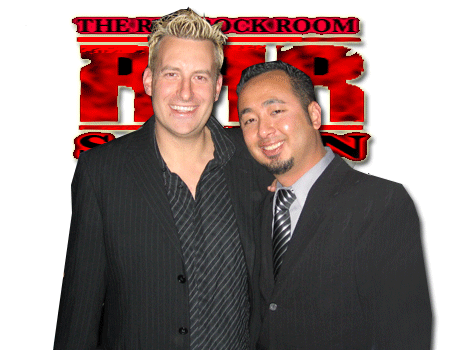 So this month in Flairbar.com we're gonna turn the tables and find out about behind Flairbar's CEO, Rick Barcode and his new partner in crime, Mike Taing. These world champion Flair bartenders have decided to mix Flair with Mixology in a good old fashioned Las Vegas locals gaming bar.
Their new bar, The Red Rock Room Saloon, will include some of the best Flair bartenders from around town, including talent from Carnival court, Kahunaville, and the Shadow bar. I have a feeling this will definitely be one of the new hot spots to visit while you're in Vegas, and will definitely be the new meeting place for Vegas bartenders after work.
Years bartending?
RB: 10 years.
MT: Seven years.
Years Flair bartending?
RB: Eight years.
MT: Seven years. Where are you originally from?
RB: I am from the UK but I grew up in Bahrain in the Middle East. After my teenage years in England I traveled a bit and ended up in Las Vegas by way of Paris and Tampa.
MT: Chinese by descent, born in Cambodia, raised in Monterey Park – California, 11 miles east of Los Angeles.
How did you meet and how long have you known each other?
MT: We met at the first auditions of the Shadow bar at Caesars Palace a week before memorial day weekend '01.
RB: It was way cool, there was Christian Delpech, Juan Lorrentte, Toby Ellis, Glen "Pinky" Cohen these five guys from LA… Tim "Flippy" Morris, Randy Harrington, Billy Boatright, Zach McKinney, Mike Taing and Me.
MT: Me and the guys from LA didn't think we would get the job at all because we sucked compared to everybody else, but luckily we lived the closest and they needed Flair bartenders the next day.
RB: Unfortunately I lived in Florida and couldn't get out there that quick so I had to turn down the offer.
MT: Ha Ha.
RB: I told Shadow that it would take me a week to get out there but they weren't flexible. That sucked.
MT: I packed a duffle bag, threw it into my truck and drove out with the LA group the next day. I haven't looked back since.
RB: It took me a couple of months after that to get out there. The opportunity of Kahunaville arose and I jumped at the chance. Mike later quit Shadow to work in more of a party bar atmosphere and we then bartended together side by side on Friday nights at K-Vizzle for the next three and a half years until I flipped out and quit at the end of 2004.
Why did you choose your partner?
MT: I choose Rick because after freaking out and leaving Kahunaville I figured he had a lot of free time and he had the experience and knowledge of opening many other bars that I didn't.
RB: Mike just called me up and said "What are you up to? Wanna open a bar?" I said "sure" and the next day we started bar shopping. It was crazy, at the start of this project we literally had no money, no way of funding this or any idea how to make it happen. We just figured it will unfold as we went along.
MT: I figured with Rick's consulting experience and my real estate background how could we go wrong?
RB: LOL! Having worked in the trenches with Mike for three plus years I knew I had seen him at his worst and his best and knew that not only do I trust him but he has always been a great friend and even keeled person. I don't think I could have come this far in a project with any one else without tearing my hair out or going postal. Mike definitely keeps me grounded.
What do you feel he will bring to the table that you can't?
MT: Rick is a lot more anal than I am when it comes to business matters and he's amazing at the graphics and systems he's created on his Macs. Things like that I couldn't dream of on my own.
RB: Mike is a lot more patient than I am. I have a hard time dealing with some of the suits that we have so I guess I let him deal with them. It's funny, some times when we aren't getting what we want we kind of play good cop bad cop and I mentally beat up someone we're dealing with and then Mike comes along and does some damage control which then gets us what we want.
MT: I don't think either one of us could have opened a bar on our own.
RB: I totally agree, I have a new found respect of people who do.
Do you think being from two totally different places has helped in making this bar so unique?
MT: Yes – of course. Being from LA I wanted to bring to our bar the urban trendy chic cool scene which I'm used to. I was also influenced by my recent trip to London where The Lab inspired me to bring Mixology to Vegas.
RB: No, not really.
MT: LOL, alright.
RB: I think the fact that I have had the chance and privilege to have worked at so many different places around the world and with so many different bartenders that it has certainly influenced my approach to everything bar related. I feel that I have seen a hundred ways to skin a cat, so that when it comes to our bar I can pick and choose what's best for us.
Do you think being partners will at all effect your longtime friendship?
MT: That sounds so Broke Back.
RB: I don't think it will and I hope it doesn't. If I thought for a second that it would then I would never had said "Cool, lets do this."
MT: I think we were good friends to start, now we are great friends after working so many hours together. We bring together a balance in our business and friendship.
RB: That sounds so Broke Back.
MT: LOL.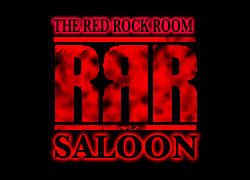 What is the name of your new bar?
THE RED ROCK ROOM SALOON.
Where is it located?
3101 West Sahara Ave.
Las Vegas Nevada
89074 USA
Two blocks west of Palace Station on the south side of the street between Arbys and Pizza Hut.
2.5 miles NW of Treasure Island.
www.RedRockRoom.com
What about your bar will stand out from every other bar?
MT: It's going to have a Big Red Sign in the front.
RB: LOL. Our concept is simple and unique. We are going to have state of the art video games of chance, great pub grub and hard core Mixology served up with working Flair and world class service in a relaxing 24/7 environment. Thats just never been done before.
Why did you decide to make it a Flair and Mixology bar?
RB: Every one in the gaming industry told us that Flairing in a gaming environment was a bad idea however we felt that with our rich heritage in the Flair world it would have been career suicide to turn our backs on a community that has brought us this far.
MT: We wanted a local bar with a different vibe than the norm here in town.
RB: I was once told by Toby Ellis that to be successful in business look at what everybody else is not doing and do that. Fill in the gaps instead of trying to follow the pack.
MT: I don't like going to the strip on my days off but it seems like that is the only place where I can enjoy a great cocktail and see some awesome Flair while hanging out with my friends. We are creating this bar to fill that gap.
RB: We believe that the people who make this city great deserve the same level and service that they give to the tourists without paying tourist prices in a non tourist trap.
MT: I hear too many times from my bartender friends that you can't get a good drink in this town so being influenced by The Lab in London I really wanted to bring classic mixology back to Vegas.
RB: I just think its totally cool.
So, not everyone loves Flair as much as we do. So what efforts are you making to cater to your local non Flair clientele?
MT: That's why we choose quick clean working Flair and are concentrating on Mixology. We don't want to distract our players but bring them up to a whole new level of service.
RB: We chose our team very carefully and didn't just pick a bunch of bottle flippers but actually have hardcore well rounded professional bartenders who can listen, flip, mix, crack a joke, and make your day not missing a beat while making it look like the easiest thing in the world.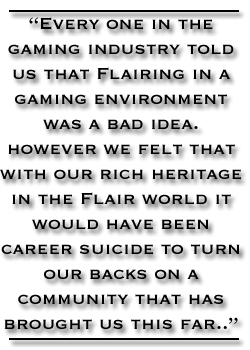 How do you feel being experienced bartenders for so long is gonna help in running your own bar?
RB: Although we will see things from the eyes of owners we will never loose our empathy for bartending. That's huge and that's the biggest reason why so many of our friends and peers want to work with us.
MT: We've been there, we know how our bartenders feel, we've been guests at many bars and we know how that feels.
RB: Especially the next morning. LOL.
MT: Being owners now, we want everybody to feel good.
RB: Nice.
What do you think you will provide as a manager, that someone who hasn't been a Flair bartender won't?
RB: I can cover a shift.
MT: LOL.
RB: We have a much better understanding of what tools are necessary to do the job.
MT: Good question… thats got me stumped.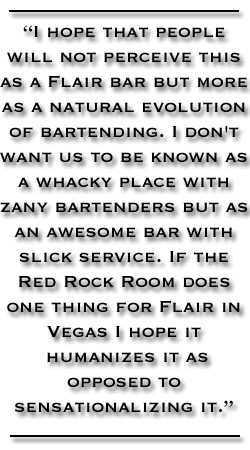 I know your very proud of your bar staff, tell me a little about the bartenders, and why you chose them?
RB: I am so excited about our Family. We really have an awesome blend of seasoned pros and new kids on the block, yet they all have one thing in common…they are the real deal. They are all extremely well rounded bartenders who are as comfortable with working Flair as they are with guest interaction. I have put together many bar teams over the years but I have never been this excited or proud. We have the former Legends of Bartending star from Kahunaville, Erin Connelly as well as the amazingly talented Rocko from the Shadow Bar. Another one of our star players is Flairbar.com cover star Tia Rodriquez who is relocating to Sin City for the Red Rock Room. Completing our roster is ex Carnival Court bartender Billy Boatright and two new up and coming stars of the Flair World, Shawn Rodriguez and Lindsey Tkaczow. Plus of course Mike and I will be behind the pine. Awesome!
MT: Ditto.
Flair has died a little in vegas in the past two years. What do you think opening this bar will do for flair in Las Vegas?
MT: I don't think it died it just took a little nap. There are more competitions and more Flair bartenders than ever. I just hope we can be a cool place to hang out and inspire other Flair bartenders to do there thing.
RB: I hope that people will not perceive this as a Flair bar but more as a natural evolution of bartending. I don't want us to be known as a whacky place with zany bartenders but as an awesome bar with slick service. If the Red Rock Room does one thing for Flair in Vegas I hope it humanizes it as opposed to sensationalizing it. I think this approach could only work here due to the saturation of Flair in this town.
So your going to run a monthly competition at your bar, tell me more about that?
RB: It's going to be awesome. It's called "FLAIR VEGAS!"
MT: It will be structured like the world famous Road House competition in London, with a monthly qualifier and a final on the 12th month.
RB: We are going to try and broadcast Flair Vegas live on Flairbar.com although at this point I have no idea how we are quite going to do that. World famous Ex Flairbar.com cover star, ex Legends of Bartending finalist and ex Kahunaville DJ and bartender Chico Garcia will be the master of ceremonies and the man responsible for running Flair Vegas for our first year. We are kicking off in April so keep reading Flairbar.com for details.
Do you think running this bar will take you away from competing in competitions yourself?
MT: I retired from competitions a long time ago.
RB: Yeah, I think I'm done with competing. I just don't have time to read rules, put music together or practice anymore. I have a bar to run.
MT: I prefer to be behind the scenes.
RB: Don't worry, I'll never put the bottles down I just don't need any more trophies right now.
MT: LOL You'll always be number seven in the world Rick.
RB: Dick.
R&M: LOL.
What are some goals you have with opening this bar?
R&M: TO GET RICH BIATCHH!!!LOL.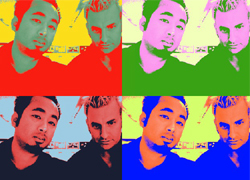 Should we expect a second Red Rock Room Saloon opening soon?
RB: Yeah we want to have at least two more RRR's in the next five years hear in town as well as a unique concept on the strip. But more about that one later.
MT: As well as being in the works of developing a totally different concept in Juhl located in the arts district in downtown Las Vegas coming 2008..
Anything else you would like to add that you would like the Flairbar readers to know about you and your bar?
MT: No, but we would like to know more about you so come and see us at The Red Rock Room Saloon.
RB: Hell yeah!
How much do you love the person asking you these questions?????? Just kidding……?
R&M: We lurve you Robyn, thanks for all the cool questions and we can't wait to hook you up at our bar!!!!!