Flair in Germany
Updated: September 1, 2006

Place: Cologne Germany
Destination: Beach Club on the Rhein River
Purpose: Judge the Havana Club Gar Giants competition
This was my second year judging the Bar Giants competition in Germany. It is modeled after LEGENDS as it has a speed round and pour test as well as flair. This year the competition was split up into Amateur and Advanced flair bartenders. The competition has only been open to German competitors thus far, but we are working on a change for 2007. Look for Bar Giants to join the Pro Tour next year making this one of the must stop events of the year.
Cologne is a beautiful city with some wonderful history. The Rhein river flows right through the middle of the city and the famous DOM Cathedral dominates the sky line
Flair in Germany is young but is growing do to the long term efforts of Bar Giants organizer Robin Weiss. Robin is the owner of SpeedBartending.com as well as a member of the FBA Board of Directors. More recently the cooperation of Robin and Havana Club has been instrumental in the growing popularity of Flair in Germany.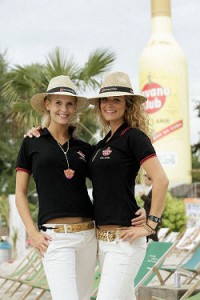 On the first night we had a meet and greet for the amateur competitors with good food, great people, and way too many Mojitos! Everyone had a great time catching up. As one Germany is one of the largest countries in western Europe, it is not often that all these competitors get a chance to party with each other.
Day 1 – Amateur Competition:
This competition was set to be held outside on the beach… yes the beach overlooking the Rhein River. The stage was set nicely, the sand was soft, the umbrellas were up… unfortunately for the wrong reasons as looming storm clouds hovered above us. We were able to make it through the first day of events for the amateur competitors with only light sprinkles.
The amateur division had all sorts of talent on hand. Some were very new to flair, while others demonstrated a solid knowledge and skill level that would be respected around the world. One thing I would like to point out about the amateur competition, well make that two, were two of the most beautiful flair bartenders the world has ever seen. Their skills were good and their showmanship was great! They had a great time up on that stage.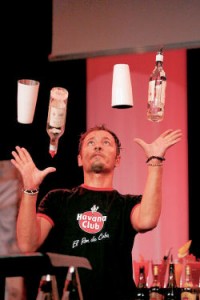 After the amateur event, Levent Yilmaz put on an expert demonstration. For those of you who do not know Levent, he is from Turkey but is living and working in Germany. His skill level is world class and his showmanship skills are top notch. He truly loves to entertain a crowd. I was extremely impressed with Levent's ability to bounce objects accurately off his thigh/knee. I have obviously seen this move before, but not with the precision that Levent demonstrated. His finale was balancing a tray of bottles on his hat while executing 3 bottle patterns. Not bad! Now if we can get Levent to come over and compete in some of the big shows QUEST, LEGENDS, NATIONS or ROADHOUSE!! What a show!!
Rain would come on and off to eventually kill our beach party, but the smart folks at Havana Club had a back up plan on site. They had an indoor venue just steps away ready to host us!
On to the Advanced meet and greet for more food and fun. Afterwards the judges sit down for an in depth judges meeting that took about 3 hours. As our brains were then a bit exhausted, we decided to put them to bed and do a bit of drinking at the nice little bar directly next to our hotel. Good times!
Day 2 – Advanced Competition Qualifiers:
We started the second day off with the Pour Test round. The results of the accuracy portions of this competition were a bit mixed, with only a few mastering the Pour Test. Both Mike "Sushi" Doetzer and Anna Knorr came out with very strong results and Behind them were Matthias Knorr and Thomas Weinberger. These four crushed the field in accuracy.
The Speed round was not much different with some performances good enough to qualify for a LEGENDS Finals and others approaching the 4 minute mark. It was clearly a matter of readiness for the round. The competitors that did well, clearly practiced and understand how do handle the pressures of a speed round, while some of the others simply were not ready as several just froze like a deer in headlights. Matthias Knorr dipped into his bag of tricks learned from his LEGENDS days and dominated the speed round with Mike Doetzer coming in a close second. After Sam Ngo, Thomas Weinberger, Daniel Sennert, and Anna Knorr the field just dropped off like flies.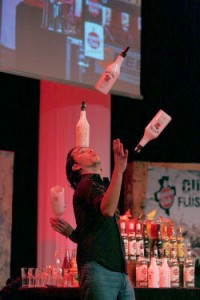 Following the accuracy rounds came the qualifying Flair Rounds where again we witnessed flair ranging from below average to advanced. There is clearly a wide diversity of skill in Germany. Maybe next year 3 divisions are needed to better group the competitors for their skills. Like the pro he is, Mike "Sushi" Doetzer executed a great qualifying routine. Not to much to wow us, but enough to better everyone else in the division.
The finalist came back that evening for one more flair round. The level of flair stepped up a little, but not as much as I would have liked… that is except Mike Dotzer. Sushi demonstrated a world class routine that belonged on the stage of any FBA Pro Tour event. You can click the picture to the left to view some clips from his flair round.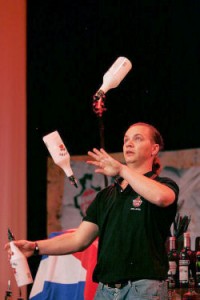 Back from retirement and taking second place was Matthias Knorr. Some may remember Matthias from past LEGENDS. Since then he and his wife Anna have been blessed with a child which obviously takes up much of their time, and they also do shows and caterings in Europe as well as the odd contest here or there. This was the first large competition for Matthias in some time and he pull out enough flair to secure his second place finish. Click the picture to the right of Matthias to view clips from his flair round.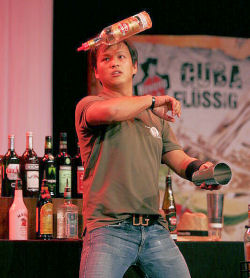 Taking third place was Sam Ngo. Sam has a silky smooth style that most competitors would envy. His round however had a few bobbles that knocked him down to third place. I look forward to watching Sam again as he is very entertaining on the stage.
Fourth place was Anna Knorr. Anna is a very smart competitor. She has great accuracy round skills and makes up for her slightly lower flair skill by exploiting her other skills. First, she is a girl and she lets the crowd know it. Utilizing those built in assets is smart as she is able to entertain in a different way than the boys. Anna also choose to wear a microphone during her round which in itself is not new, but she also choose to customize a song from 1967 (Hey Big Spender) for flair bartending and SING IT TO US while she flaired!!! AWSOME! What great composure to be able to sing a song while flairing, dropping, and spilling while not missing a beat!!! Great show!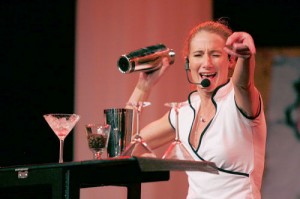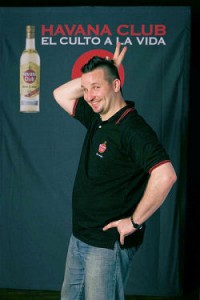 The rest of the finalist truly showed a high level of professionalism and a passion for flair. One competitor that I would like to mention as a stand out was Daniel Sennert. Daniel actually achieved second place in flair this year but was pulled down due to a less than great pour test. More importantly, he won the Sportsmanship award as he was there to help everyone out as well as make everyone laugh. Trust me when I say Daniel is the type of guy we want at a QUEST after party. He is a banker of all things and flairs just for the fun of it. Notice he lovely hair style… he shaved his head after the event so he could go back to work. Super nice guy and great flair as well!
After the Finals it was time for another Havana Club Party. Since the rain was still upon us, we headed over to the attached night club. We had steaks, burgers, chicken, and all kinds of other great foods and drinks. Havana Club really knows how to throw a party.
Holding the entire competition together was who I can only describe as JD Spradlins European equivalent, Vasko Lalic. Vasko took 3rd place last year at this competition and graciously hung up his tins and grabbed the microphone to raise this event to the next level. Well Done Vasko! Vasko is the crazy looking guy with the black tie hanging over his impromptu wardrobe change.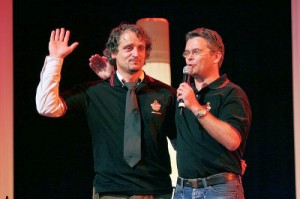 Below are a few pictures to enjoy. Check out these pictures and many more in the FBA Photo Gallery.
Until next year!
Cheers