f
Updated: January 21, 2014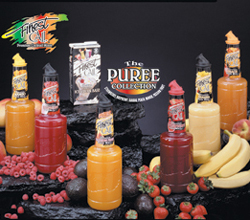 FINEST CALL COCKTAIL MIXES
Finest Call Mixes are the highest quality, most bartender friendly mixes in the world.
Finest Call contain more juice and more fruit than any of the competition. Their vivid colors produce strikingly beautiful cocktails and are shelf stable before opening. Patented Finest Call dispensing closure comes with every bottle as well as a bottle/cap combination designed specifically for making cocktails.
Finest Call have colorful caps and neckbands ensure easy product identification and a sure grip handle allows for use in wet environments. PET bottles offer brilliant clarity and shatter-proof convenience which has led to Flair experimentation by Flair bartenders.
Finest Call now sponsor most of the largest Flair events around the world. Finest Call often give prizes at these events to the competitor who produced the best Finest Call stall.
FLAIR
The art of making a drink with style.
Flair is a style of bartending that has existed for at least 150 years. Fabled American bartending legend Jerry "the professor" Thomas performed Flair in the mid 1800s, whenever he made his famous Blue Blazer, pouring flaming scotch and water from mug to mug in a long, fiery stream.
Any bartender who has ever put two or more bottles in one hand uses Flair. Flair is simply efficiency of movement with a little pizzazz. Technically speaking, Flair is the act of flipping, spinning, throwing, balancing, catching bottles, drinks, and various bar tools while in the process of making cocktails. Flair involves highly technical pours and cuts that ensure accuracy and no spillage while performing various tricks and moves.
Speed Bartending- a form of Flair in that the fastest, most efficient way to make drinks involves multi-bottle pours, inverted catches and grabs, stylish, martial-art like movements, and even behind the back throws and catches from time to time.
Definition courtesy of the F.B.A. (Flair Bartenders Association)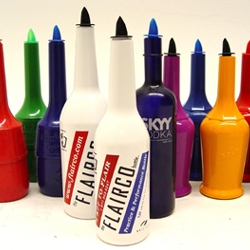 The Flairco bottle is the original Flair practice bottle.  Created by Dean Serneels in 1998, this shatterproof bottle is endorsed by the FBA and has become the training tool of choice for bartenders in over 100 countries worldwide.  After numerous design upgrades and modifications, thanks in part to feedback from flair bartenders, this product has evolved to become the standard in learning new moves and skills.  Available sizes include the 1L and 750mL bottles. Additional styles include proprietary practice bottles for Skyy Vodka, BOLS Liqueurs, DeKuyper Liqueurs and Marie Brizard Liqueurs.
Custom printing options are also very popular with competitions, training companies and special events to generate repeat exposure.
Flairco was established in 1998 with the creation of the 1L Flair bottle by Dean Serneels.  Since then, Flairco has become an industry leader in the world of Flair bartending through innovative new products, events, training and services.  Through extensive research, testing and by staying involved with the Flair bartending community, Flairco has been able to offer cutting edge products for an evolving market.
The Flairco bottle is now used by bartenders around the globe.  The Flairco Portable Bar has become a standard for bartending competitions in North America, Europe and Japan.
The three new training DVDs to be released in 2005 will change how bartenders learn the concept of Flair.  To meet local demand, Flairco has established a network of distributors that now spans over 30 countries.
The Flairco Portable Bar is designed to provide beverage service for almost any bar situation imaginable, with an easy setup and teardown.  This versatile bar unit is ideal for patios, special events and drink promotions as it does not require a great deal of labor or time to assemble while being able to accommodate most bar needs.  As well, the bar unit is very durable, having been tested by competitive Flair bartenders at events around the world.  
The Flairco Portable Bar is now the standard used for almost every major Flair bartending competition.
The entire bar sets up in approximately five minutes with a minimal number of tools.  When packed, the bar fits into the road case which forms the lower supports and can be wheeled away in less time than it takes to set up.  The upper and lower bar tops, along with the side bracing are all made from a thick marine quality plastic that is designed to be submerged in water.  This ensures the bar will withstand any spills of ice, water, liquor and juices found on a bar.  This material is very durable and easy to clean.  The bar itself measures 31″ x 10″ x 25″ when packed into the road case that is also the base of the bar.  When assembled, the bar is strong enough to support the weight of a grown man on top of the base sides. The main bar top measures 56″ long by 22″ deep while the upper bar top measures 54″ long by 12″ deep.  The ice well is a full size bus bin with additional inserts for another eight juice containers, bottles or any extra supplies.  The metal speed rail fits 12 1L bottles and is very sturdy.  Once packed, the road case has wheels and a handle for easy transport.
FLAT (See Dead Toss)
A Flat (Also known as a Dead Toss) is when you throw a bar object (such as a bottle, tin etc..) with no rotation.
It may have spin. Usually spin will help project the object but it can not have any rotation to be called a Dead Toss or Flat. This is a very helpful technique for working Flair because if you were to rotate a full bottle you would incur a spill.
Pictured left is Erin Connelly Flat Tossing a bottle from her right hand to her left hand behind her back. Click on her picture to see video of other examples.
F.B.A. (Flair Bartenders Association)
The FBA is currently represented in countries all over the world. It is the goal of the FBA to help teach the art of Flair, grow the sport of freestyle or extreme bartending, and support all styles of performance bartending in a safe and fun manner.
FBA bartenders work at all types of clubs, pubs, restaurants, and bars from small local establishments like Sixth & Main in Boise, Idaho and Mariachi in Montevideo, Uruguay to major destination resorts and clubs like Club China Jump in Singapore and The VooDoo Lounge in Las Vegas.

FLAIRBAR
A bar where the bartenders have to Flair to be able to work there and not a bar where some of the bartenders just chooseto Flair.

FLAIRBAR.COM
The premier independent online magazine dedicated to the art of performance bartending. Balancing craft with entertainment. This website. 'nough said?