c
Updated: January 21, 2014

CAPTURE (See Snatch)
A Capture is a Flair move that uses a mixing tin in a downward motion (with the open mouth facing down) to snatch and capture another object (fruit, bottle, another tin etc..) out of the air and into the tin.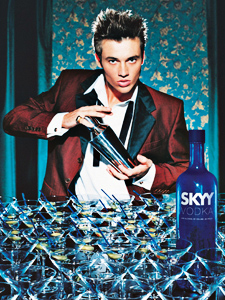 COCKTAILS
From a Citrus French Martini to a Spiced Appletini, learn a new and delicious way to make your favorite cocktails with Skyy Vodka or Skyy Flavors by visiting our website. Over 250 cocktail recipes, including Cosmopolitans, Martinis, Lemon Drop shots, Appletinis, and Bloody Marys are listed with an innovative twist.
Skyy Vodka is made with the finest American grain. Skyy's proprietary four-column distillation and three-step filtration process consistently ensures exceptional quality. Skyy Orange, Skyy Melon, Skyy Vanilla, Skyy Berry and Skyy Citrus, are unique blends of all natural flavors, added to the exceptional quality of Skyy vodka.