BRINGING FLAIR TO MIDWESTERN AMERICA
Updated: February 1, 2006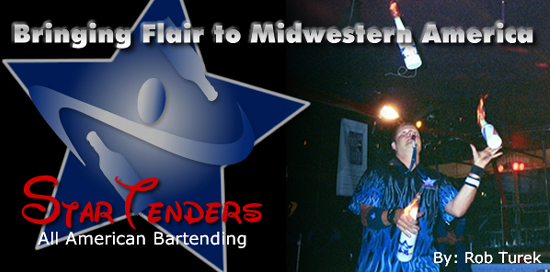 "Can you do that with a full bottle?", a testy guest yells out with a sarcastic smirk.   "Why sure…..Check this out…..", as I then proceed to snag a full bottle of Captain from the liquor cabinet and Flair it about, teeth shining from ear to ear, gloating in my own sarcastic response.   The woman laughs and acknowledges the return sarcasm with a look of attraction and a desire to see more.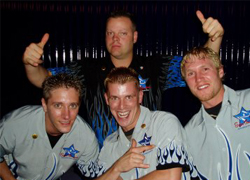 The place is Kahunaville, inside the Kalahari Waterpark Resort in Sandusky, Ohio, only a mere 45 minutes west of Cleveland.   Alongside myself, spinning and flipping cocktails are the rest of the StarTenders, "Knockout" Nick Houck, Brian "The Great Goomba" Hannis, and Craig "The Hammer" Mills.   Another StarTender, Joshua Goldurs, mixes it up at a nearby nightclub less than two miles away.   All in all, the Flair is festive and in Sandusky the mood is upbeat.
StarTenders All American Bartending was created in the year 2000, in the city otherwise known to many as the "mistake on the lake", Cleveland, Ohio.   With the vision of bringing performance bartending to the stale staple of the blue-collar world, Cleveland was definitely in for something it had never seen before-hospitality with sparkle. Although four years would go by with a minimal surge, it wasn't until the year 2004 that StarTenders really began to take off.   For those four years it was me against the world, the renegade who spit fire, the outcast who was either embraced or hated, the punching bag of judgment.   Flair bartending was introduced to a world without glamour, and StarTenders was to be the catalyst.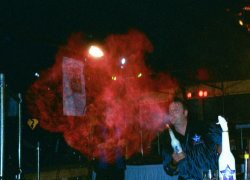 During the late 90′s, Flair was experiencing a growth spurt of tremendous speed.   Legends was pulling out of it's infancy, Quest was becoming a legend, and Vegas was soon to be crowned "Mecca".   Ohio's three major Flair representatives, myself from Cleveland, Christopher "Chico" Garcia from Columbus, and Derek Jones from Cincinnati, although tightly set as friends, would break up the monotony of the buckeye state's small town limitations by venturing out towards new opportunities.   With the coming of the Voodoo Lounge in Sin City via Ken Hall and Alan Mays, this "Mecca" would soon be a destination of choice for many Flair bartenders.   The chance to settle in the desert was there for many of us and it was Chicosun landing safely in Nevada.   I realized that family matters would force me to stay in cold weather Cleveland and that is when I decided to build opportunity in my own backyard.   I knew that Flair was growing, so why not plant the seed in Midwestern soil and change the way this area of the country could experience hospitality.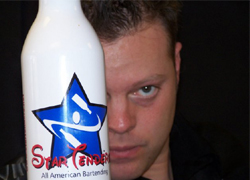 It began as StarTenders Flair Training, with classes taking place through the Professional Bartending School of Cleveland.   The president of PBSA (Professional Bartending Schools of America) Roger Oldham, was a national finalist in the Quest for the Best Bartender in America competition in Orlando back in 1995.   It was he who got me into Flair, and my ties to the Bartending School have stayed tightly bound.   Giving back to those with a dream for a new career was something I felt good about and made sure to address.   In addition to the training, I would make numerous appearances at various dive bars and clubs throughout the Cleveland Flats, slowly creating a demand for performance bartending.   I was building notoriety, but that was exactly the problem; "I" was StarTenders, and the realization set in that building a team was essential for survival. As a number of my bartending school grads caught the Flair bug, I weeded out those who could actually bartend professionally and still show a passionate interest for Flair.   This is when StarTenders became a project involved with more than just my individual efforts.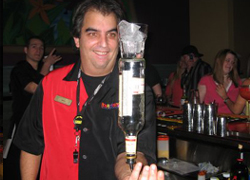 The first to join StarTenders was Brian Hannis, a local conveyor belt salesman who only had an interest in Flair because it seemed that was the only way to becoming a bartender in Vegas.   He had wished to move to Nevada but as this reality diminished, his passion for Flair continued to ignite.   Although a former pupil of mine, Brian took the reigns himself and started entering competitions on his own.   Our first real "team oriented" StarTenders event took place at Traffic nightclub in Cleveland's historic warehouse district.   We were to perform Flair while creating signature cocktails, launching Captain Morgan's latest libation, Tattoo rum.   The response was grand and recognition was soon to be established for this two-man enterprise that would eventually turn into six.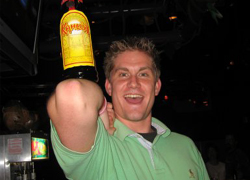 Another StarTender who would show up from time to time at Flair classes was Craig Mills.   Craig had a natural talent for Flair, with a sense of balance that was uncanny.   Classically trained in ballet, the finesse Craig would show with the bottle could only deem him a "natural".   He would soon be thrown into the fire by competing in a world class regional competition, last minute, with very little experience.   The competition I'm referring to is Stars Behind Bars, a collaboration between StarTenders and Chicosun, that took place in October of 2004 in downtown Cleveland.   This was my first major promotion, that without the help of Chico (What's up hooker?!!) wouldn't have gone off as well.   Competitors included Danny Rossi, Tony Cogburn, Levi Donaldson, and Martin Zikmund to name a few.   Cleveland had never seen anything like this before and neither had my StarTending prospects.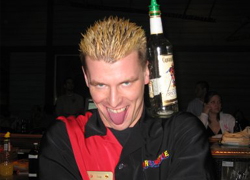 "Knockout" Nick Houck was another student of mine who showed natural creativity and a readiness for the art.   The 1st Rock and Rail Champion began by barbacking the Stars Behind Bars comp, which then eventually led to him assisting as a barback at Legends 7.   A showman at heart, Nick also began to develop on his own and bring his own unique personality to the Flair world.   Nick was actually the first StarTender to place on the 2005 FBA Pro Tour, something I see the rest of us doing in the upcoming year.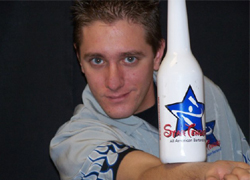 Another member on the StarTenders team is Joshua Goldurs.   Josh brings a dedication to the trade as well as the company unlike any other.   With an approach that bleeds perfection, his smoothness with the bottle is quite sound.   Josh's accomplishments include a regional comp win (Best of the Burgh, March 2005, Pittsburgh, PA) and a sixth place trophy for the amateur division this past October at Quest.   He has definitely made his presence known and will continue to pursue his dream of making a name for himself within this industry.   A few others have received "playing time" with StarTenders, but none have contributed as much as the gentlemen I have mentioned.   It is their unique personalities, charisma and passion, that have made StarTenders more of an organization to cherish as a unified Flair group.
Now that you know a little bit about who we are, what is it that we exactly do?
From Flair promotions staffing product launches, hosting and executing competitions, and making special guest appearances, to training others in the art and sharing the passion with the world. StarTenders sees itself as the portal to the hidden world of Flair in the Midwest.
The newly constructed Kalahari Waterpark Resort in Sandusky has shown its support for Flair by bringing Kahunaville into the Ohio region.   As StarTenders, each of us was hired all at once in efforts to instantaneously open with experienced Flair. By working together at Kahunaville, our chemistry has built up even more camaraderie amongst each other and is reflected by the energy we provide for the restaurant.   StarTenders is also proud to be part of an effort to bring Flair back to TGI Friday's, as we are involved in the training of bartenders for 10 restaurants across Ohio.   We have just opened a new Flair training facility and Flair gym which is called the StarTenders All American Masters Academy.   Needless to say, we don't plan on slowing down.
Flair is our lifestyle, and this organization is the way to keep it intact.   We are comprised of a team of "All-American" bartenders, by the same token that the best athletes are considered All Americans.   We strive for excellence in the trade, perfecting ourselves in the same regard that Legends would dictate, keeping Flair as the icing on the cake.   With this in mind, we call ourselves StarTenders, All American bartenders that share the common characteristics of one passion, one love, and one dream: to build upon this amazing art form for continued success that can only be a contributing ingredient to a world all performance bartenders embrace.   Look us up at www.startenders.net, or if you're passing through, stop by and say hello.   We're here for you when you come into town.   So for now, this is Rob Turek, 2000 FBA Flipper award recipient, who had to have it mailed to me with my liver (thanks Toby) signing off.
We love you all, Flair brothers and sisters – and in the words of Ken Hall, Keep Flippin'….
Oh and by the way, to all the up and coming Flair entreprenuers out there. I'd like to make mention that if you really want to begin a Flair business, make sure you educate yourself well and keep pushing forward. Success comes from consistency and perseverence. You will have to pay tremendous dues and get to know as many people in this business as possible. Keep a smile on your face and remain a professional. If you're going to do competitions and varioius promotions and you are lacking in experience, contact any one of the well established Flair companies and they would be happy to offer direction. Stayed plugged into the FBA and ask a ton of questions. In no time you will receive support from the Flair community and begin to establish yourself as a reputable Flair company. Integrity is your secret ingredient. Stick to that and you'll go far. If I can establish a Flair company out here in the middle of the Ohio heartland, I know that you can. Flair bartending is growing at a rapid pace, so if you wish to capitalize on the market, I say jump on board! Who knows, maybe one day the StarTenders and the rest of the Flair world will be competing in your competition. Until then, work hard, serve first, Flair second and compete always!