BOTTLE FLIPPIN' SPRING FEVER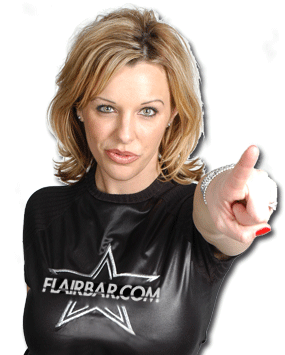 For those of us in the northern hemisphere, Spring has sprung and it's time to get back to sun-worship and practicing in the park. We are thrilled to bring you yet another edition of Flairbar.com. We were definitely under the gun with this one! With preparing for Legends of Bartending, networking at the Bar and Beverage Convention and then off to Flair Devils' King of the Ring, all here in home-town Las Vegas, we had many late nights this month. Roaring Lion and coffee aside, we hope that this edition is the best issue yet.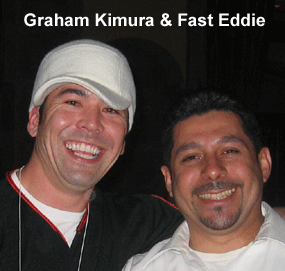 First things first: Legends of Bartending 6 took Las Vegas by storm again with over seventy competitors traveling from Italy, Turkey, England, Canada, Argentina, South Africa, Austria, Norway, Netherlands, Puerto Rico, France, and all across the U.S. for a shot at the coveted prize. We hadn't seen any ladies in the Finals since the first year of Legends, and this year three very talented women made it back on stage, and did extremely well. Mr. Christian Delpech announced his retirement from the competition to a stunned audience after his fourth consecutive win. And, Malibu Rum finally came on board as a sponsor. Catch the details on the Competition Reviews page.
New with Flairbar.com this month is an easier to navigate format and links directly from the homepage, just like you asked for. Philip Duff shares his knowledge and advice for making more money on the Articles page, in Old Dogs, New Tricks. Don't miss the Shawn Oana Interview for an inside look at his charmed life and hear it from him how he and Adrianno Marcellino hooked it up for a tandem round last year. The Masterclass features the master himself, Mindaugas Gradeckas, in a video clip teaching one of his great moves. Tuffworkstuff.com treated us to one of their hot leather aprons perfect for the bar, (or domination) see Barware. You have to check out their sultry website to know what I mean. Erin Connelly shares Kahunaville Las Vegas associate, Tony Cogburn's, recipe perfect for poolside pleasure, click on Flavors. And Finally…has anyone seen Chuck McIntosh?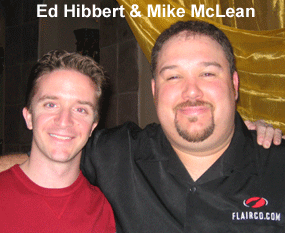 Our special thanks to the newest member of the Flairbar.com staff, photographer extraordinare, Alfredo Andreani. Special thanks also to Christian and Rodrigo. How about that cover? Excellent work, gentlemen!
The Flairbar.com team is busy already preparing for next month's coverage of the Flair Devils' King of the Ring championship held in March here in Las Vegas at Harrah's, Carnaval Court. The Final round was quite the showstopper with the most talented Flair Bartenders from around the globe pulling off tricks the crowd had never before seen. Flairbar.com is definitely looking forward to Bartender Bash in May in Islada Morada for fun, sun, and someone else to inherit the Naked Shultz Award... Hope to see you there.