Bartenders Bash Series 2013 Part#2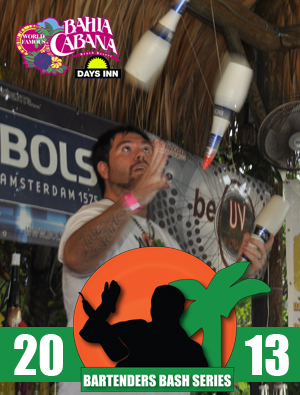 Bartenders Bash Series 2013 Part#2

Welcome to the Bartenders Bash Series 2013! This event is spread out among multiple events where the bartenders accumulate points in different competitions until we have an overall winner. You can compete, consume, cheer on or just party your ass off with some of the top bartenders in the industry… THESE EVENTS ARE OPEN TO ANYBODY IN THE HOSPITALITY INDUSTRY and you don't need to compete in the competitions to partake in the debauchery that is " Bartender's Bash". It's more of an insane couple of days of parting with different competitions around the party. Lol
Not only will you have an unforgettable time but you will learn a bit as well. You will be exposed to some of the newest brands to hit the market as well as some old favorites. Learn new recipes and techniques that you can take back to your bar or your favorite bartender. Whether you enjoy making or consuming cocktails… this event is for you. This is one of the longest running hospitality expos to date as well as it is held in paradise and if you can hang like a true bartender… ONE HELL OF A PARTY AS WELL!
Can you hang…?
This multi venue event starts down at the original location where it all started… Holiday Isle in the Florida Keys May 12th – 14th 2013. Then we move to a new location June 3rd – 4th 2013 at Bahia Cabana in Fort Lauderdale, Florida. This multi-venue multi-date event is entirely based on "Blind Freestyle Exhibition Flair" and competitors will accumulate points from both events to determine the overall Bartenders Bash Series winner.
For more info… Check out "www.barwars.info".