A CONTRACT IS ALWAYS YOUR BEST FRIEND?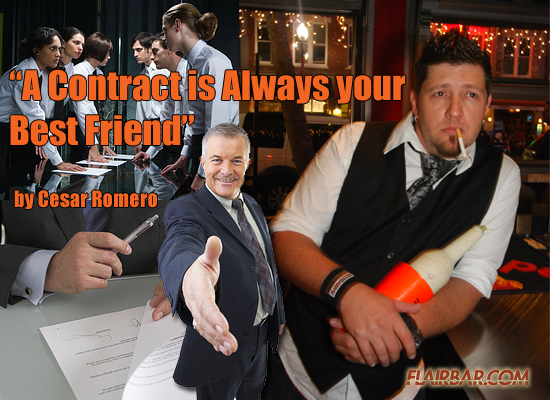 My name is Cesar Romero and I am a Bartender with many experiences to tell… It is absolutely right when people say that a Bartender is a specialist in many professions. From the time your first guest arrives to the bar, the approach becomes an investigation, trying to find out the customers frequency, mood and likes. I always have something to offer and when it's about flavors, I shake some of the good ones.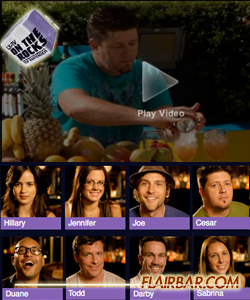 America's Top Bartender gave me the opportunity to open myself up to an extensive view into the beverage industry. Right after the Absolut Vodka kick off party during Summer Flair 4 and Mixology Matters that was held  at Club Safari in West Palm Beach, myself and other great bartenders headed to the casting call in Miami Beach for the pre-selection of possible candidates for the show. After 2 weeks of deliberation and background check-ups, myself and two other beautiful bartenders where selected from over 40 bartenders from Miami to go to Vegas and show what we are made off.
With the top 8 from five cities in the United States to compete in Absolut Vodka's Top Bartender reality show on NBC for $100,000.00 first place prize… the competition was gong to be tough. After unexpected situations and many difficult challenges showcasing our knowledge, skills, talent and experience… I placed 3rd among a very professional group of bartenders and mixologists. All of this helped improve my level of my profession and gave me more confidence of what I have been working on since I started it so many years ago. Having already achieved some good placing in bartending competitions in the past is the reason why I like to challenge myself to a new level in my career now… This time I went for the gold one more time.
In Miami, the city that has been my playground for long time, there is always a spot to shine. This time a new concept emerged, a very trendy place where the ambiance let you relax and enjoy yourself in a great harmony. A conjunction of art, incredible tasty bites, and some of my delicate mixes to enhance the aromas of the main stream of coffee… "CAFEINA" offering the best of the new tendency in lounge type of nightlife, were you could have many feelings and impressions in just one place.
After walking through this idea for the first time I thought  that each cocktail must have a great story behind it, just like the place itself. So I started with nothing more appropriate than the CAFEINA COCKTAIL… just like nowadays many guests ask for vodka and an energy drink, what could  be better than to have something natural and well balanced like Coffee Infused Vodka (infusion prepared by  myself with a Percolation system, A technique I've Learned from Brian Loukmas), with a touch of honey to elevate yourself with the natural kick. For the rest of my "Specialty Drink Menu" I Continued with the coffee story, I came up with the "CAFÉ CON LECHE MARTINI" just better than those "Ice cappuccino's" from that store; with Coffee Infused Vodka, Amarula Liqueur, Creme de Cacao, and just a touch of cinnamon. Now, I give you a story from China brought from the Tea fields of Beijing to Miami's backyard a new meaning, the "GREEN LYCHEE MARTINI", with Absolut Citron, Canton ginger liqueur, Lychee juice, squeeze of fresh lime and Green Tea Syrup remark a flavor like no other and add just another reason being the case Green tea have Cafeina in it.  For those lovers of the heat, my ingredients for "THE HOT PASSION" are, Light Rum, Cointreu, simple syrup, and the kick of jalapeño to heat up the night. I present a classic to the one's are looking for a refreshing moment, the "PLYMOUTH BASIL CRUSTA" including, Plymouth Gin, Grapefruit juice, and Basil syrup perfectly blend into a Sugar rim cocktail glass like old days. My Latin background just pops up with a "TAMARIND COCKTAIL", Moleca Cachaca, Tamarind Pulp, Honey syrup, fresh Lemons muddled and shaken to perfection define the different cultures of Florida in a Collins Glass. The last but crucial pairing to complete this flavorful catalog of concoctions, just a little variation in the classic Manhattan, the "WYNWOOD MANHATTAN", Kentucky's remarkable spirit, Makers Mark, Maraschino liqueur and a cherry, dress up the night with the American flavor and the great freedom of partying the way you deserve.
All of these great flavors are like this great story to me, almost like a fairytale… and it's the key of recognition that I didn't pull these drinks out from any bartending book. I'm not shaking vodka and cranberry at will. I wanted to give my best for what I do with what is provided from the best people in the industry. My career, inspiration and devotion are well known from my colleagues through vendors and enthusiasts worldwide who always find me in different spots shaking some original goodies behind the Bar.
But all good things must come to an end, after many unfulfilled promises and decreasing pay after all of these events, it is very sad for me sit in a corner and see everything slip between my fingers. I now no longer work at "CAFEINA" and they still profit on "my" signature drinks that I have yet to be paid for. I now find myself upset at my failures and frustrated because I gave so much in the beginning (maybe for being so passionate about my work) and kept the enthusiasm and the inspiration always running that I left out all of the paperwork to the end… perhaps because I didn't expect to see this coming when you open yourself up whole heartedly to a new opportunity with all the right intentions to make myself and the company shine.
If from the beginning of this fairytale story of mine I had have all our expectations and agreements on paper, signed, and written down on paper… things would be a lot different now. It is not a good feeling when somebody else takes credit from your actions, when your work is taken from you and you are taken advantage of as an up in coming Mixologist, when you are told about a salary raise and payment for your elaboration and not just relied on a firm handshake and spoken words between the company and yourself. That's the moment you would love to "take back" in your career. So learn from my mistakes and let this be a lesson to be more careful.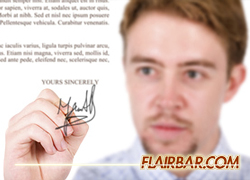 Trust me, it is very sad feeling the frustration of letting things go if you don't take care of the initial ground work first. Keep in mind, in business your best friend is always a CONTRACT.  Don't let friendship take over your salary, or promises as your next payment. You know better then anyone else how much your knowledge is worth and when else someone sets a price on your work after the work is already done… it may not always be what you had in mind. Make an outline of your duties, set your responsibilities from the beginning and talk numbers from the beginning. Don't guess on prices… you will always loose! It seems to always happen that the venue you "are" or "may" be working at sees the talent and potential in you and with your passion and eagerness you may overlook some important and valuable business steps to protect yourself later.
Do a schematic of your work, detail every aspect of it, set your duties from the beginning, by category put your priorities, certify everything you do, make a research in the area to compare your prices and refresh your knowledge about the industry so often you know what is the newest trends. Don't let them price you, but be open to an offer… there is always room for negotiation early on and a chance for a mutual profitable business.
All of this takes me to a very important conclusion… "A CONTRACT IS ALWAYS YOUR BEST FRIEND!"
Cheers,
Cesar Romero
Mixologist, Flair Bartender and A Good Friend…