LIFE AFTER FLAIR – Owning a bar (Part II)
Updated: November 1, 2004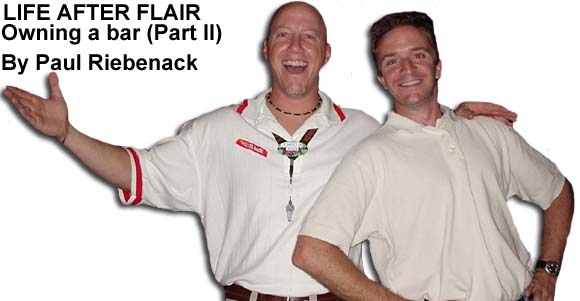 So you are now interested in starting your own bar venture. What comes next? There are certain steps you must take to be successful. We had to make a few decisions with our head and some with our heart.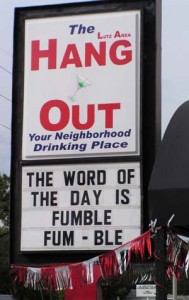 First, you must decide where you want to have your bar. I mean geographically. Ed Hibbert and I decided on starting our bar in Florida. No state income taxes, low employee pay rates, good environment for corporations. Things like that are important to starting any business. You also want to make a decision with your heart. Do you like the area? What kind of bar do you want to run? Does the demographic fit the concept? Do you want to have a family in the same area? How is the housing and cost of living? How's the traffic? Small things matter! You need to live in a close proximity to the bar. You will be there a lot. Second, narrow down the area to the city and or county. Does the county have restrictions that would hurt or better yet help your business? We are just over the county line in our area which allows us to remain open an hour later than the neighboring county. A great advantage to have over the competition to the north of us. Finding the best location to have a bar is VERY important. Find a high traffic area. Find an easily accessible location for your patrons to see and find. Find a location with great parking. Find a location with little or no monthly maintenance when it comes to external up keep. That will save you time and trouble leaving you to focus on building and running the business.
Next get ready for the leg work. If you want to open a new location you will be on the hunt to find the perfect place. If there is no bar in the location make sure you can zone it for selling alcohol. If you are looking to buy an existing bar, get a broker who understands the bar business. They can help you go through the purchase. We had to look over paperwork on 107 bars. I looked on the internet for bars listed for sale and listings sent to me by my brokers. I had to pre qualify the business for a further look. Ed and I visited about 35 bars to check out the location. After two deals went bad we were getting frustrated. Then an ad in the paper led us to our current bar. A fluke? No… diligence! You need to find the right place to be a success. LOCATION LOCATION LOCATION! There has never been a truer phrase.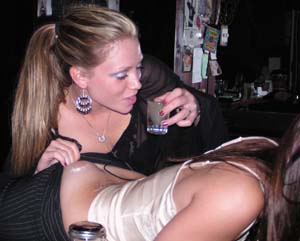 After that the real work begins. Do you know anything about the bar business? What kind of business entity do you want to be. A corporation? How many people are invested in your venture? How will the partnership be structured? You need to file with the city, state, and county. You need to get zoned. You need to get inspected by the health department, by the fire marshal, by the building inspectors and you will need to get your sign approved! Are you up to code? Plus you need to get your liquor license. These requirements vary from area to area. All are part of the process and can not be over looked.
How about the finances? You need to have a occupational license and corporate paper work to set up a bank account. Get a good small business accountant that can help you set up the accounts and ask your banker for help. The bank will do a lot to help and most of it is free and great advice. Go to the bank manager and get help right from the top. They can be some of your best customers! You need to take care of your business from the bank account down to the smallest detail. Online banking is an advantage. Use it. Set up your office to handle your bills and income efficiently. Get a good file cabinet and a good computer. Learn how to use a planner. Get a PDA if you like to e-link your world. Pay your bills quickly. The people you pay will remain your friend and preserve your reputation as a great bar to visit and a good business person.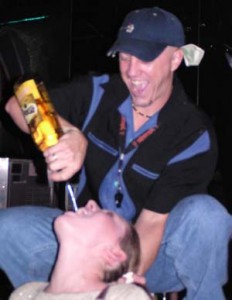 Still think you are ready to do this? When you finally decide on a sign and design for you logo they don't have to be the same. A logo that looks cool on a business card may be visually ineffective from a distance. Our sign is a big six feet by seven feet backlit monster. It is our third sign in three months! Our first looked great on paper. It sucked from 100 feet. Down the road a half mile away you couldn't read it. Our present design in SIMPLE! Our name in 16 inch letters. Red on white. Very effective. Not cool or slick like our logo, just effective. We have a marquee with moveable changeable seven inch letters beneath it. EFFECTIVE. Use bold colors. We wasted about $700 and lost tons of possible business on an ineffective sign design for months. Mr. Ed 'Wize-ass' Hibbert took a public shot at our sign company's total incompetence. After their second failed attempt to give us a good effective sign designed to our specs, Ed put 'Singleton Signs Sucks – say it 3 times fast' on our marquee. The owner of the sign company showed up the next day early and saw the sign. Needless to say instead of fixing the sign on the spot, he removed our sign for 36 hours to take them back to the shop and do the job right.
Ed ate humble pie and had to get his foot surgically removed from his mouth. It was funny as hell but we felt bad afterwards and had a lot of "I'm sorry's" to pass around. Lots of damage control was used that day. Our new sign is perfect. Simple, eye catching …effective.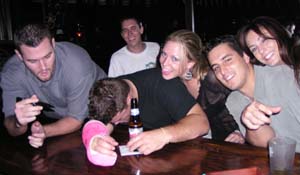 Make sure you check your building out from top to bottom and have a private property inspector check it out before you purchase it. Just after our second month in business we were hit with four hurricanes. Our property held up to them great. We were lucky and we only lost power for a short time. This tank of an old building did very well. Our sign has a slight two to three degree tilt now but that is cool. Make sure your equipment (all of it) is set up to handle the worst of conditions. That is your money maker. Take care of it all.
Find a good attorney. A BAR business attorney. The best ones represent strip/show clubs. They know the liabilities involved with alcohol. Getting an ass hole attorney can be a great move. He might be a sleazy ass hole but he is YOUR ass hole attorney in YOUR corner! Get a great staff. All the bell and whistles a bar might have are nothing without great staff members. Take the time to get staffed up right and take care of them the way you wished your bar owner had taken care of you. Never forget that!
Now to what we have been able to accomplish in the last Three months, 22 days, and 17 hours. Working like dogs we now have a great operation that is starting to take off and gather momentum. Our 6000 square feet bar/club has two hard working owners, two full time employees, eight part time employees(bar and security), two part time DJ's, and a promotion staff that works on our monday college night. We did more in business in our first month than the previous owners EVER did. The second month we raised sales 85%. Even with the hurricanes slowing us down we had 20% growth in month three. We took a $250 profit after all expenses,repairs, and upgrades.
The first day of the fourth month we did 10% of our third months sales in ONE day. Our Budweiser delivery driver congratulated us the other day saying that he has been delivering here for five years and this is the most product he has ever delivered.
Time to get serious. We are getting ready to hire more staff and starting to work less bartending shifts. We work four a week now – two each. Pretty soon we are going to be too busy tending the business to tend bar much. It is a credit to teamwork that we have come this far.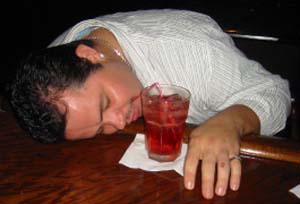 I could never have done it alone. This team we have now is starting to gel. We have taken some lumps from inexperience. We have spent some unnecessary money and learned lessons. We will write about insights we now have on the subjects. We will also let you in on some of the good and bad times we have encountered along the way.
Feel free to email any questions to us anytime. Work hard, work smart, have fun and enjoy life.